Torrid Will Be The First Plus Size Brand At NYFW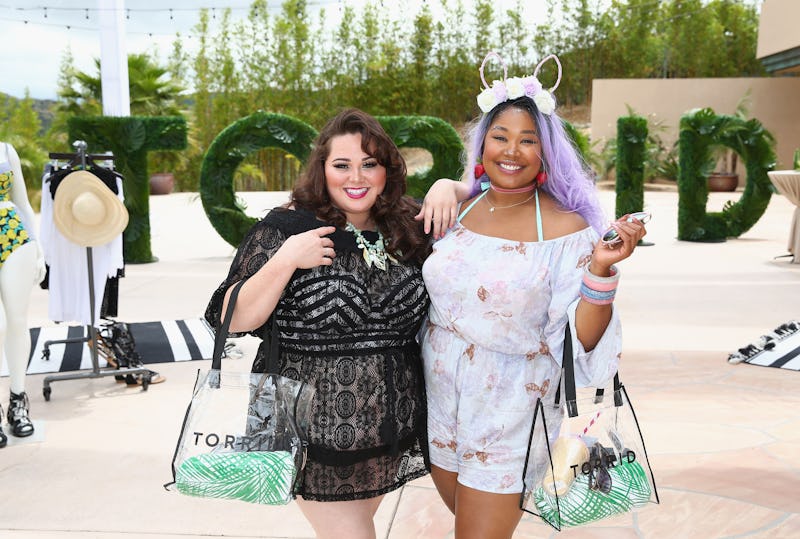 Joe Scarnici/Getty Images Entertainment/Getty Images
On July 21, Torrid announced that it will become the first plus size brand to show at NYFW: The Shows. In September 2017, the brand will join a roster of more than 70 other shows, and along with presenting its Spring/Summer 2018 collection, will host the semifinal competitive round of its third annual Face of Torrid model search competition on the NYFW catwalk.
The show "heralds a bold new move towards increased diversity and inclusiveness in the fashion industry," a Torrid rep said in a press release. Torrid will show off 40 upcoming looks, with styles including "edgy rock 'n' roll, romantic boho, and elevated details including hand embroidery and panted elements."
With the Spring/Summer show will be the live semifinal round of Face of Torrid 2018. This will be the contest's third year; last year it was won by model Maria Gimena, who beat more than 10,000 applicants and said supportive feedback from Torrid customers was "beautifully overwhelming."
Torrid began its third model search in May 2017, and is in the process of whittling down the number of competitors through live casting events in Los Angeles, Seattle, Houston, Atlanta, and Toronto. The NYFW semifinal will bring the top 10 finalists together in front of a judge panel comprised of Project Runway winner Ashley Nell Tipton, celebrity makeup artist Pricilla Ono, and supermodel Candice Huffine.
Though in recent years, each successive NYFW has been more diverse than the last, many marginalized groups are still underrepresented on its catwalks, including disabled models, transgender models, and plus size models. At the Spring/Summer 2017 shows, less than one percent of models were plus size — which makes a plus size brand like Torrid getting its own show full of amazing plus size models truly revolutionary.
"As a brand that is committed to helping all customers find her personal style, we at Torrid feel it is important to showcase the diversity of plus offerings on the most influential stage in fashion," Torrid CEO Kay Hong said in a press release. "Ultimately our objective is to show great fashion combined with body positivity and inclusivity."
In the same release, Catherine Bennett, senior vice president and managing director at IMG Fashion, said, "IMG is proud to welcome Torrid to NYFW: The Shows. We appreciate the brand's commitment to size inclusiveness and body-positive message and believe they are an excellent partner as we continue pushing the boundaries of the fashion industry."
If Torrid brings in one model for each of its 40 looks, this single show will nearly triple the number of plus size models who walked in the Spring/Summer 2017 shows. This movement toward including not only plus size models, but also body positive brands that design for plus size people, is absolutely worth noting.
Editor's note: Torrid is the first plus-size brand to show at the newly-titled NYFW: The Shows. However, plus size brand Cabiria showed as part of the Fashion Law Institute show at NYFW in 2013. The article above has been updated to reflect this information.