The NYFW Moments That Actually Felt Revolutionary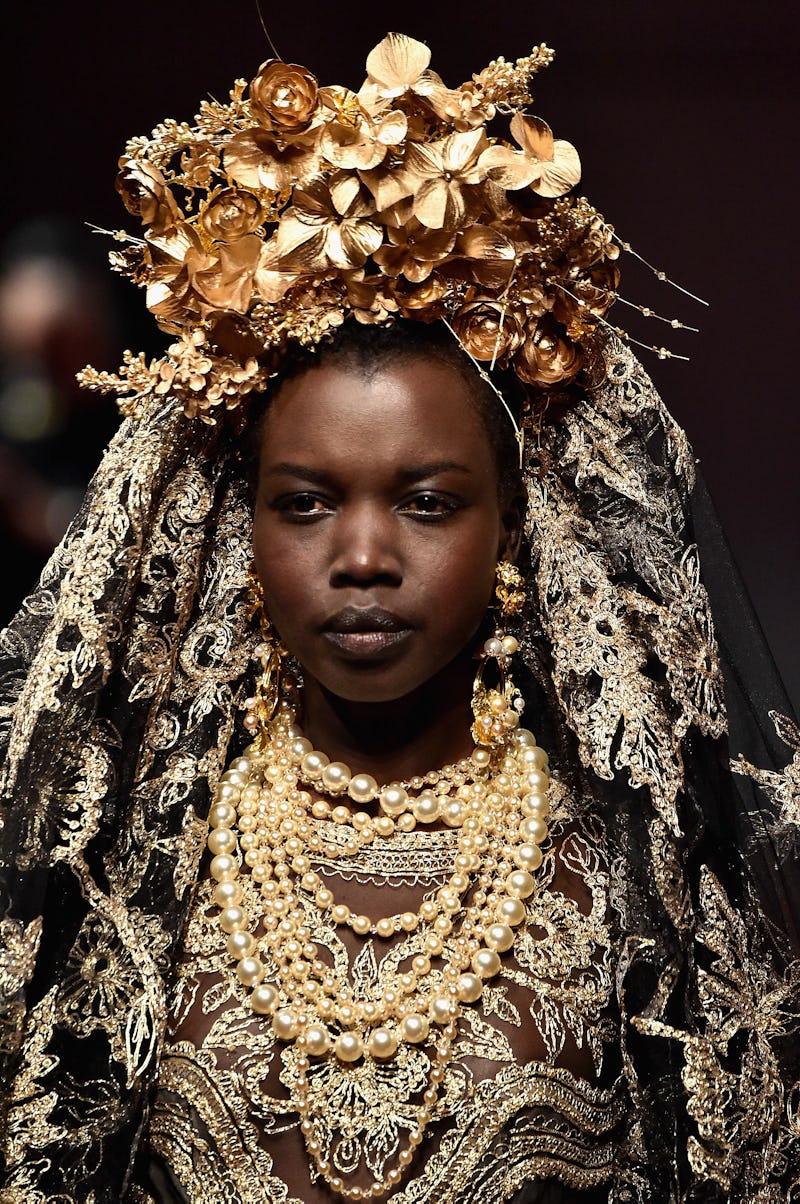 Mike Coppola/Getty Images Entertainment/Getty Images
Fashion weeks are slowly improving when it comes to representation. The spring/summer 2017 runways were the most diverse in history, and though The Fashion Spot hasn't yet released its report on this season's catwalks, there were definitely some diverse and revolutionary moments on the fall/winter 2017 NYFW runways.
The Fashion Spot called this season "noticeably politically tinged," which has been a popular theme post-election. And while it looks like the shows have thankfully been amping up diversity, it's hard to know without crunching the numbers.
Looking at the previous spring/summer 2017 shows, just over one-quarter of models were people of color, according to The Fashion Spot's comprehensive report. 30 percent of models were people of color — the highest percentage of the four major fashion capitals. But while designers are getting better at including people of color, other marginalized groups are left by the wayside, including transgender, disabled, and plus size folks. The Fashion Spot reports that less than 1 percent of Spring 2017 runway models were trans, less than one percent were plus size, and there were zero disabled models.
The fight for diversity seems like it's inching forward at a glacial pace — but there have been improvements, and some designers at the fall/winter 2017 shows rocked it out when it came to casting models who are not ultra-thin, white, cisgender, and able-bodied. Instead, they cast models who represent the true diversity of the world.
Here's a look at some of NYFW's most revolutionary moments.
1. SmartGlamour Casts Disabled Models & A Service Dog
Inclusive clothing line SmartGlamour has consistently cast marginalized models in its campaigns and shows. For this year's spring show, SmartGlamour designer and founder Mallorie Dunn cast two disabled models: Kody Keplinger and Leslie Freeman. And not only did Keplinger and Freeman grace the runway, but Keplinger's service dog Corey did as well, making this the first time a model with a service dog has walked at NYFW.
2. AnaOno Does #Cancerland
AnaOno, an intimates company which specializes in producing bras for people who have had mastectomies, featured 16 breast cancer survivors, patients, and "previvors" — folks predisposed to breast cancer — in its show, which was a partnership with New York-based nonprofit #Cancerland. Pieces displayed the models' scars to show that, as AnaOno said in a company blog post, "[w]e are not 'Saving Second Base,' we are saving people; human beings."
3. Naeem Khan Brings Maya Angelou To The Runway
Indian-American designer Naeem Khan, who is much beloved by former first lady Michelle Obama, closed his show with a solo, beautiful black model walking the runway in a glittering golden gown, set to a reading of Maya Angelou's poem "Human Family." Viewers said the crowd was moved to tears.
After his show, Khan addressed the question of dressing the new First Lady. According to Hollywood Reporter, he told journalists backstage that he wouldn't design for Melania Trump if she asked, because "the message does not resonate with me."
4. Christian Siriano Remains Amazing
Project Runway's youngest winner has been no-nonsense about diversifying his casts for years. He also made headlines for volunteering to dress Leslie Jones after other designers shut her out. And he continues to show that his commitment to diversity on the runway is neither for show nor fleeting. Nearly one-fifth of his models this season were plus size — 10 of 53. That's double the amount of plus size models he hired last year.
5. Prabal Gurung x Overt Feminism
Prabal Gurung, who is Nepalese-American, designed his entire Fall 2017 show to be completely, unashamedly feminist. According to Fashionista, Gurung's show notes said it was dedicated to the woman "who inspires us to present our unabashed and unapologetic definition of femininity with a bite."
Gurung printed his pieces with feminist slogans like, "Our minds, our bodies, our power," "Nevertheless she persisted," "I am an immigrant," and "We will not be silenced." Even more wonderfully, Gurung cast women of color and plus size models to carry his messages of support for marginalized groups.
6. Anniesa Hasibaun's Models Were All Immigrants
Indonesian and Muslim designer Anniesa Hasibuan made headlines in 2016 by becoming the first designer to present a NYFW collection with hijabs. Her Fall 2017 collection also featured hijabs integrated into her designs — and the women wearing them were all immigrants or second-generation children of immigrants.
In an interview with ELLE, Hasibuan said of the show, "The ability to express diversity in this business is a value that I hold on to. [Diversity] is what fashion is for me." She added, "This show was the opportunity to show that Islam is beautiful. I believe everyone should be presented with equal opportunities, especially if he or she has passion, talents, and skills, because not all immigrants are 'bad.' We've proved they are beautiful and a great contribution to the States."
7. Make America New York Again
In their first appearance after their exit from DKNY, Dao-Yi Chow and Maxwell Osborne showed a collection from their brand Public School — and showed Donald Trump what's up. Public School not only had a racially diverse cast, but they debuted hats, twisting Trump's MAGA slogan into something inclusive: "Make America New York Again."
Chow told The Business of Fashion, "We wish the rest of the States were like New York from an inclusivity standpoint, from a diversity standpoint, from an action standpoint."
8. Mara Hoffman Shifts The Spotlight
What's important to remember in the push for diversity is that it's nice and all when privileged folks include marginalized people in their projects — but what really needs to happen is the boosting of marginalized people's voices and skills. Mara Hoffman used her time at NYFW to give the stage to the organizers of the Women's March. Co-chairs Bob Bland, Tamika D. Mallory, Carmen Perez, and Linda Sarsour all spoke at the start of Hoffman's show, dressed in black.
In a group statement, the co-chairs said, "So many of our communities are being stripped away from basic human rights, that we must all come together and use our platforms to stand together. We commend Mara and other designers who have made a public stance on today's political climate. The days of just sitting back and hoping for change are no longer an option."
The invaluable experience of having not only diverse models but diverse designers reflecting the activism and anger of marginalized groups on the runways made fall/winter 2017 truly stunning. Here's hoping more designers emulate this excellence.