Trader Joe's Just Made A Soda That Is The EXACT Same Flavor As Meghan & Harry's Wedding Cake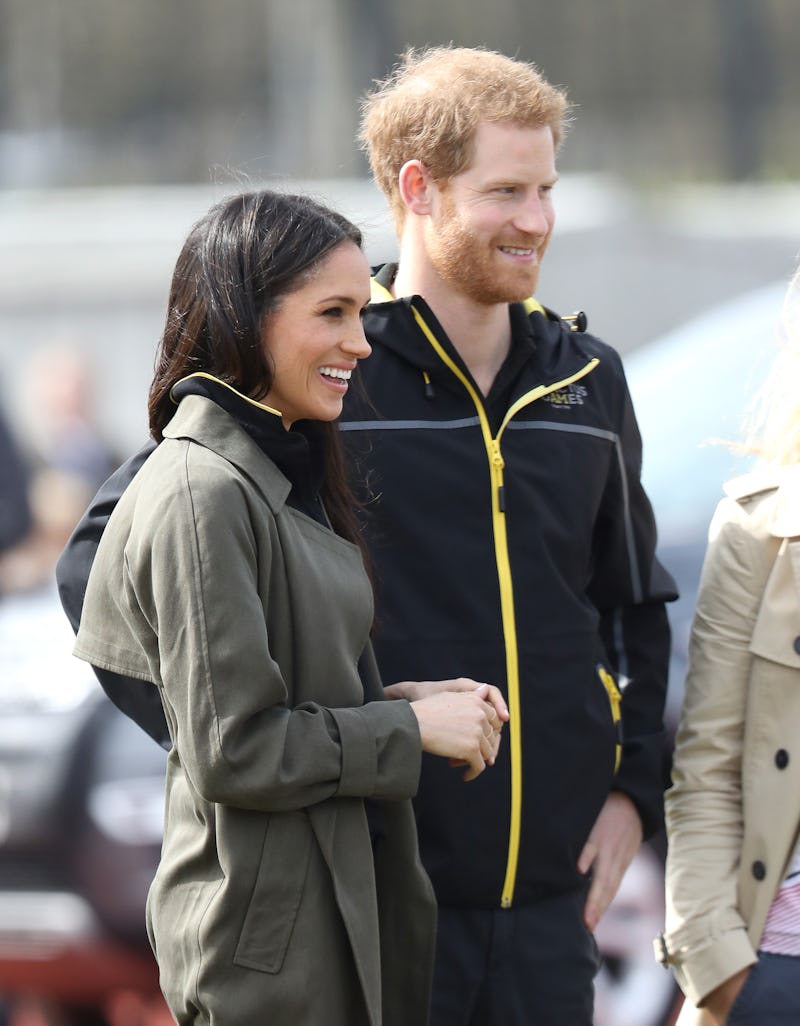 Chris Jackson/Getty Images Entertainment/Getty Images
Ever since Kensington Palace confirmed Prince Harry and Meghan Markle were going with a lemon elderflower wedding cake, the world collectively decided lemon elderflower, coincidentally, always has been and always will be the most delicious flavor in the history of flavors. Intuition told me we'd start seeing lemon elderflower popping up, and, well, we were right. We just discovered lemon elderflower soda from Trader Joe's, and between the internet's collective obsession with the soon-to-be royal newlyweds and its obsession with Trader Joe's, I guess you could say things are getting pretty serious between us and the lemon elderflower soda.
Let's just get this out of the way first: if it comes from Trader Joe's, it's automatically delicious. Period. Now, let's continue. The lemon elderflower soda, according to their website, is a light, subtly sweet, and refreshing sparkling drink that is arriving just in time for spring. They flavor it with cold-pressed lemon juice (not from concentrate, BTW) and "the soft essence of elderflower." You can drink it on its own, or if you're feeling fancy, use it as a cocktail mixer. You can buy them as a four-pack for $3.49, or individually for just $0.87 each.
Joe's also released a rhubarb and strawberry soda, but Harry and Meghan's wedding cake isn't rhubarb and strawberry, so who really cares? (Kidding. Maybe.)
I can say with absolute certainty lemon elderflower makes for a delicious wedding cake, even though I've never tried it before. Where else can we find it, aside from TJ's soda, so that we can channel our inner Markle Sparkle and feel special like the royals? How about we go Target shopping and pick up a bottle of Belvoir Elderflower Rose Natural Sparkling Lemonade? The product page says it's made with Belvoir spring water, freshly picked elderflowers, fresh lemon juice, and a "hint of rose petal extract." That sounds so good, I don't even care if it's true.
Want a beverage made for adults only? St. Germain offers a sweet but mild elderflower flavor and makes for the most delicious cocktails. Also, it's French and it's perfect for those days when you're feeling a little #extra.
The royals love their tea, so why not jazz up your tea time with elderflower lemon? This kind from Teekanne is made with lemongrass, elderflower, rosehip, apple, sweet blackberry leaves, and chicory roots, and you can find it on Amazon. Basically, you'll be drinking like a queen — or, in the likeliest case of Markle, a duchess.
Still thirsty? Stay hydrated with Evian Fruits & Plants Lemon & Elderflower natural mineral water, also available on Amazon. Why drink boring, regular tap water when you could drink Evian mineral water that's got the same flavor as Prince Harry and Meghan's wedding cake? Rhetorical question! You would never do that.
If you're feeling a little bit more ambitious — and didn't receive an invite to the royal wedding — you can try making your own lemon elderflower cake at home. SprinkleBakes, a baking blog that legitimately has me drooling right now, whipped up this dream cake for HGTV, and you can find the recipe here.
Heather, the talented and highly skilled pastry chef behind the blog, notes elderflowers are difficult to find in the United States, as they're native to the UK, but you can sub them out for an elderflower liqueur (like St. Germaine).
Help me. I'm hungry.
Everything this couple touches turns to gold. From their cake to Markle's dress and tiara to the honeymoon, we want all the details. And now, their wedding cake flavor is spreading like wildfire. This might be the season — scratch that, the year — of lemon elderflower, thanks to the dessert (and the couple) that everyone will be talking about for years to come. Enjoy your noms, friends!