Travis Scott's New Album Just Inspired The Best Kylie Lip Kit Meme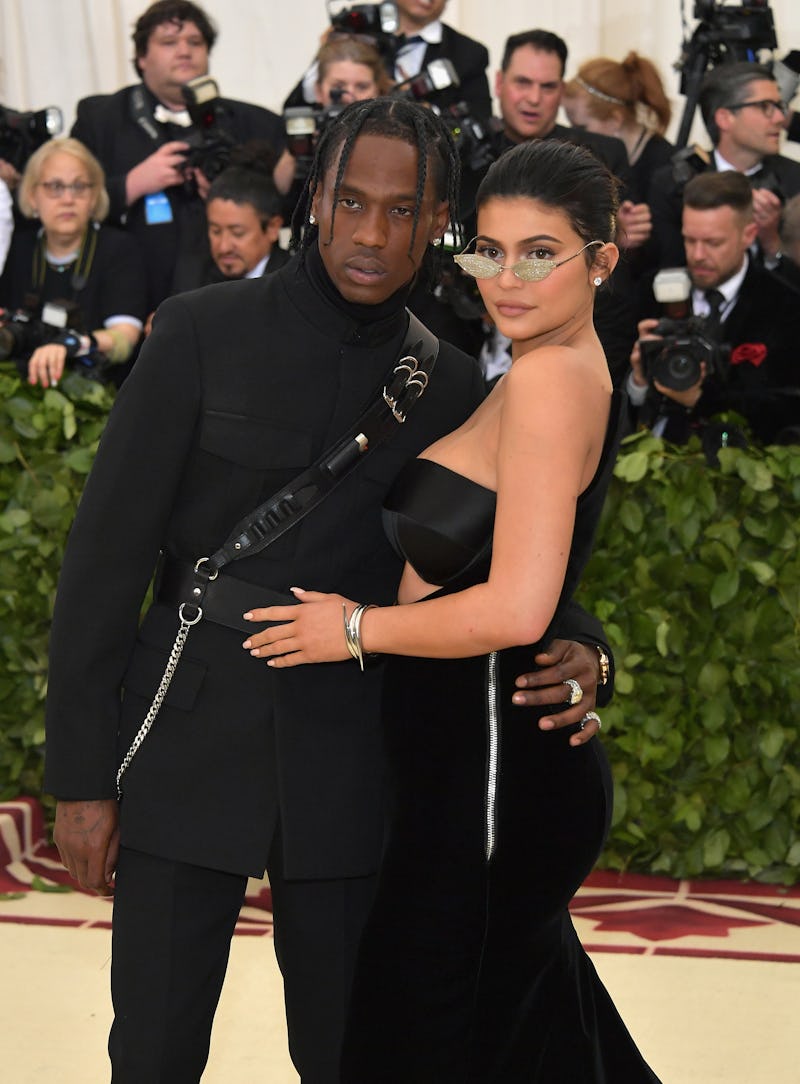 Neilson Barnard/Getty Images Entertainment/Getty Images
If it suddenly becomes a lot more difficult to get your hands on a Kylie Cosmetics Lip Kit this weekend, Kylie Jenner's rapper boyfriend might be to blame. Travis Scott dropped his third album, Astroworld, on Friday after months of anticipation, and his fans have chosen to celebrate the work with a slightly unusual take on a traditional music review.
While there were quite a few rap fans taking the time to break down the album's lyrics or analyzing the credits list for featured rappers and big-name producers, some of Scott's fans have decided to simply share their appreciation by clicking over to his girlfriend Kylie Jenner's website and picking up one of her cult-favorite liquid lipsticks. (Hey, all of those non-traditional marketing techniques helped land her on the cover of Forbes.)
After months of warning that Scott would fall under the infamous "Kardashian curse" — the concept that the successful men who date or marry into the famous reality TV family see their fortunes fall not long afterward — fans were so delighted by the finished product that they decided to celebrate the album with some new makeup, a Kylie Lip Kit, to be exact.
Twitter's newest favorite Scott-related meme is to declare that Astroworld is "so good" that everyone now has no other choice but to buy a Kylie Lip Kit in response. After all, Scott is Jenner's biggest fan (her Forbes cover even got a shoutout on the song "Sicko Mode"), so it makes sense that the best way to thank him for the music is to pick up a few candy-colored lipsticks — and maybe an eyeshadow palette or two. Haven't we all heard an album so good that it makes us want to stock up on makeup?
In addition to potentially enjoying some bolstered sales in the wake of Astroworld's release, Jenner has spent the past few days celebrating her boyfriend's new work, posting on social media to promote the album and to celebrate all of Scott's hard work.
"You didn't have to go this hard baby," she captioned a pair of photos of herself rocking an Astroworld tee and leather pants on Instagram before heading out to Scott's album release party. "Astroworld just dropped and it's the craziest ride of my life."
Jenner celebrated with Scott on his album release day, first taking in his set at Lollapolooza in Chicago, and then hopping on an Astroworld-themed private jet to head off to the listening party. There, the couple were spotted packing on the PDA, with Scott and Jenner embracing each other and swaying in the center of the crowd while the guests listened to Scott's newest tracks.
Meanwhile, Jenner's best friend Jordyn Woods chronicled the day on her social media account, sharing snaps of the new mom arriving at the party by walking through a giant inflatable version of Scott's head and enjoying the party's psychedelic carnival theme (when they weren't focusing solely on each other).
The mogul couple was also caught in a sweet moment on the way into the party, sharing a kiss as they arrived in through Scott's giant, inflatable mouth.
Scott's Astroworld is available to purchase and stream everywhere in case you, too, are looking for a reason to stock up on a few new Lip Kits. Meanwhile, Jenner's latest Kylie Cosmetics collection launches on Aug. 6, just in time to celebrate her 21st birthday (or to create an Astroworld-themed beauty look) with plenty of sparkly eyeshadows and candy-colored Lip Kits. All things considered, this young couple is certainly having a week to remember.