Tristan Thompson *Finally* Broke His Social Media Silence About His & Khloé's Daughter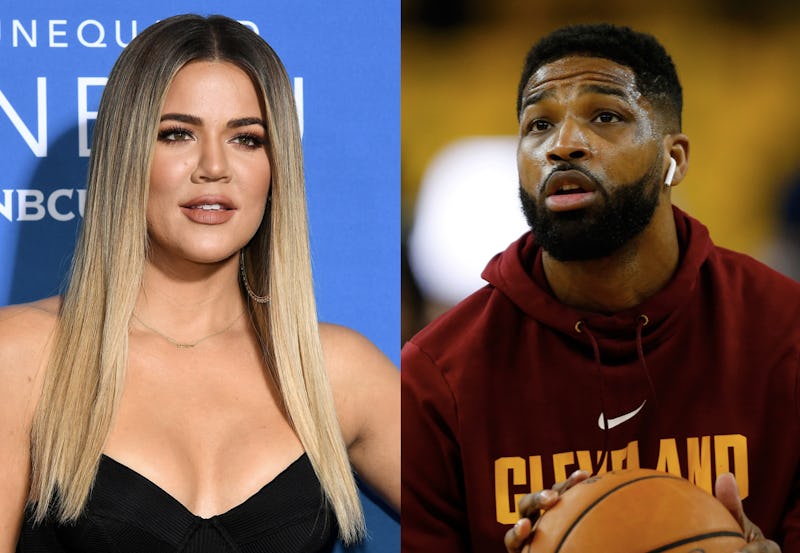 Dia Dipasupil/Getty Images Entertainment/Getty Images; Lachlan Cunningham/Getty Images Sport/Getty Images
Even though Khloé Kardashian and Tristan Thompson's daughter True was born on April 12, her father hadn't shared any photos of her. He still hasn't, but Thompson did acknowledge True on social media for the first time since she was born over the weekend. While he didn't post a photo of the baby, but he did share a photo of two gold chains on Father's Day.
One necklace has the word "True" on it and the other says "Prince," which is the name of the NBA player's son from a previous relationship with blogger Jordan Craig. Along with the photo, Thompson wrote "My Prince and Princess. I love you guys so much!!!" Given the date of the post, it's a logical assumption that he got those chains as a Father's Day gift.
Indicating that Kardashian may be behind the gift, she, her mother Kris Jenner, and her younger sister all "liked" Thompson's post. The three of them "liking" the photo is something that is very interesting given the very recent (and very public) strain on Kardashian and Thompson's relationship.
Just days before True was born, news broke about Thompson allegedly cheating on the Keeping Up with the Kardashians star with multiple women. (Bustle reached out to Khloé's rep and Thompson's agent when the cheating reports first broke, but did not receive a response.) After that, Thompson got a lot of hate on social media. People went in on him so much for the scandal in the comments section on his Instagram that he deleted his last photo he posted before True was born. Considering that overwhelmingly negative response, it would make sense if Thompson was hesitant to post about his daughter after that.
Even though it took two months for the father of two to post about the new addition to his family, he has discussed his daughter in public. Thompson appeared on the May 9 episode of the Road Trippin podcast, where he shared updates on his life with daughter True.
The Cleveland Cavaliers player said, "Baby True is eating, sleeping and, sh*tting." He added, "That's all they do." That's not exactly the warmest sentiment, but Thompson did reveal other information during the interview.
He shared, "She has a full head of hair. She has green eyes. This is the first girl Thompson, female Thompson, so it's huge." Thompson also discussed how he feels having a daughter compared to a son. He said,
"I think with a girl, you're just so much more emotionally like… with a boy, it's just like, 'Hey man, you'll be all right man. Stop crying.' But [with True], it's like, 'True, it's gonna be OK. You know, we're right here. Daddy's here to feed you. It's me! Look, yeah!' It's way different, but it's fun, though. It changes you."
It may be a little surprising that Thompson hasn't posted more about baby True considering how open the Kardashian-Jenner family typically is. Nevertheless, it actually does fit with his typical social media behavior. He has not posted any photos with his son Prince. Just like Thompson, Prince's mother Craig also keeps her social media focused on her work, not sharing many photos of her son.
It's possible Thompson's lack of posts about his daughter is just part of his preexisting habit of keeping his family life private, instead of solely being the result of the scandal and subsequent backlash. Nevertheless, it doesn't seem likely that the NBA player will share photos of the infant in the near future, since she and Kardashian just moved back to California and it's unclear if Thompson is with them or stayed in Cleveland.
Kris Jenner broke the news that Kardashian and baby True are finally back in California with a photo of balloons from Kylie Jenner and her daughter Stormi. One balloon said "Welcome home Khloe and True" and the other said "We love you" and "Stormi and Kylie." Interestingly enough, there wasn't a balloon that said "Tristan" on it. Did just the girls move back?
Considering Thompson doesn't usually share photos or references to his son on social media, it make sense that he would not document too much of his time with his daughter as well. So for the rest of the story, it seems like people will have to tune into KUWTK next season to see what's going on with Thompson, Kardashian, and their family.