Trump, Cosby, And Why Being A Woman In 2017 Feels Harder Than Ever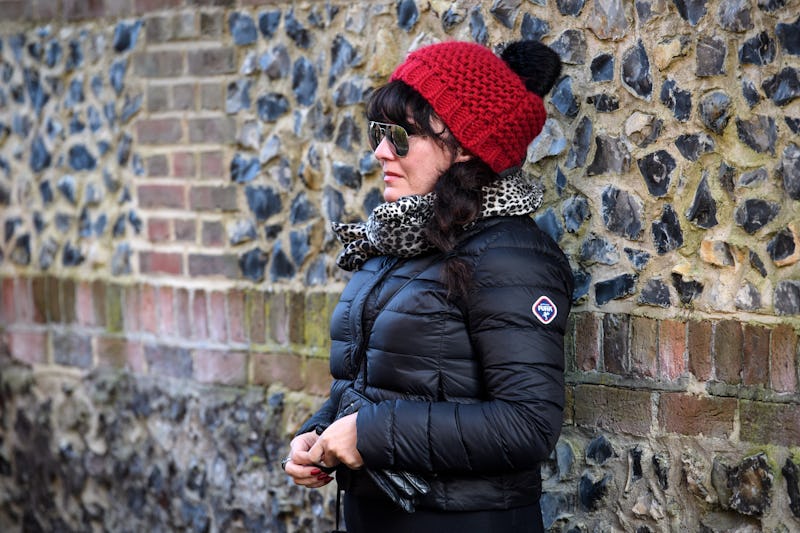 Carl Court/Getty Images News/Getty Images
If you're a woman, it's becoming increasingly difficult to take your experience of the world as valid when it feels like it's your word versus that of powerful men like Donald Trump or Bill Cosby — and they just keep winning. In 2017, it feels hard, even painful to be a woman when men like Trump and Cosby consistently emerge victorious over the voices of their dozens of female accusers.
It's hard to be a woman when famous, powerful men keep proving that raising your voice about sexual assault can so easily come to nothing. When public opinion and then a jury say that when it comes to he said-she said, her voice isn't enough.
Take the sexual assault case against Cosby that ended in a mistrial, despite the fact that almost 60 women were accusing him of assaulting them in essentially the same manner. Over the course of decades, nearly 60 women have said that Cosby would gain their trust, then drug and then sexually assault them. Cosby denied all of the allegations, including that of Andrea Constand, who brought this most recent criminal case against him. Most of the prosecution's evidence came from depositions or witness testimony, so the jury couldn't convict Cosby.
Trump, on the other hand, didn't face any criminal charges for the multiple sexual misconduct allegations against him. (He has vehemently denied all such claims.) No one was threatening him with jail time. It wasn't a jury of his peers who would be deciding whether he was guilty or not. Instead, it was a presidential election, and it was up to America to decide whether they wanted him as their president, or his female opponent.
Cosby's and Trump's cases are different, but they have similarities as well. Their accusers' stories follow a pattern: He touched them nonconsensually and inappropriately, they all said. Cosby admitted to using drugs and fame to chase women; a video came out of Trump bragging about sexually assaulting women and saying, "When you're a star, they let you do it."
In both cases, the damning allegations proved not to be their downfall. What the mistrial in the Cosby case tells Constand, the plaintiff, is that her words weren't evidence enough to find him guilty. And while the prosecution has vowed to retry the case, a new case wouldn't be able to offer anything new in the way of more forensic evidence — they could only offer the sworn testimony of more women.
But would it matter? If you're a sexual assault survivor deciding whether not to report your assailant, that isn't going to give you much confidence that the legal system is on your side.
And with Trump, his presence in the Oval Office is a daily reminder to sexual assault survivors that almost 63 million people didn't think that the allegations of sexual harassment against him mattered, for one reason or another. His voice mattered; theirs didn't.
But if you look in the right places, the feminist movement is blossoming and becoming more inclusive. The body positivity movement is gaining steam; Roger Ailes and Bill O'Reilly were forced to leave Fox News after multiple allegations of sexual harassment against them (all of which they deny) went public; more women may start running for office; and intersectional feminism has become a mainstream topic of conversation.
And then the Trump election or the Cosby case comes along, and you feel the harsh tug back to reality. Too many people are willing to claim that the women are all just doing it for the attention. The legal system that sets up to protect the defendant fails to take into account the complexities of sexual assault cases.
For every feminist victory, there's a reminder that institutionalized sexism is alive and well and not going anywhere. It's present in the sexist arguments used against Hillary Clinton during her candidacy, the constant, almost forced repetition of phrases like "she's a deeply flawed candidate," even by her supporters. It's there in a court system that looks for invasive forensic evidence in sexual assault cases, even to the point where survivors are too afraid to report them. These institutions ensure that when a woman puts herself and her experiences out there, she's bound to face vitriol as people rally to the defense of her alleged assailant. The message that women are bound to get from that is that she and her experiences had better keep themselves hidden.
What are small victories amongst self-declared feminists, up against the combined opinion of 63 million people? What are a couple of cracks in the taboo against talking about sexual assault, when talking about it in court has such a high probability of leading to the humiliation of a losing legal case — or a mistrial? What more evidence does the world need to decide that it believes the dozens of women, and not the one man?
More evidence than it has, according to the experiences of Donald Trump and Bill Cosby.