Why Trump Said Melania Is "Deeply Saddened" By What She Saw At The Border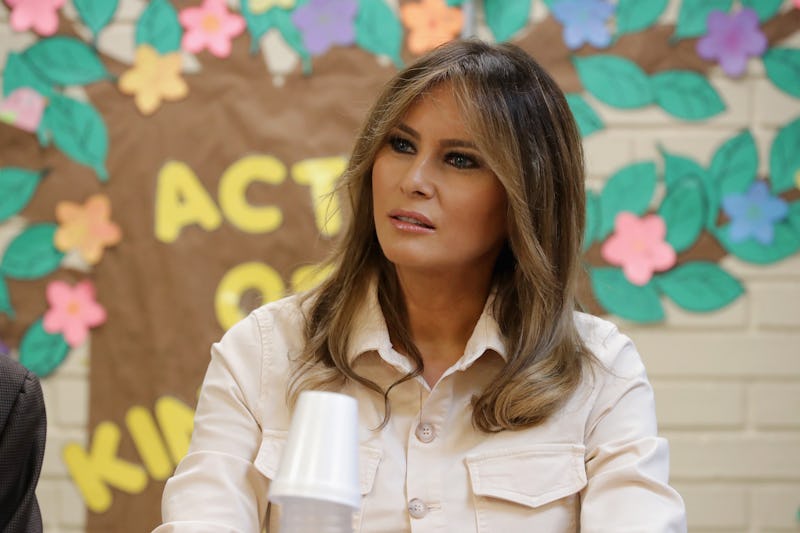 Chip Somodevilla/Getty Images News/Getty Images
After two trips to Arizona and Texas, First Lady Melania Trump's border visits have shown her the "very, very sad" situation for migrants, President Trump said Sunday. Trump recounted his wife's thoughts on her multiple border visits in an interview with Maria Bartiromo on Fox News' Sunday Morning Futures.
"She came home and told me a couple of things. She said it's a very sad situation, very, very sad," Trump told Bartiromo. "She was really impressed with border patrol, how ​professional they were. She came and said that, and she was really saddened by the plight of people."
Trump said Melania was impressed by "how professional" the immigrant enforcement agencies were during Melania's visits to Arizona and Texas. "But she was so strong on how professional the border patrol, the agents, the law enforcement is along the border," Trump told the Fox News host. "She couldn't believe it. And she saw the danger. She saw the — you look ​at ​it. It just looks like danger."
Trump also said the first lady has a "very big heart" before pivoting to his own immigration agenda. "In the meantime we have to have strong border protection," Trump said. "We have to have strong borders."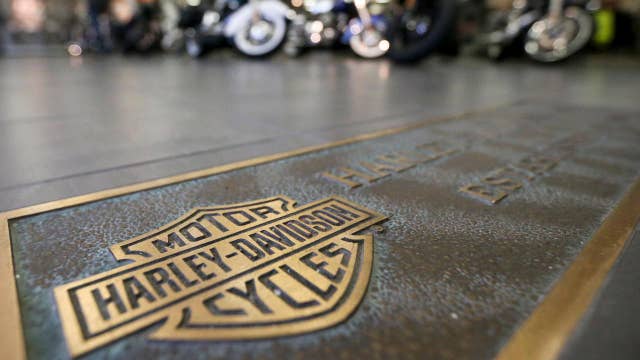 Bartiromo also asked Trump about separated families at the border and immigration policy more broadly. Namely, she wanted to know if Trump thought these images would hurt Republican lawmakers at the voting booth for the November midterm elections.
"No," Trump immediately replied. "First of all I signed an executive order last week saying I don't want families broken up. Nobody else did that."
Trump's immigration agenda has dominated headlines for days. On Saturday, the Families Belong Together marches hosted thousands of people around the country marching at 700-plus events around the country. Many demonstrators's signs referenced images from Melania's visits to border facilities.
Melania's first visit to immigration facilities on the border was at McAllen, Texas. Her coat—which said "I Really Don't Care, Do U?"—made an outsized impression. During that visit, Melania went to the Upbring New Hope Children's Shelter, a detention facility for young immigrant girls and boys.
Her second border visit was to Arizona. On Thursday, Melania toured a Southwest Key Campbell children's facility, which is partially funded by the U.S. Department of Health and Human Services, as well as met with Border Patrol officials in Tucson, according to The New York Times.
Many children at the facility had been affected by Trump's zero-tolerance policy, which saw children separated from their parents at the border. (Under the policy, parents were charged with criminal offenses and children could not accompany their parents to jail, so families were separated.) CNN reported that 81 of the 121 children at this Phoenix shelter were separated from their parents at the southern border.
Despite the heat on his immigration policy, Trump told host Bartiromo that he's pleased with his immigration policy and how it positions GOP candidates for the midterms. He specifically cited the issue of "Abolish ICE" as a positive for conservatives.
"You get rid of ICE you're going to have a country that you're going to be afraid to walk out of your house," Trump said. "I love that issue if they're going to actually do that. They're seriously talking about that? Because you're going to have a country that's crime ridden."
Trump said comments from Rep. Maxine Waters and Minority Leader Nancy Pelosi would hurt Democratic electoral outcomes.
"Between Maxine Waters and Nancy Pelosi and getting rid of ICE and having open borders … all it's going to do is lead to massive, massive crime. That's going to be their​ platform, open borders, which equals crime," Trump told the host. "I think they'll never win another election."
This will only help conservative candidates, he said of the Democratic party's leftward slant in recent weeks.
"So I'm actually quite happy about it," Trump added.