Trump Responds To Matt Lauer's Firing By Demanding NBC Execs Get Booted For "Fake News"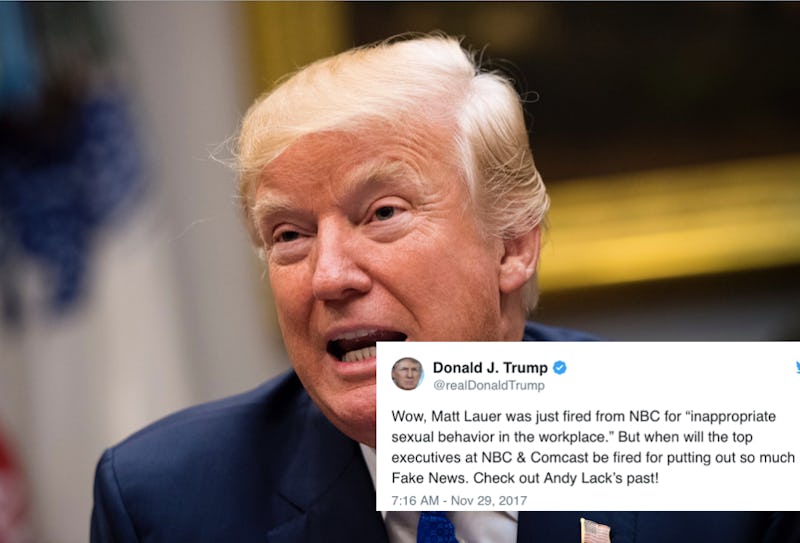 Pool/Getty Images News/Getty Images
NBC News announced Wednesday morning that TODAY show host Matt Lauer was fired following a "detailed complaint" about "inappropriate sexual behavior in the workplace." President Trump responded to Lauer's termination by asking when top executives at NBC and Comcast will be fired for "putting out so much Fake News." In a second tweet later that morning, the commander-in-chief specifically called for MSNBC's Phil Griffin and "low ratings Joe Scarborough" to be let go.
Trump's first tweet came not long after news broke that Lauer was fired from NBC. "Wow, Matt Lauer was just fired from NBC," the president wrote. "But when will the top executives at NBC & Comcast be fired for putting out so much Fake News," adding, "Check out Andy Lack's past!" referring to the NBC News chairman who announced Lauer's termination in an email to his staff.
Lack's statement said NBC received a "detailed complaint from a colleague" Monday night about alleged sexual misconduct by Lauer. The email said that after serious review, the allegation represented "a clear violation of our company's standards" and that NBC was "presented with reason to believe this may not have been an isolated incident." Lauer's termination was announced on-air Wednesday morning by his former TODAY co-host, Savannah Guthrie.
President Trump didn't stop with a single tweet, though. Two hours later, he added:
So now that Matt Lauer is gone when will the Fake News practitioners at NBC be terminating the contract of Phil Griffin? And will they terminate low ratings Joe Scarborough based on the "unsolved mystery" that took place in Florida years ago? Investigate!
Trump deleted and retweeted this 16 minutes later, fixing a typo.
Trump's feud with Morning Joe co-host Scarborough is not new, as the president often fires back at Scarborough and co-host Mika Brzezinski, both harsh critics of his presidency. However, Trump's tweet Wednesday morning went beyond disagreeing with a critic to implying Scarborough was involved in a murder.
The "unsolved mystery" seemingly refers to the death of Lori Klausutis, who was found dead in Scarborough's Florida office in 2001, when the TV host was a Republican congressman. An autopsy found that the 28-year-old had heart problems that caused her to fall and fatally hit her head, and no evidence suggests Scarborough was involved in her death.
When Markos Moulitsas, founder of Daily Kos, suggested Scarborough had something to do with the "scandal" on Twitter in 2010, MSNBC president Phil Griffin banned Moulitsas from appearing on the network. According to his tweet, President Trump wants to see both Scarborough and Griffin fired.
The president's battle with the media as a whole has also persisted since his 2016 campaign. Just this week, reports surfaced that he privately claimed the 2005 Access Hollywood tape in which he bragged about grabbing women without consent wasn't authentic. And an hour before tweeting about Lauer for the first time, he responded to news that CNN wouldn't attend the White House Christmas party.
Great, and we should boycott Fake News CNN. Dealing with them is a total waste of time!
Because Trump weighed in on the allegations against Lauer, people on Twitter pointed out that Trump has also been accused of sexual harassment and assault himself.
Summer Zervos, a former contestant on The Apprentice, sued Trump for defamation after he denied all allegations of sexual assault and called his multiple accusers liars. Trump's lawyers have argued that the case should be dismissed because they believe Zervos' allegation that Trump groped her is false and that the suit is "politically motivated."
Trump continues to deny all sexual misconduct allegations against him while cheering on Lauer's termination.