Trump Trashes Roy Moore's Accuser At A Florida Rally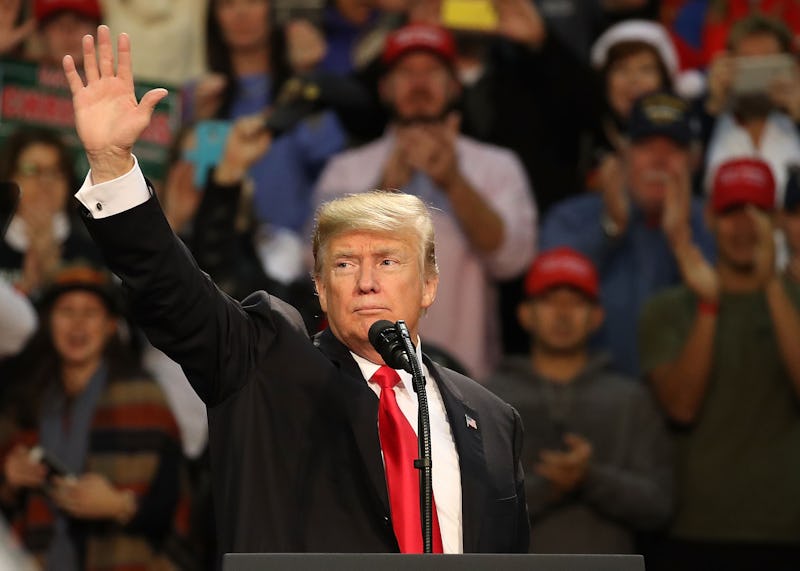 Joe Raedle/Getty Images News/Getty Images
During a rally in Pensacola, Florida, on Friday, Trump attacked Beverly Nelson Young, Roy Moore's accuser, ahead of the Alabama special election on Dec. 12. Trump also threw his full support behind Moore, who has been accused by several women of inappropriate sexual behavior against them when they were teenagers. Moore has repeatedly denied all allegations against him.
A bombshell report by The Washington Post revealed the initial allegations against Moore, the Republican running for Jeff Sessions' empty seat in the Senate. GOP lawmakers have since been fielding questions on whether or not Moore should step down. Trump initially responded by saying that a "mere allegation" shouldn't "destroy someone's life" but that Moore should "step aside" if the allegations are true.
While touting Moore at the Florida rally, Trump also attacked Young, one of Moore's accusers. At a press conference last month, Young's attorney, Gloria Allred, procured a yearbook that Moore allegedly signed, presenting it as evidence that Moore knew her. (Moore claims that he did not know any of his accusers.) Earlier on Friday, Young acknowledged that she had written down the date and location beneath Moore's signature to remember when it happened, leading Republicans to accuse her of forging the signature and calling for an independent handwriting expert. Trump brought up Young's annotation at the rally and criticized Allred:
So did you see what happened today? You know, the yearbook? Did you see that? There was a little mistake made. She started writing things in the yearbook. What are we gonna do? Gloria Allred, anytime you see her you know something's going wrong.
Trump also slammed Doug Jones, Moore's Democratic rival in the election. Trump framed Moore's election as vital to Republican interests, encouraging people to "get out and vote" for him. As of Friday, Moore has a seven-point lead over Jones in a new Senate poll.
"We cannot afford, this country, the future of this country, cannot afford to lose a seat in the very, very close United States Senate. We can't afford it, folks," Trump said. "We can't afford to have a liberal Democrat who is completely controlled by Nancy Pelosi and Chuck Schumer. His name is Jones, and he is their total puppet and everybody knows it. We need somebody in that Senate seat who will vote for our 'Make America great again' agenda. Get out and vote for Roy Moore!" Trump told the crowd.
Scores of Republican lawmakers, including Senate Major Leader Mitch McConnell, Sen. John McCain, and Sen. Jeff Flake among others have come out and said that Moore should withdraw from the race. After The Post story made headlines, McCain tweeted that Moore "should immediately step aside and allow the people of Alabama to elect a candidate they can be proud of."
After the allegations against Moore first surfaced, Republicans worried that his election would tarnish the GOP during an ongoing national dialogue over sexual assault. McConnell has said that Moore will most likely face an ethics investigation about the allegations by the Senate Ethics Committee should he make it to Washington. Cory Gardner, the National Republican Senatorial Committee chairman said that Moore should be expelled from the Senate should he win the election and that he would "never have the support of the senate committee."
As the election draws closer, Moore's allies in Alabama have not wavered in their support of the embattled candidate and Moore's campaign has continued to depict the mainstream media as dishonest, calling the allegations "the very definition of fake news." After Young's admission that she had added her own notes to the yearbook, one of Moore's strategists said on Friday that Republican opposition to Moore was "smoke" and that they "had no right" to overturn a candidate elected by the people of Alabama. A recent poll by Change Research also showed that even if Moore admitted that the allegations were true, 54 percent of Moore's voters would "probably" or "definitely" still vote for him.