In Belittling San Juan's Mayor, Trump Proves The One With "Poor Leadership" Is Him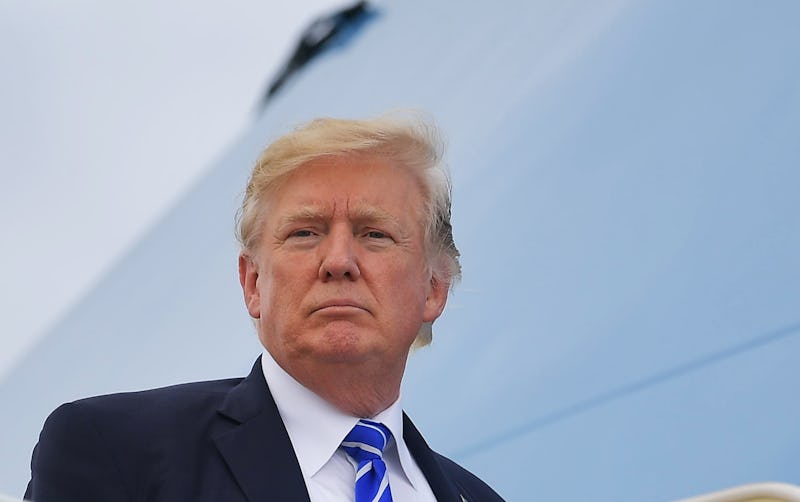 MANDEL NGAN/AFP/Getty Images
Amid the veritable humanitarian crisis in Puerto Rico, President Donald Trump has set his sights on yet another squabble. On Saturday morning, the target of Trump's attacks was San Juan Mayor Carmen Yulín Cruz, whom the president rebuked for showing "poor leadership" in the aftermath of Hurricane Maria.
"Such poor leadership ability by the mayor of San Juan, and others in Puerto Rico, who are not able to get their workers to help," Trump wrote as part of a series of Saturday morning tweets. "They want everything to be done for them when it should be a community effort."
Trump's angry remarks were a response to Cruz's criticism of the federal government's recovery efforts on the island, which she's said have yet to account for residents trapped in buildings and left without clean drinking water. But while the president sought to cast doubt on Cruz's leadership and diplomacy with his comments, it's his own that has come into question.
Many people wondered what it said about Trump that he'd decided to blast both a mayor and the residents in her community — victims of one of the country's most catastrophic storms to date — for wanting "everything to be done for them." What did it say about Trump that he'd picked a fight with another powerful woman? What did it say about him that he'd picked a fight with another powerful woman of color?
Nothing good. At the least, Trump's penchant for feuds, and especially ill-timed ones, proves he doesn't have the right temperament for the office of the president. At most, Trump's willingness to go after women of color confirms the gender and racial biases most of us knew he harbored all along.
FiveThirtyEight Editor-in-Chief Nate Silver saw the president's comments about Cruz as fitting into a clear pattern of behavior we've seen throughout Trump's campaign and presidency. In response to a New York Times headline calling Trump's recent spat with the NFL a mere attempt to "shore up his base," Silver offered his own analysis.
"Alternative hypothesis: Trump has poor impulse control & is easily triggered, especially when being challenged (esp. by women & minorities)," Silver wrote Saturday on Twitter. "So, it totally fits the pattern that Trump is attacking the mayor [of] San Juan. She challenged him and she's a woman (and Hispanic, obviously)."
It brought to mind another one of Trump's recent feuds. Before his beef with majority-black NFL players taking a knee during the national anthem, the president had gone up against ESPN host Jemele Hill, a black woman who termed Trump a white supremacist on Twitter. Trump promptly called for her firing.
Before Hill, there was MSNBC's Morning Joe hot Mika Brzezinski, who Trump said was "crazy," had a "low IQ" and whom Trump accused of having cosmetic surgery. Before Brzezinski there was April Ryan, a black journalist who became a target of Trump's when she asked him a question about meeting with the Congressional Black Caucus at a February press conference.
"Do you want to set up the meeting?" Trump interrupted. "Are they friends of yours? Go ahead, set up the meeting."
Before Ryan, there was Alicia Machado. Before Machado there was Rosie O'Donnell. Before O'Donnell there was Megyn Kelly. The list goes on.
The president's use of the word "nasty" in his response to Cruz only makes a stronger case in the argument for Trump's tendency to target influential women. The word recalls Trump's attacks on one of the most powerful woman to ever challenge him: Hillary Clinton.
Though Trump didn't call Cruz "nasty" outright as he did Clinton, he wrote on Saturday that Democrats had encouraged Cruz to be "nasty" rather than "complimentary" to him. In truth, it isn't too far a cry from dubbing her a "nasty woman."
These attacks make Trump a leader and a president only to those who offer him their undying support. Everyone else — women and minorities especially — is out of luck.
In light of Trump's harsh words for Cruz, many Twitter users have pointed out the irony in Trump's criticism of the mayor, who has been on the front lines of the island's relief efforts.
Feminist author Jessica Valenti tweeted out a photo of Cruz waist-deep in flood waters shaking the hand of a man in a kayak, writing, "To be clear: a man who shits on a golden toilet & golfs while Americans die is complaining that this woman & the people she's helping want 'everything done for the'?"
Another Twitter user, Mic reporter Will Drabold, similarly shared photos of Cruz talking to rescue teams and comforting devastated residents as a challenge to Trump's insults. "[Donald Trump] says the mayor of San Juan has shown 'poor leadership,'" Drabold wrote. "Here she is showing 'poor leadership.'"
For what it's worth, Cruz is determined not to let Trump's words faze her. "I have no time for distractions," Cruz told MSNBC's Joy Ann Reid on Saturday. "All I have time for is for people to move forward, get help."
But that doesn't mean she's going to stay silent. "What kind of Puerto Rican, what kind of human would I be if I knew of other mayors who are getting no water and no food and I just looked the other way?" she asked. "I will continue to do whatever I have to do, say whatever I have to say, compliment the people I need to compliment and call out the people I need to call out."