Trump's "Fake News" Cries Could Put Hurricane Harvey Victims' Lives In Danger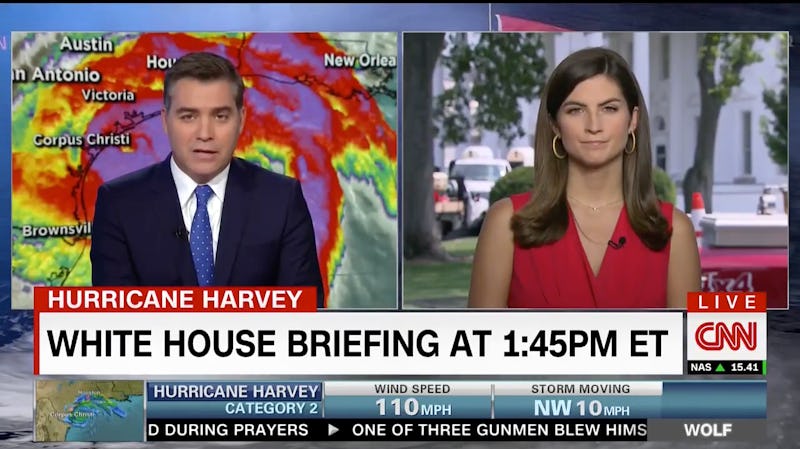 CNN
On Friday before Hurricane Harvey made landfall in Rockport, Texas, CNN's Jim Acosta had a warning for Trump. Namely, he made the claim that Trump's fake news cries could endanger Hurricane Harvey victims — that is, only if they believe Trump and have already stopped trusting the news to deliver accurate information not only on politics, but also on weather.
Hopefully the president won't be tweeting about fake news as much, as many Americans will be relying on the news to stay safe during this storm ... This is going to be a major test for this young administration, for a president who has not had to deal with natural disasters like this.
Acosta's suggestion that Trump's fake news talk will cause people to reject the fact that a giant hurricane is on the way is unlikely. Residents of Texas witnessed the weather turn sinister on their own, and on top of that, the National Hurricane Center confirmed that yes, a hurricane is coming. The information wasn't just coming from CNN or The New York Times — some of Trump's least favorite outlets.
However, Acosta is right on the money when he says this is a test for the young administration, which doesn't necessarily have a reputation for being stable.
As Acosta pointed out, Trump didn't tweet about Hurricane Harvey until Friday afternoon, when he announced that he had spoken with Louisiana Governor John Bel Edwards and Texas Governor Greg Abbott. "Closely monitoring #HurricaneHarvey developments & here to assist as needed," he added. Later that night, he signed a disaster proclamation for Governor Abbott so that Texas could receive federal aid before the hurricane did its worst.
But dealing with the aftermath of a hurricane that causes immense damage isn't as simple as throwing money at the situation until it goes away. And that's where the test for the administration comes into play. George W. Bush's response to Hurricane Katrina, for example, was detrimental to his reputation as president. After being photographed staring down at the disaster from Air Force One, Americans began viewing him as detached from the victims' hardships. The fact that he was on vacation when the hurricane hit didn't help either.
So, the way Trump and his administration respond to the aftermath of Harvey will be telling — and consequential. Trump's involvement in rebuilding what was lost in Texas will be heavily scrutinized, so let's hope he's up for the challenge.