Trump Just Revealed How He'll Defend Himself If He Loses In 2020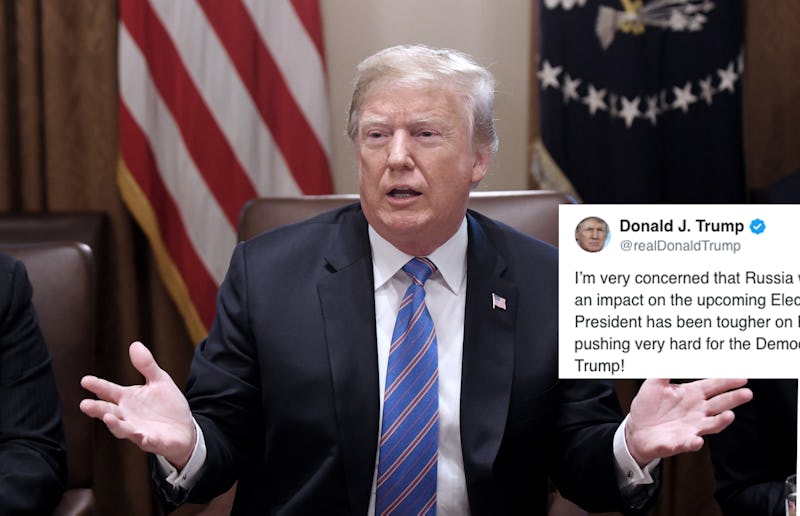 Pool/Getty Images News/Getty Images
So far, Trump has had a lot to say about how Russia definitely did not interfere in the 2016 elections to help make him the president. In a Tuesday tweet, though, the president seemed to express a different opinion on Russia's regard for independent American elections. In other words, Trump's tweet about Russia and the elections revealed how he'll defend himself if he loses in 2020.
"I'm very concerned that Russia will be fighting very hard to have an impact on the upcoming Election," Trump tweeted midday on Tuesday. "Based on the fact that no President has been tougher on Russia than me, they will be pushing very hard for the Democrats. They definitely don't want Trump!"
The "fact" that Trump cites is a blatantly false claim. In the area of being tough on Russia, Trump has gone farther than most — if not all — former presidents, but in the opposite direction.
In January, for example, Trump decided not to enforce sanctions against Russian officials that Congress had passed by a huge margin as a response to Russia's election interference, annexation of Crimea, ongoing invasion of Eastern Ukraine, and continuing human rights abuses. NPR reported in December of 2017 that Trump had pushed the GOP to change their platform to be less supportive of Ukraine, and more supportive of Russia.
Trump has since gone even further down the Kremlin's line on the Crimea issue, recently even making the claim that Crimea was naturally Russian because there are many Russian speakers there, as Buzzfeed reported. This is a common Kremlin claim, and the same could apply to numerous other areas in the former Soviet space. He's also supported the Kremlin argument, as The Atlantic explained, in his recent criticism of NATO and the European Union.
He's also been complimentary of Russian President Vladimir Putin, who holds an extremely tight grip over his country's politics. Trump congratulated Putin for an election win that most outside observers, including Republican Sen. John McCain, agree was a "sham." According to the Guardian, Trump was the only Western leader to do so — and he did so even after he had been explicitly told not to in his briefing material, as the AP reported.
His recent press conference with Putin in Helsinki, then, made it quite clear to anyone watching that Trump was willing to believe Putin's claims regarding Russia's election interference than the conclusions that his own intelligence agencies had reached. When even Fox News joined in the criticism of Trump's performance in the Finnish capital, Trump walked back his statement with an odd claim that he had mistakenly said "would" instead of "wouldn't," followed immediately by a statement again defending Russia against claims of election meddling. No one knows exactly what Trump said in his lengthy, one-on-one meeting with Putin, but it did come out that Trump didn't immediately dismiss the idea of allowing Russia to question Michael McFaul, a former American ambassador to Russia — which, as the New Yorker wrote, would be unheard of.
It's evident, then, that Trump's claim that no one has been harder on Russia than him is untrue — but if you want more proof, the Helsinki press conference offered another useful snippet. We know that Russia wanted Trump to win the election in 2016, at least, not only because of the intelligence community — but also because Vladimir Putin himself admitted it in the press conference.