Ariana Grande's Fans Can't Stop Talking About Toulouse's Already Iconic 'Vogue' Cover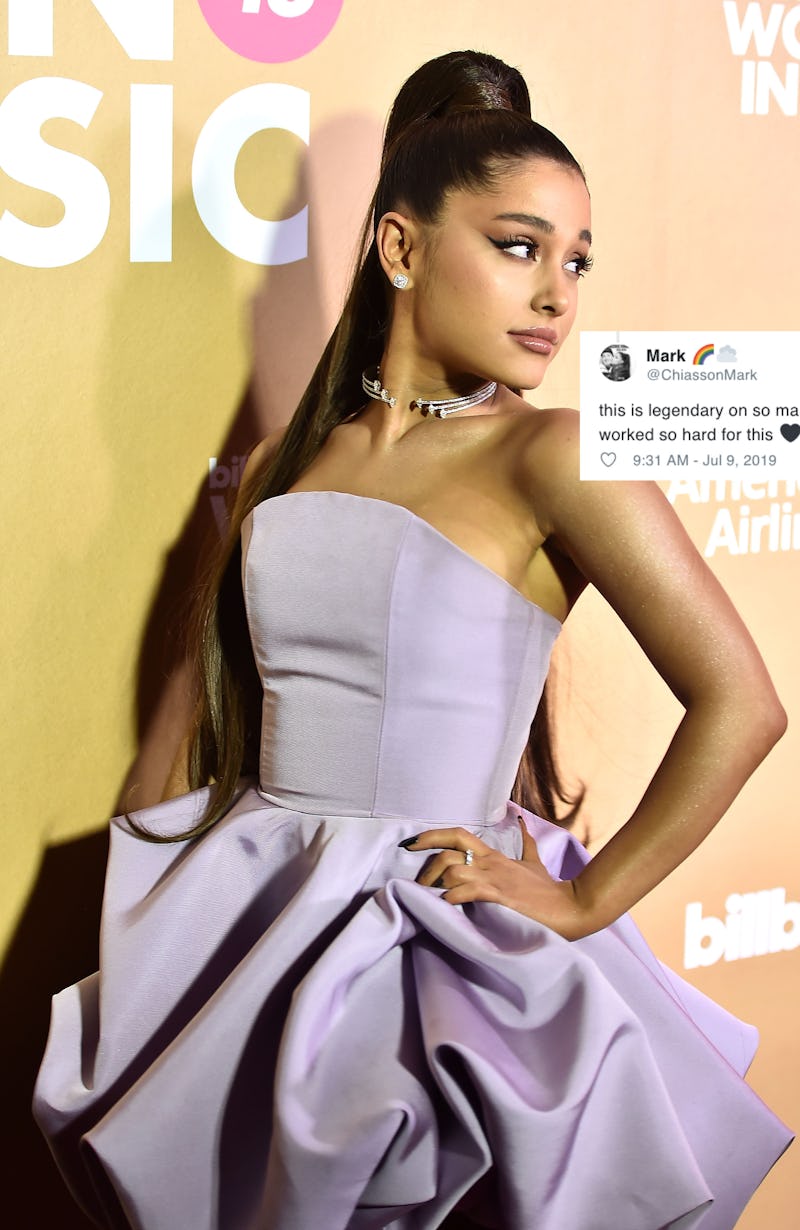 Theo Wargo/Getty Images Entertainment/Getty Images; ChiassonMark/Twitter
Ariana Grande is no stranger to posing for magazine covers, but now, someone near and dear to her heart is getting his chance to truly shine. It's happening, everyone. Grande's dog, Toulouse, posed for a Vogue cover with his owner, and not only does it seem like the "Breathin'" singer is definitely a proud parent, but fans are psyched about it, too, and they're already sharing their feelings on Twitter.
Grande shared the cover on Instagram on Tuesday morning, and her four-legged friend is front and center. In the photo, Grande's posing in a black wide-brimmed hat on the beach, keeping her look simple with a black dress and minimal makeup. And there on her lap is Toulouse, posing with his mom and looking directly into the camera. And if you have a pet, you know how difficult making that happen can be, so major props to this dog, Grande, and the Vogue team.
"Thanks for allowing me to be in the background of Toulouse's first Vogue cover," Grande wrote in her caption, thanking Annie Leibovitz for taking the photo and Rob Haskell for writing the story. And truly, this cover is a masterpiece. It's easy to see why fans are already loving it.
As soon as Grande shared the cover, fans have been tweeting about how much they love it — and how deserving Toulouse is of his Vogue debut. For years, he's stood by his mother's side as she's traveled the world to perform and released top selling albums; now, it's his turn to bask in the glory that he has earned by being Grande's faithful BFF.
There's been a lot of general freaking out, as seen in these tweets, which is totally understandable, considering that there's an adorable dog on the cover of Vogue:
Others were concerned that Toulouse might let his newfound success get to his head — a valid concern, considering this cover is obviously a Very Big Deal.
Some fans were upset that Piggy Smallz did not make the cut, which is valid. He would have made an excellent addition to the cover.
Some tweets acknowledged the fact that Grande had simply taken a backseat to Toulouse, because he totally stole the show in this photo. One even called him a "super model," which is an entirely accurate assessment.
And others simply commented on how Toulouse's success makes everyone else's pale in comparison.
It's true: Toulouse is now a very accomplished dog — not that he wasn't before, considering he belongs to one of the biggest pop stars in music today. And judging by how often Grande posts about him on Instagram, it's clear that he's also very loved by his owner, too.
Let's just hope that the response to his Vogue cover lands Toulouse plenty more gigs in the future. After all, is there such a thing as too many photos of an adorable dog? There's no way he could end up being overexposed.