Fans Are Excited About Serena Williams' Baby As If She's In Their Own Family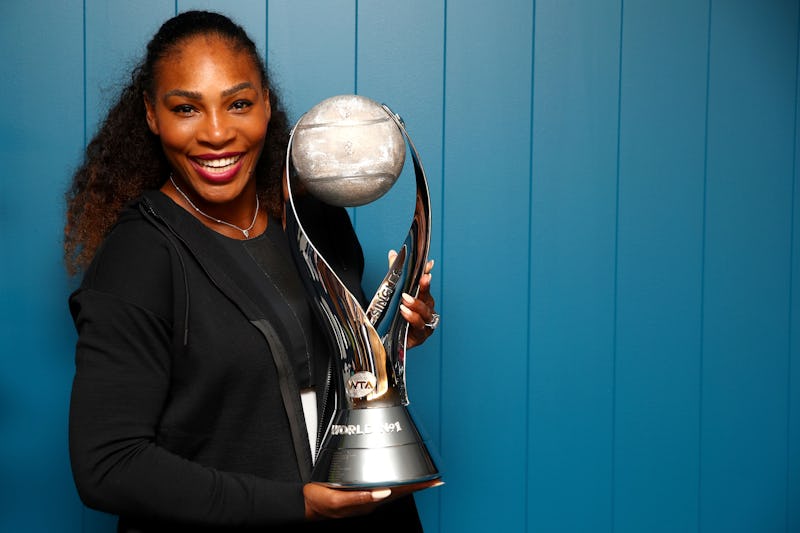 Clive Brunskill/Getty Images Sport/Getty Images
Labor Day weekend is starting off with a happy new addition to the Williams fam. That's right, Serena Williams has reportedly given birth to her first child, according to E! News. (Bustle reached out to Williams' rep, but did not receive an immediate response.) Unsurprisingly, fan responses have already begun to roll in, and tweets about Serena Williams welcoming her baby highlight what a star she and her daughter already are.
Of course, Williams has a lot to celebrate. Having won numerous tournaments, broken a series of records, and held the No. 1 world rank at various times, she's one of the most venerated tennis players of the last two decades, and now, she's also officially a mom. (Plus, let's not forget she won the Australian Open while pregnant. Talk about #goals).
As reported by E!, Williams welcomed a baby girl on Friday with her fiancé, Reddit co-founder Alexis Ohanian. The news has apparently already reached Williams' sister, Venus, who told reporters that she was "super excited," per E!. There's no word yet on what the new parents named their daughter, but stay tuned, more details are sure to follow. In the meantime, Twitter is doing enough freaking out for the whole family.
Beyoncé Weighed In With A Simple Congrats
Queen B welcomed her own twins earlier this summer.
Some Predicted Her Daughter's Athletic Talent
Maybe she'll inherit some of those good tennis genes.
Though This Person Encouraged Her To Pursue Her Own Path
She's only a few hours old, so let's maybe calm down.
And Others Had Different Goals In Mind
The White House is calling her name, whatever it is.
Either Way, She's Already An Icon
She's sure to accomplish something big.
This Person Pointed Out Williams' Perfect Timing
Well played, Serena.
Like, Really Perfect
The U.S. open can wait.
This Fan Even Thought She'd Be Back On The Court
Would anyone actually be surprised?
This One Noted What A Great Role Model She'll Be
D'aww.
And This One Still Wasn't Over Her Past Accomplishments
Serena Williams will never stop being impressive.
But Mostly, People Were Just Really, Really Happy
I'm not crying, you're crying.
Congrats, Serena!