The Jamaican Olympic Team's Dancing Was Too Pure & Twitter Is In Love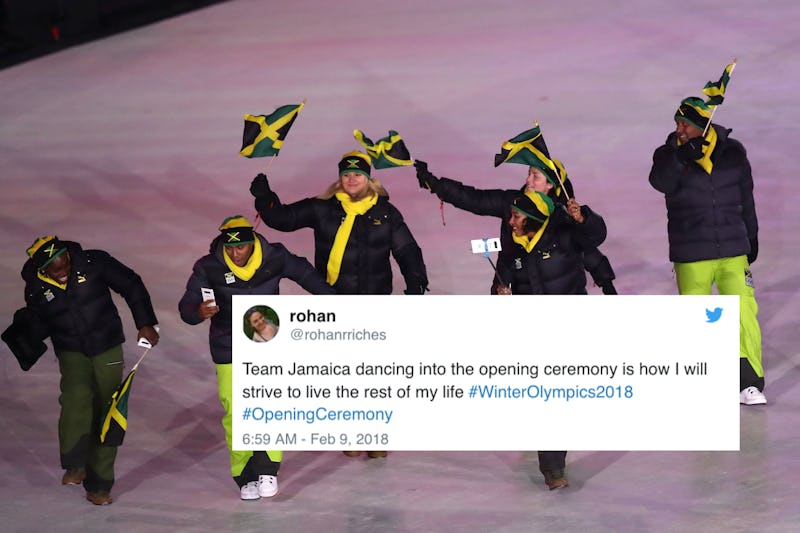 Ronald Martinez/Getty Images Sport/Getty Images; rohanrriches/Twitter
Our first real glimpse at all of the athletes participating in the 2018 Winter Olympics together happened during the opening ceremony in PyeongChang on Feb. 9, and the entire event was pretty spectacular. Of course, the Parade Of Nations stole the show as usual, featuring some of the world's best athletes during one of the proudest moments of their lives. Many obviously loved watching Team USA dance their way through "Gangnam Style," but another country made a big impression as well. The Jamaican team broke into dance during the Olympic opening ceremony, and it will warm your heart because it's that adorable.
The team's appearance at the Olympics is actually making history: Jamaica is sending a women's bobsleigh team to the Olympics for the first time ever, which is pretty amazing. This is the first time the women's bobsleigh team has ever been to the games, and it's happening 30 years after the men's bobsleigh team made its own historic appearance in the 1988 Winter Olympics in Canada. That moment in history was turned into the popular Disney movie Cool Runnings back in 1993. The women's team is being led by Jazmine Fenlator, who also competed for the USA as a push-athlete in the 2014 Games at Sochi.
Considering how hard the women's team worked to get to this point, it's no surprise that they were absolutely thrilled to be part of the opening ceremony. As they marched out during the Parade of Nations in some very cool uniforms (green and yellow, of course), they danced in the best way, and it was just really heart-warming to witness. Yes, go Team USA and all that, but come on — it's impossible not to root for these women.
Needless to say, people on Twitter were loving the dance moves. Check out some of the cutest reactions to the Jamaican team at the opening ceremony:
1. Setting The Tone
2. The Only Party Invite That Matters
3. All Kind Of Goals
4. Pre-Victory Lit
5. Dreams On Dreams On Dreams
6. A Necessary Truth We All Have To Face
7. Get It Together, Other Countries!
8. Even Team Jamaica Knew They Killed It
Excuse me while I replay this GIF a million times.
9. Twitter Was Seriously Thrilled
10. Most People Weren't Surprised To See The Team Bring The Party
11. Some Were Already Wondering Where Their Disney Movie Is
Honestly, this is a big opportunity for any movie studio — let's hope they don't waste it.
12. Twitter Loved How Happy The Team Was
13. There Was Definitely A Clear Winner Of The Parade Of Nations
OK, there is no actual winner for the parade, but if there were...
14. A Lot Of People Were Very Impressed
15. Many Found Them To Be Really Inspiring
Goals, to be honest.
16. These GIFs Were A Must
How can you tweet about the bobsleigh team without this GIF?!
17. As Many Pointed Out, The Dancing Was Completely Necessary
18. It Was Hard Not To Feel Happy While Watching Them
Their smiles were infectious.
19. It Was Definitely A Big Mood
Honestly, the best way to start out the weekend was watching this team.
20. There's A Good Chance People Were Dancing At Home
The team literally made everyone want to have a dance party at 6 a.m.
21. Some Pointed Out The Cool Runnings References
22. A Few People Only Had Jamaica On The Brain
This female bobsleigh team has already made history just by qualifying for the Olympics, and people can't wait to see what else they accomplish during the events — definitely be sure to keep an eye out for them! In the meantime, though, let's all get on Disney about making a sequel to Cool Runnings. The first one was great, but I think it might be even better with female leads.