Everyone Thinks Tyga Commented On Kylie's Rumored Pregnancy, But They're Missing One Huge Detail
Bryan Steffy/Getty Images Entertainment/Getty Images
It's only been a few hours since word spread that Kylie Jenner is reportedly pregnant, but that hasn't stopped rumors from beginning. That includes a screenshot circulating Twitter that supposedly shows Tyga claiming Jenner's baby is his on Snapchat. However, if you look very closely in the corner of that image, there's a clue it could be Photoshopped. (Bustle reached out to Tyga's rep for comment, but did not receive an immediate response.)
While a range of websites have reported on this "since-deleted" Snapchat, there's a major hint that it's fake. Next to the name "T-Raww" in the upper lefthand corner, there are no emojis. Yet in Tyga's Snapchat username, there are two flames and a tiger aside his name. If the screenshot is real, why aren't the emojis there? Even though it says the post is from his Camera Roll, the emojis should show up. (Just check out any celeb's Snapchat story for proof, or keep reading for more screenshots.) Either way, Tyga seemed to claim the Snapchat was fake when TMZ followed him around on Friday afternoon. He also declined to say anything about the actual baby rumors surrounding his ex.
As a quick refresher, Jenner began dating Travis Scott soon after she split from Tyga back in April. On Friday, TMZ, People, and Us Weekly all reported that Jenner is expecting a baby with Scott, supposedly a daughter. Reps for Jenner could not be reached by Bustle, while Scott's reps did not immediately respond to a request for comment.
Now that you're all caught up on the situation, let's dive into the evidence that proves Tyga is seemingly staying silent on this one.
Exhibit A: The Screenshot Circulating The Internet
This screenshot, which appears to have first been posted by The Shade Room's Instagram page, went viral. Naturally, fans were thoroughly amused and shared it like wildfire.
Exhibit B: Another Screenshot From Tyga's Account
For the record, I took this screenshot myself. And yes, I added that obnoxious red arrow, just so you could see the emojis for yourself. They always appear alongside his Snapchat name, but are notably absent from the viral "screenshot." Is it really Tyga without a tiger emoji anyway?
Exhibit C: A Separate Celeb's "Camera Roll" Post
See? The little peach emoji next to Kim Kardashian's name appears. Again, the obnoxious arrow is my own addition, but besides that, I didn't change a thing. This shows that it's standard for verified celebrities on Twitter (that's what the emojis mean BTW) to have their emojis alongside their Snaps. And yes, that applies to Snapchats taken from the app, as well as ones from their Camera Roll.
The fact that the "Hell nah thats my kid" Snapchat is missing Tyga's signature tiger emoji points to it being made-up. And if you watch TMZ's video with Tyga from this afternoon, it also supports the idea that he's respectfully declining to get involved here.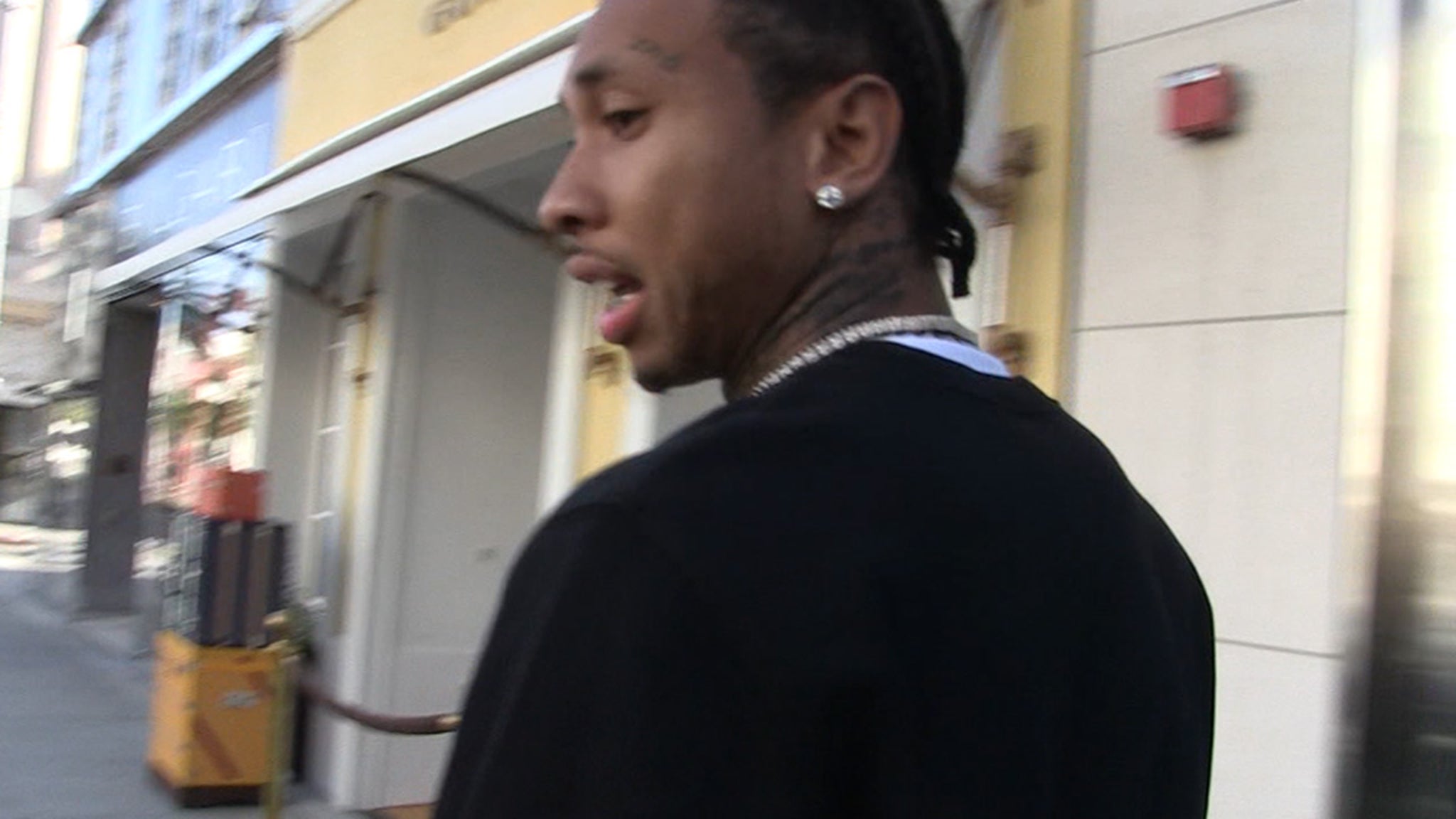 It's also worth noting that the actual rumored father of Jenner's baby seems thrilled about the news, according to People. Speaking of the couple, a source claimed to People, "They started telling friends a few weeks ago. The family has known for quite some time. She is really excited and so is Travis!"
If the Jenner baby rumors wind up being true, you can bet that the speculation will get even more wild than this. There's also already an internet theory sweeping Twitter that Jenner is Kim Kardashian's surrogate that seems to have no actual truth to it. And that's only within a day of the news breaking, so it's practically guaranteed to be a rollercoaster of rumor after rumor — whether that's about baby names, baby gender, and any other details.
But in the meantime, at least you can rest easy that this Tyga Snapchat rumor is likely just that — a rumor.