Tyra Wants Lindsay Lohan In 'Life-Size 2' As Much As You Do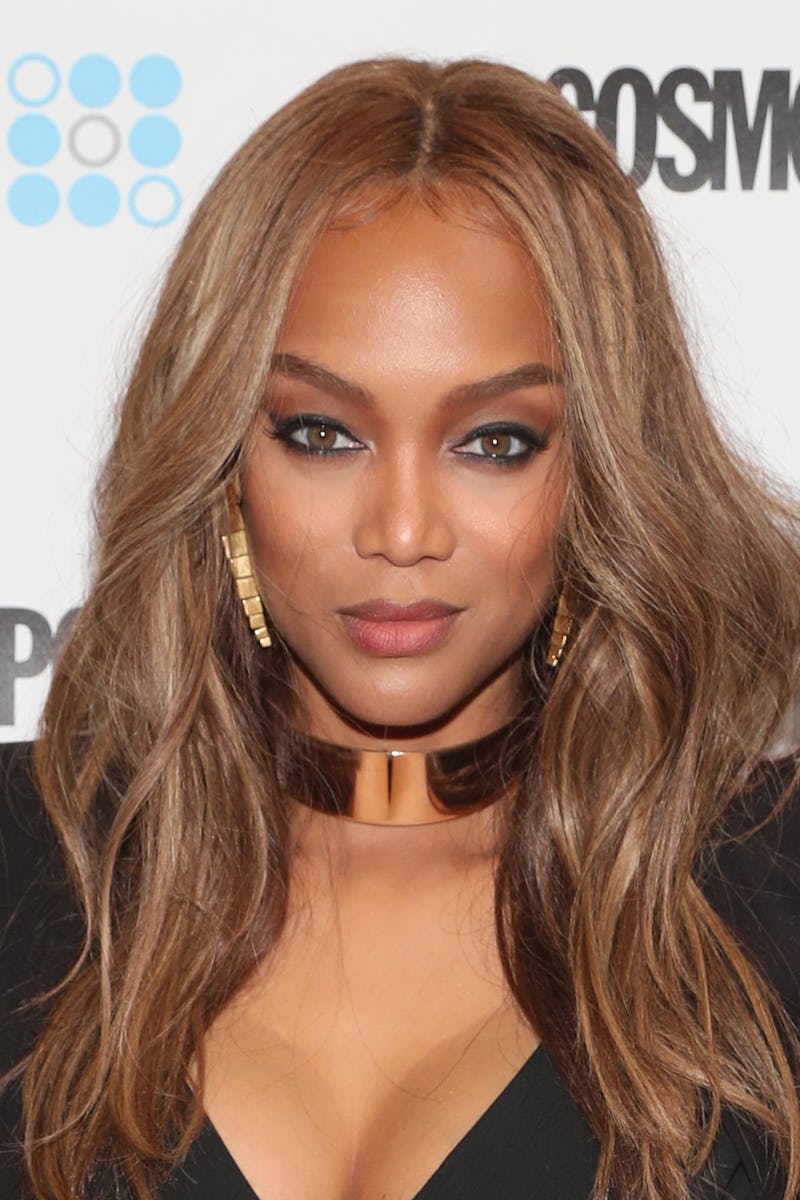 Cindy Ord/Getty Images Entertainment/Getty Images
It's official: the only person more excited than you about Life-Size 2 is Tyra Banks herself. On Friday, the star posted a photo of herself looking very Eve-esque on Twitter, and what she wrote will give you hope that Lindsay Lohan and Banks will reunite for the Life-Size sequel. While Freeform is still keeping mum on casting details, it's clear that the 43-year-old supermodel wants Eve and Casey to spend Christmas together in December 2018.
Banks shared a photo of herself wearing a pink dress that Eve would die for on Twitter, and captioned it:
"Today on @TODAYshow, Eve showed up. She's ready, boo. Are you @lindsaylohan?"
Lohan hasn't responded yet, but as recently as June, the former Disney queen tweeted her support for Banks to win a Teen Choice Award. And since the official announcement of Life-Size 2, Banks — who is also serving as an executive producer — has been vocal about wanting Lohan to appear in the film. In an April interview with E!, Banks said,
"I would love for Lindsay to do something. Like, Lindsay, the last time I saw you was, I don't know how many years ago—Every time I see her she gives me a hug like it was back in the day, like she's 10 years old again—I would love for you to come back and do something for 'Life-Size,' will you? Will you?"
Now Freeform and Lohan just need to iron out a deal already, because this Casey and Eve reunion has to happen. Who would dare deny Banks (or a legion of DCOM fans) such a momentous moment of nostalgia?
Even if Lohan doesn't return for the very Christmas Life-Size 2 sequel, the movie is in good hands. Banks' excitement over reprising the role of Eve is clear. For instance, her stunning pink dress was a personal choice for co-hosting the Today show, which means she's channeling Eve even when she doesn't have to. Her eagerness to tell another chapter of Eve's story would make Eve herself proud.
The long-awaited DCOM sequel is still a year away, but Banks has shared a few details about the film already. In addition to its Christmas setting, Life-Size 2 is set to feature a wiser Eve. With the sequel set for Freeform, the film will be aimed at an older audience. According to official description from the network, "Eve will experience ups and downs of real life in a fun, edgy, modern Christmas movie." The only thing that could possibly make fans more excited than they already are is if Casey — in the form of Lohan, of course — joins Eve on her holiday adventure of self-discovery.
Come on Freeform, don't make fans have to wish on a star to make a Lohan and Banks reunion happen.