This Clothing Line Inspired By A Plus-Size Superhero Will Make You Feel Invincible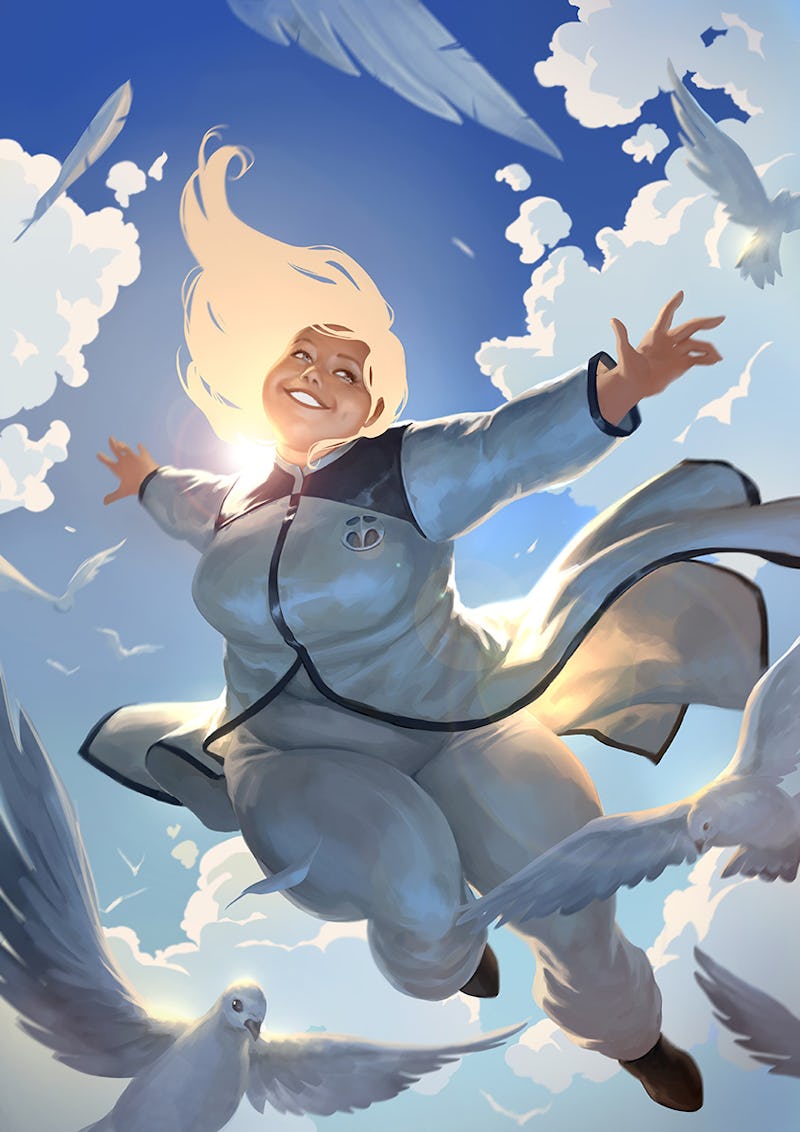 Courtesy of Valiant
Whether it's television, film, or fashion, representation matters. Now, two mediums are blending into one in order to bring a beloved fat-positive character further into the spotlight. ThinkGeek and Valiant Entertainment are bringing a Faith "Zephyr" Herbert inclusive clothing line to fans, and it's an undoubtedly powerful moment for plus-women in fandoms.
Faith first came on the scene in 1992 when she appeared in the Harbinger series using telekinesis and flight to protect Los Angeles. She quickly became a fan-favorite character with Valiant, and in 2016, she got her own series. Written by Jody Houser with art by Francis Portela, the Faith solo series became so popular that it had five printings as a result of high demand.
But it wasn't just Valiant readers who loved the series. The Faith series received praise from outlets like the New York Times, The Atlantic, and several other outlets during its printing. At the 2017 Eisner Awards, Faith — who now has her own on-going story — was nominated for Best New Series. That's not where the love of Faith ends. The comic super star is getting her own plus-size clothing line thanks to ThinkGeek.
Valiant's decision to create a Faith-inspired clothing line is a perfect move as Faith is, in fact, plus size. The comics have never featured a moment in which Faith's size is a plot point, the butt of a joke, or anything other than simply who she is. So crafting clothing after a woman who is plus and proud represents a move toward body positivity in the comic book industry. Her body is simply her body, and the Valiant x ThinkGeek Faith clothing line centers bodies in the same way by being size inclusive.
The Faith clothing line will feature three items designed by Catherine Elhoffer of Elhoffer Design who has previously worked with ThinkGeek. Of her work on the line, Elhoffer said, "Faith is a superhero that is close to my heart, as I'm also a plus-size girl. She's inspired me to help save the world in the way I know how: making fashion that helps everyone feel empowered and invincible!"
As for when you can get your hands on the clothing line, it's available on Jan. 8. You can purchase one — or all — of the three pieces of Faith-inspired clothing exclusively at ThinkGeek's website. With sizes XS to 4X, the range is perfect for all fans of the Valiant Entertainment character.
What does the Valiant Entertainment x ThinkGeek Faith collection look like? It's so perfect for the incredible heroine.
Valiant Faith Longline Cardigan
Valiant Faith Longline Cardigan, $50, Think Geek
This gorgeous white and blue longline cardigan inspired by Faith's Zephyr costume is the perfect choice if you can't get enough of the flying telekinetic superheroine.
Valiant Faith Cropped Cardigan
Valiant Faith Cropped Cardigan, $50, Think Geek
If the longline cardigan isn't for you, though, this ultra-cute and still Zephyr-inspired cropped cardigan with the Harbinger logo is definitely a great purchase for Faith fans.
Valiant Harbinger Unisex Sweater
Valiant Harbinger Unisex Sweater, $60, Think Geek
Not only does this pullover sweater look cozy, but it fully displays the Harbinger logo to show off all your love for Faith.
If you can't get enough of the body positive Faith or want to show the world just how important she is to you, check out the gorgeous collection of official Faith merchandise. With inclusive sizing and great designs, it's the perfect way to support Faith and rock some seriously cool gear.