Jax & Brittany's Anniversary Selfie Will Melt 'Pump' Fans' Hearts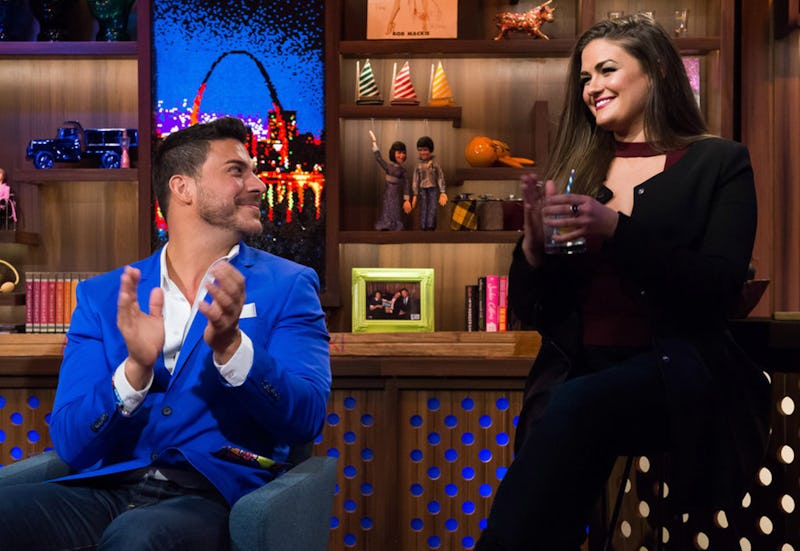 Charles Sykes/Bravo
Could someone please tell me where the time goes, exactly? Because I SUR-tainly don't know where it scurries off to. On Sunday, Vanderpump Rules stars Jax Taylor and Brittany Cartwright took a selfie as they celebrated their two-year anniversary on the Santa Monica Pier. The location is both a major tourist attraction and an important place in The Tale Of Jax & Brit: Some time after Taylor and Cartwright met in Las Vegas, they headed west and hit the Santa Monica landmark for their first official romantic outing. And the rest, as they say, is Sexy Unique History.
"Back where it all started two years ago on our first date!" Taylor wrote in the Instagram caption. "Have a great day everyone!" Oh, those cuties. Consid-SUR my heart warmed. It's like my heart has been swaddled in one of those terry cloth beach towels Cartwright and Taylor almost took to New Orleans. My heart is as snug as a bug in a beach towel.
As they walked the pier together back in 2015, I imagine they stopped by the Zoltar fortune telling automaton. And I imagine Cartwright fished a few coins from her pocketbook, dropped the change in the machine, and asked the soothsaying robot to tell them what their future held. And I imagine Zoltar waved a rusted arm back and forth a few times before telling them they'd one day have a Vanderpump Rules spinoff of their very own. And I imagine they laughed and laughed and laughed. "A Pump fan must be feeding the thing lines," I imagine Taylor told Cartwright. "This stuff happens more than you'd think."
Again, I don't know what actually happened on their first date. That's just what I imagine happened. Anyway, here's the selfie Taylor and Cartwright snapped two years after their first trek to the Santa Monica Pier.
Man, it's really been two years already? That sure zoomed by. It seems like Cartwright joined the series, like, all of five minutes ago. Remember when Cartwright moved to Los Angeles? Remember Cartwright's slapdash interview with Lisa Vanderpump? Remember the sunglasses incident? All of that happened so many months ago. What a beautiful, glorious SUR-lwind this show has been and continues to be.