Scheana Of 'Vanderpump Rules Says This Piece Of Lala's Relationship Won't Change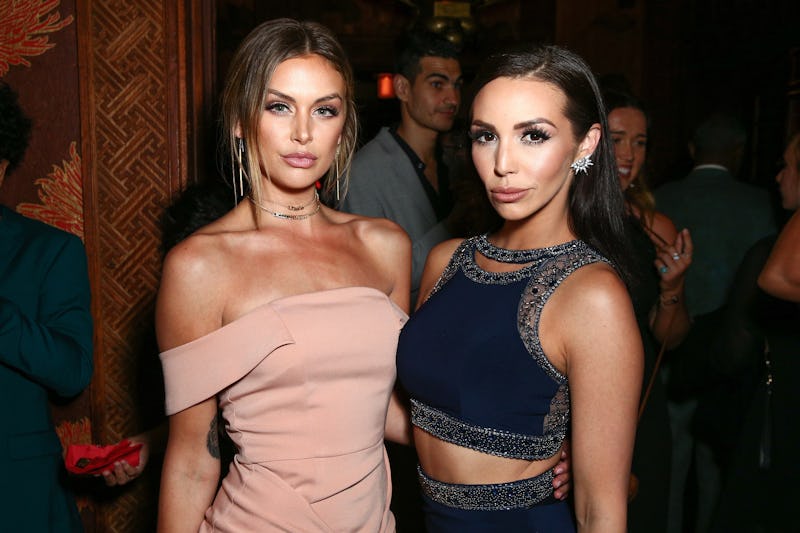 Rich Fury/Getty Images Entertainment/Getty Images
Their relationship status changed earlier this month, but Lala Kent and Randall Emmett's feelings on Randall appearing on Vanderpump Rules sure have not. As Scheana Shay recently told Us Weekly, Lala's fiancé won't be on Vanderpump Rules Season 7. When speaking with the magazine at the launch of Loop Now Technologies and Bit Circus' new app, Firework, last week, the "Shake That" songstress touched on whether or not her Pump Rules co-star's fiancé will ever be on the show. Rather than get all cryptic and tell us we just have to tune in to find out if Rand will pop up on the upcoming season, Scheana said, "Never. No."
Well, then. That is that.
Scheana's short and sweet response should not come as a SUR-prise. Lala and Randall have made it pretty clear that they are not interested in putting their relationship on reality TV, and it seems like the couple is pleased with the way things are. When Us Weekly asked the couple back in June if they would ever want their own spin-off series, Lala replied,
"Never! You know, I like my relationship a lot. So, I'm gonna protect it. This isn't this for the public. This is just for us to enjoy the two of us and not have outside influences."
Randall added,
"You know, she's the star. I want her to always be the star … I'm not good here. Let her be the star, and I'll always be behind the scenes."
Lala wants to keep her relationship separate from Pump Rules; Randall doesn't want to be on camera. So uh, don't expect to see the newly affianced duo get engaged or even walk down the aisle on TV.
As People reported the day after it happened, Lala and Randall got engaged on Sept. 1. The Sorority Row star shared the news on Instagram, writing,
"I got engaged to the man of my dreams. I get to call this amazing human my fiancé! An engagement last night, my birthday today, and every sign my dad could possibly send me to let me know he's here. I'm the happiest girl in the world."
According to People, Randall's proposal involved Friends, a Lala and Randall highlight reel, a private fireworks extravaganza, and a whopper of a diamond ring. But do you know what the proposal apparently did not include? A reality TV camera crew. Right after the engagement news broke, an insider told Page Six that the proposal was not filmed for Pump Rules Season 7.
Though Randall won't ever be on Pump Rules, that doesn't mean he isn't part of the Pump Rules family. By all accounts, the producer spends time with the Pump cast on a fairly regular basis. As Scheana told Us Weekly at last week's Firework launch,
"He's one of our favorite people to hang out with. He's so much fun, such a great personality, absolutely obsessed with her."
Alas, Vanderpump Rules fans will never see this Vander-pal on the reality program.
But maybe, just maybe, we'll see him on Flipping Out with Lala one day. At the very least, we'll see Randall and Lala's house, and that really is one giant step for SUR-kind.