These Photos Of Jax & Tom Schwartz Modeling Again Are Very Vintage 'Vanderpump Rules'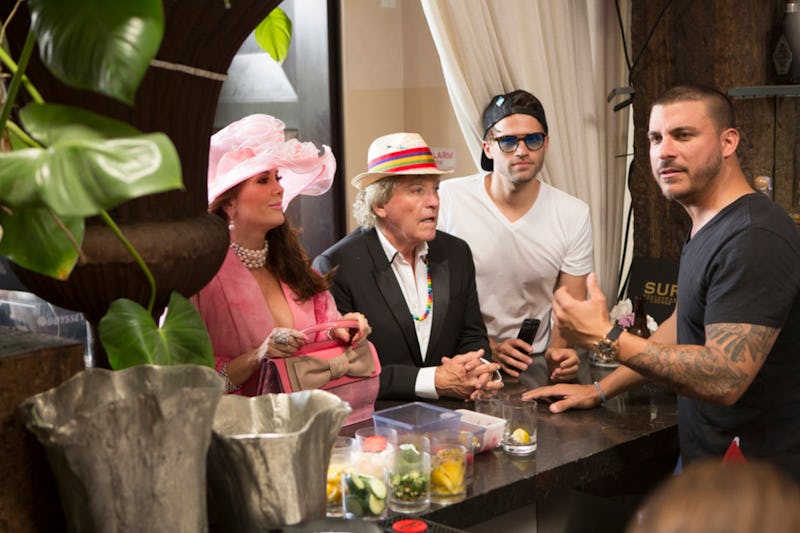 Isabella Vosmikova/USA Network
Sexy Unique Mactors Jax Taylor and Tom Schwartz are back doing the thing they did long before Vanderpump Rules was a twinkle in Lisa Vanderpump's eye. No, they didn't move back in with Tom Sandoval, but you're on the right track. Vanderpump Rules' Tom Schwartz and Jax Taylor are modeling again, just like the Sexy Unique Good Ol' Days. Furthermore, the two Pumpers could be heading to a department store near you. Well, photos of the two Pumpers could be heading to a department store near you. Hip hip SUR-ay.
Earlier this week, Pump Rules stars Schwartz and Jax made the trek to Montreal for quite the jam-packed trip. Per their tweets and IG posts, their itinerary includes an appearance at a nightclub called Bord'elle, a hockey game, and a photo shoot. On Wednesday, the Vander-pair shot a campaign for Robert Barakett for Nordstrom. And Jax commemorated his return to the modeling world by taking some behind-the-scenes photos and throwing 'em on the internet.
"It's been many years since I've played model, excited to get back Into it again today in Montreal for @robertbarakett campaign for @Nordstrom Thanks for having me guys!! It's been amazing this far. Thanks to @lorikpublicrelations @stephparisberks for taking care of @twschwa we would be lost with out you girls!! @revel9 thanks for coming along to babysit us."
It's been a minute since they last wore their macting caps, but the Sexy Unique Mactors are back at it.
The mactors picked up where they left off; their macting did not miss a beat.
The mactors mact like only a mactor can.
It's almost as if they never left the macting game.
It's as the old saying goes: Once a mactor, always a mactor.
Before they were Bravolebrities, Schwartz, Sandoval, and Jax were pals, roommates, and models. As Schwartz told Bravo's The Daily Dish back in 2016,
"Jax and Tom [Sandoval] were big influences on me. People don't realize that they've actually both booked a ton of jobs and had fairly successful modeling careers. They really worked a lot. Those guys were instrumental in my transition into L.A. and also my entry into the business."
Sandoval's Craigslist ad not only got the ball rolling on Schwartz's modeling career, but it also kicked off his friendships with Jax and Sandoval. And while these three may not model as much as they used to, their friendship trio seems stronger than ever.
And this friendship trio isn't just a friendship trio. It also happens to be one of the key ingredients of the foundation upon which Vanderpump Rules was built. Pump Rules without this friendship trio would be like a Pump Rules without SUR. Or a Pump Rules without LVP. Or a Pump Rules without the Witches of WeHo. Or a Pump Rules without goat cheese balls. Or a Pump Rules without "Raise Your Glass." Or a Pump Rules without the SUR alley. Or a Pump Rules without at least one shaved forehead. It just wouldn't be right. Thankfully, Sandoval's Craigslist ad brought all three of these mactors together so many moons ago.
And hey, while we're feeling all sorts of nostalgic and wistful, how about a throwback photo of a SUR-tain mactor?