Tom Schwartz's Tom Tom Backstory Will Give 'Vanderpump Rules' Fans ALL The Feels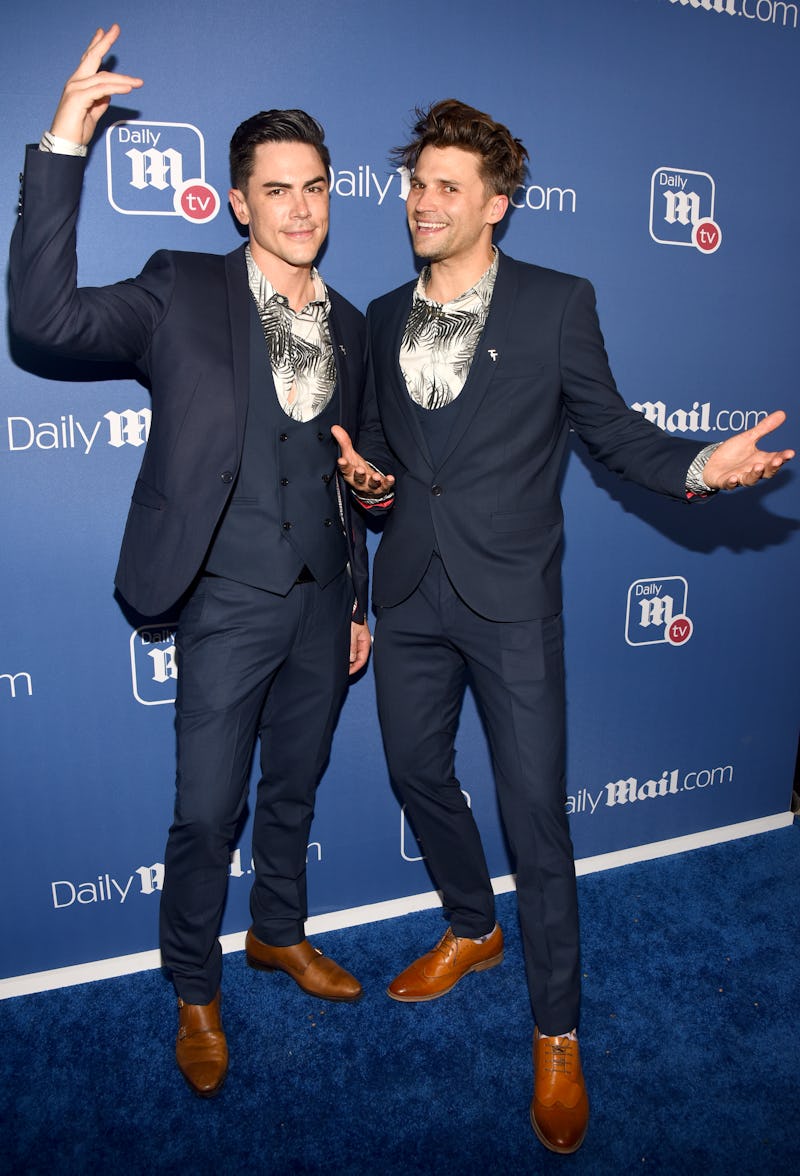 Araya Diaz/Getty Images Entertainment/Getty Images
The latest addition to Lisa Vanderpump's empire embarked on its (soft) maiden voyage this week, and one of her junior partners feels like he's in a SUR-weet, SUR-weet fanta-SUR-y, baby. Vanderpump Rules star Tom Schwartz posted Tom Tom's backstory on Instagram. In the post, he wrote that he can't believe he's really part of Tom Tom, on a hit reality show, married to Katie Maloney, a parent to two precious dogs, and a member of such a tight-knit group of friends. And we know he feels this way because he said he feels this way in a lengthy Instagram post that went up this week. On Thursday, the former Baggage contestant shared a photo of the other Tom, Tom Sandoval, lounging atop the Tom Tom bar and got all sorts of sentimental when it came time to write out the caption.
Schwartz began,
"I had the CRAZIEST dream last night...Somehow I had moved to LA and moved in with this dude I met on Craigslist @tomsandoval1. He shaved his forehead & taught me how to dress. Preener with a heart of gold. He asked me if his old pal from Miami could move in with us and I said sure as long as he's not too much of a presence. Cut to this big loud tan & gorgeous ahole barging in and telling me his name was @mrjaxtaylor."
The tale of Schwartz, Sandoval, and Jax Taylor's friendship is a story that has come up time and time again on Vanderpump Rules, and yet, it never gets old. Long before the reality show was a twinkle in The Real Housewives of Beverly Hills' eye, a fateful Craigslist ad brought Sandoval and Schwartz together. And then, Sandoval introduced Jax to Schwartz. They all lived together in Los Angeles. The rest, as they say, is hist-SUR-ry.
Schwartz continued,
"THEN somehow we all ended up on a tv show on @bravotv & opened a bar with @lisavanderpump & #kentodd literally called @tomtom. They taught me about hard work and the importance of giving back. No joke she even ordained my wedding. Had the great pleasure & honor of seeing this artist @nickalain & his wife Elena turn a dream into reality. We had the best staff and someone even referred to me as 'boss'. Somehow I had managed to find the best network of friends here and I had a beautiful wife named Katie."
And that's only the first half of this incredible note. Spoiler alert: Schwartzy manages to wedge a Human Centipede reference into this caption, because why not?
Man, what a story. Schwartz met Sandoval via Craigslist, moved out to the City of Angels with stars in his eyes and a few bucks in his bank account, lived with Sandoval and Jax, landed a role on a reality show about his group of friends, got married on that reality show, now calls the Queen of SUR his business partner, and he feels like he's in a dream. You know the song "Boulevard of Broken Dreams" by Green Day? OK, imagine the exact opposite of that song. Now you have Schwartz's Hollywood story.
Just under two years after Vanderpump pulled the Toms aside at Schwartz's wedding and asked if they would like to go into business with her, the Sexy Unique Romantic Industrial Bar has arrived. Schnockered trips to lamp showrooms and bizarre reunion conversations about deposit checks be darned: Tom Tom is happening. On Wednesday, July 11, Vanderpump's newest venture hosted DailyMail.com's annual summer gathering, Jax's 39th birthday party, and the establishment's soft opening event. SUR-fice to say, it was a big night for Tom Tom.
Tom Tom's grand opening still has not happened, but according to LVP, it is right around the corner. "We will be opening to the public in a few days, so stay tuned!" Vanderpump shared on Instagram on Thursday.
The Tom Tom dream is a reality. There really is a bar on Santa Monica Blvd. named after Schwartz and Sandoval. It's all hap-Tom-ing.