These Fashion Week Attendees Are Making Street Style More Sustainable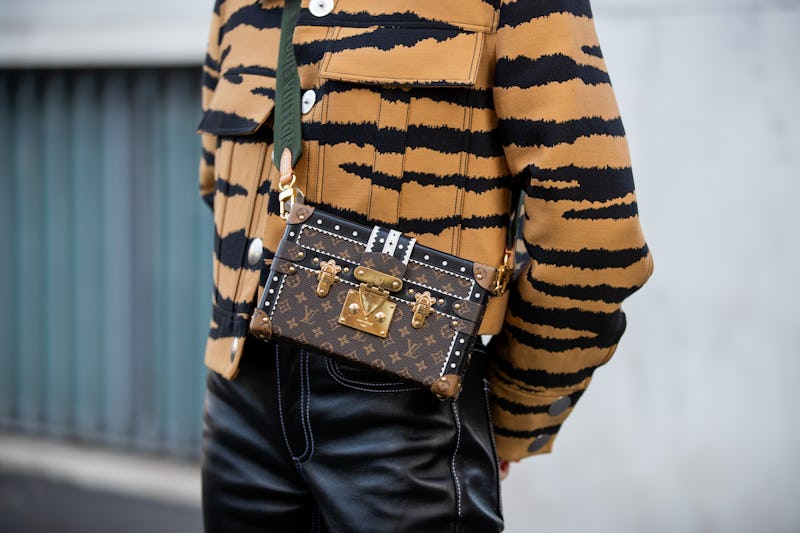 Christian Vierig/Getty Images Entertainment/Getty Images
Sustainability was top of mind during the Fall 2020 season of Fashion Week. Zimmerman pledged to donate to Red Cross Disaster Relief and Recovery after the 2019 Australian wildfires. Collina Strada used textile waste in the Fall 2020 collection to speak to the excessive amount of unwanted t-shirts sent to Ghana. Balenciaga flooded the runway and front row as a chilling omen to sea level rise. But one element that's missing from the eco-conscious conversation is street style.
As photographers clamor to capture the best looks, show goers feel pressure to deliver picture-worthy outfits. And that could translate to attendees feeling the need to buy a new wardrobe just for Fashion Week. "It's hard not to consider how your outfit may be photographed and whether it will stand out in the sea of stylish looks," says Laura Lajiness, Senior Fashion Editor at PopSugar. What's more, Fashion Week outfits are a personal branding tool for attendees, explains Justine Carreon, Market Editor at Elle. "As a fashion editor, your outfit is a silent way of presenting your industry knowledge of what's in and what's not."
But the need to shop smarter and shop less is more urgent than ever. The fashion industry is a major polluter, responsible for more than 8% of global greenhouse-gas emissions (a significant factor behind global warming). And though shoppers are realizing the importance of sustainable fashion, they are slow to embrace eco-friendly alternatives. In a recent survey conducted by Atomik Research for Vestiaire Collective's Circularity Guidebook, they found that 77% of consumers in Europe, US, and Asia felt that sustainability in fashion is crucial, yet over 70% had never heard of circular fashion, a rising trend where people shop pre-worn items to reduce the environmental impact of fashion production.
To change that, Vestiaire Collective introduced the #SmartNYFW challenge this season, asking fashion editors like Carreon and Lajiness to wear only second-hand or current wardrobe staples during NYFW. I participated in the challenge, and I found it to be far less difficult than I imagined. For so long, shopping has been a crucial part of my job and my identity as a fashion editor. One of the first pieces of advice I received when breaking into the industry was to "dress the part" and I stuck to it over the years no matter how expensive or environmentally irresponsible my habit was. Typically, I'd buy about 5-10 new items at the start of Fashion Month so that my wardrobe feels more current. This season, I only made one big purchase: a red Prada Nylon re-edition handbag that I eventually plan to resell.
For the rest, I changed my shopping habits altogether. I shopped pre-owned/vintage like the above Louis Vuitton handbag and a pair of Gucci boots from Vestiaire Collective. I rented through Rent The Runway's Unlimited plan, picking a cream sweater and a sleeveless vest. As a fashion editor, I did have the privilege of borrowing a few clothes, pulling a vegan leather skirt from The Outnet and a handbag from J.W. Pei. And finally, I wore pieces that were already in my closet like an Aritzia camel coat.
While it did take some restraint, the challenge actually elevated my approach to dressing, inspiring me to choose timeless pieces over immediate trends. And it saved me a lot of money. But most importantly, it was a small step on my ever-evolving mission to reduce my carbon footprint.
Lajiness had a similar experience. "I definitely saved a lot of time putting together outfits because I was already committed to a handful of pieces," she explains. "I've been on a big vintage kick in the months leading up to fashion week, so my mindset was already in a place where I've been mixing decades-past pieces with newer styles. I certainly saved a bit of money, too — pre-loved Gucci boots cost a heck of a lot less than a new-season pair."
Carreon says editors like herself are already gravitating toward shopping their closets and choosing vintage. "The #SmartNYFW challenge was basically built for someone like me," she says. "My closet is jam-packed with vintage finds and consigned goods I've amassed over a decade, so it was pretty natural for me to not shop and quickly build outfits from my existing closet."
The mission behind the #SmartNYFW challenge will live on past New York Fashion Week. Vestiaire Collective also partnered with the Green Carpet Fashion Awards, challenging celebs and influencers to wear pre-loved and vintage, too.
This article was originally published on