Victoria Beckham's Latest Collection Is Proof She's The Funniest Designer In Fashion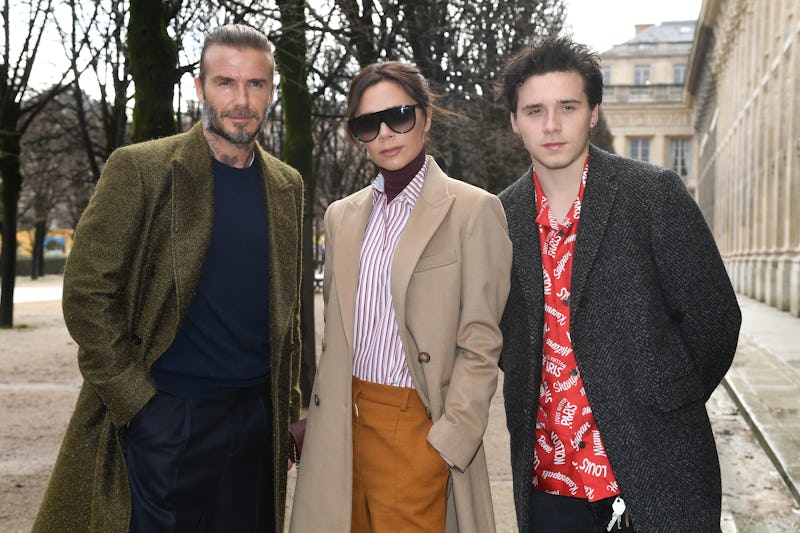 Pascal Le Segretain/Getty Images Entertainment/Getty Images
The stereotype of a traditional fashion designer is that they are bitchy, aloof, and generally not nice. Spoiler: this isn't true (but good luck telling Hollywood that). Despite being berated for never smiling in public, one British designer has proved to be one of the funniest people working in fashion. And now you have the chance to meet Victoria Beckham in the flesh.
To celebrate the tenth anniversary of her namesake brand, the 44-year-old is leaving New York and returning to London to showcase her new collection. Unfortunately, you can't get a ticket to that because it's reserved for industry members only.
But you can celebrate with Beckham herself in London. On September 16 (the day of her show), the former Spice Girl will take to the capital's Dover Street store to sell a very special T-shirt. If you're a major fan of VB, you'll know exactly what the design is referencing.
In 2008, Beckham starred in a rather unique Marc Jacobs campaign. Photographed by the über talented Juergen Teller, the advert saw Beckham posing alongside and in a huge carrier bag. One of the most famous images was the designer's heeled legs sticking out of the ginormous white bag.
According to Vogue, Beckham was working on her very first fashion collection when the campaign was shot. So for her tenth anniversary, she has decided to recreate the look — legs and all.
The new campaign has unsurprisingly utilised the talents of Teller once again and features three photos: Beckham lying inside an even bigger bag (this time reading Victoria Beckham, instead of Marc Jacobs), her head covered by the same bag, and those legs sticking out for the second time.
The legs akimbo image will be printed onto a select number of T-shirts and sold online as well as at Beckham's Dover Street store. The style (which comes in a UK size 6 to 12) is not cheap at £115, and I can't be the only one who thinks the size range is rather limited, but is a definite piece of fashion history.
The designer will be behind the till on September 16 from 3 p.m., trying to sell as many of the tees as possible. No doubt she'll be happy to take a selfie or two so get yourself down there if you want to see a Spice Girl in the flesh.
Beckham has posted the three campaign images on Instagram, revealing why she chose to reference the 2008 Marc Jacobs ad. "When Marc Jacobs featured me coming out of a shopping bag a decade ago it really was just the beginning of my journey into the fashion industry," she wrote. "So what better way to illustrate the story of the past ten years than by revisiting the creative?"
This isn't the first time Beckham has shown her humorous side. As Vogue reports, she is known for putting witty slogans on T-shirts. "I really loved the Fashion Stole My Smile T-shirt," she told the magazine, adding that it's all about her "poking fun" at herself. "I say these things all the time, I really should just write them all down."
Earlier this month, she appeared in a behind-the-scenes video for Vogue, revealing what really happened at her cover shoot. The entire thing was firmly tongue-in-cheek, featuring Beckham pushing several Spice Girls lyrics into the conversation, joking about her microphone being switched off, and calling herself "one of the most enduring style icons of all time." All with a straight face, of course.
And she wears some truly epic Spice Girls outfits throughout. I don't know why this walk through '90s history didn't make the cover — a family portrait was chosen instead — but I suppose you'll have to ask editor Edward Enninful about that one.
With her comedic timing and ability to please her fans — both musical and sartorial — Beckham has proved that no one can mock her better than herself. And who doesn't love a self-deprecating celebrity?