How Victoria Justice Grew From 'Victorious'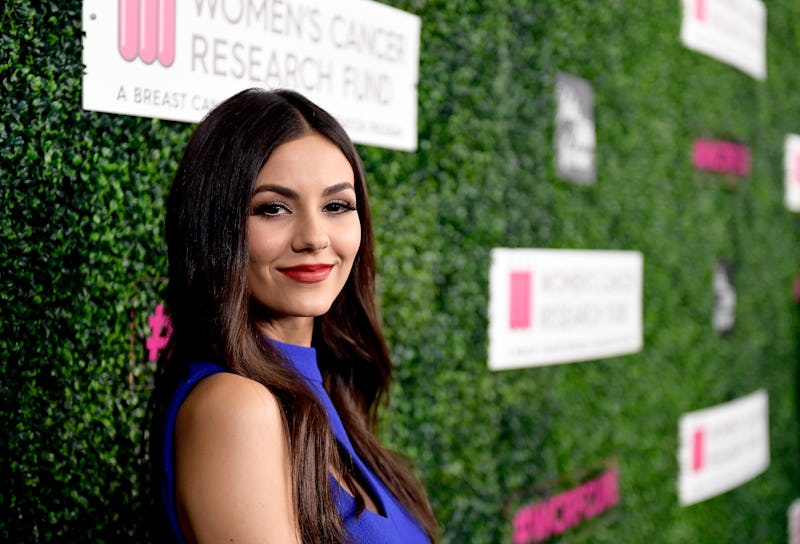 Matt Winkelmeyer/Getty Images Entertainment/Getty Images
It's safe to say Nickelodeon, Disney, and most child stars don't have the most usual of upbringings. They're not only thrust into the world's spotlight, but into a challenging work schedule that some adults probably couldn't even handle. Victoria Justice knows from experience. The actor continues climbing up in her career, and although she was just a kid when getting her start in show business, she's doing just fine. But it wasn't always that easy. At The Women's Cancer Research Fund's latest LA event, the 24-year-old tells me how it's taken her a minute to get to the place of maintaining a healthy balance between working hard and taking care of herself.
From 2010-2013, Justice starred in Nickelodeon's Victorious and before that in Zoey 101. She explains how such projects can really take a toll on someone, both mentally and physically. "I've always been a really hard worker. There were times when I was working on Victorious and it was a grueling schedule," she says. Life as a child actor isn't as glamorous as it may seem, and these kids clearly work really hard.
"I was in 80 percent of the scenes, and I would also have to record on the weekends, [learn] choreography sometimes, then do press photoshoots and travel," Justice explains. "I think there was one year where I really had maybe seven days off. It was a lot of work at a young age." Still, she doesn't regret a thing. In fact, the actor (who recently starred in Fox's 2016 reboot of The Rocky Horror Picture Show) is thankful for such challenging times.
"I'm not complaining. I don't think it was detrimental to me," Justice says. "If anything, it taught me how to be focused and have a good work ethic at a young age. I'm super grateful for the experience." Although Justice is another entertainer who was thrown into adulthood relatively early, she's still on a journey of figuring out who she is as a woman.
"I think I continue to grow as a woman probably every single day," she tells me. Difficulties of fame and her past are a vehicle in that self-discovery. "I definitely have gone through different challenges in my life, this business isn't necessarily the most stress-free business to be a part of," Justice explains.
But after many years of self-discipline she's learning to stay strong and clear-minded. "Being able to balance [work] and finding balance for yourself — staying grounded in the midst of it all on some level," she says. "Meditating everyday is something that's helpful to me, working out. Over the years, finding ways to take care of myself the best way that I can."
I know I, and a lot of women, struggle with finding a work-life balance. But as Justice points out, if you don't put yourself first, the rest won't even be worth it.