Watch These 'This Is Us' Audition Videos To See The Series' Very Early Beginnings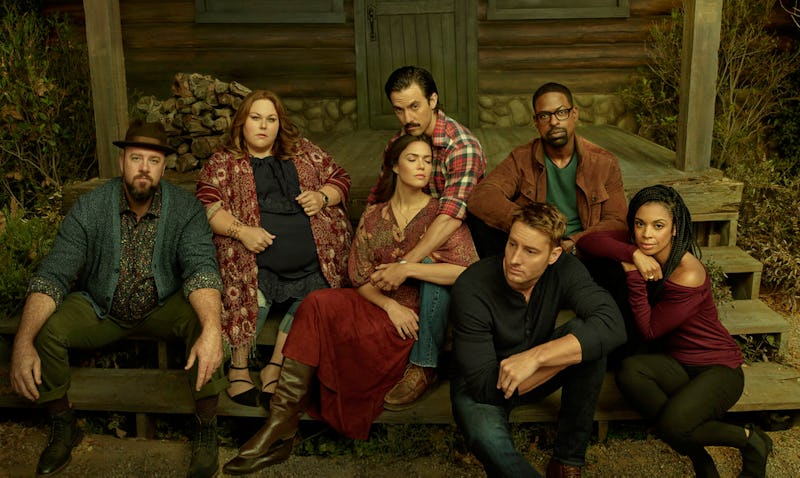 Annie Leibovitz/NBC
Ahead of the highly-anticipated return of its new season on Sept. 25, This Is Us is sharing footage of cast auditions that will make you fall in love with the Pearson family all over again. With the Season 3 premiere still a whole week away, Entertainment Weekly reveals that NBC will debuting a one-hour special called The Paley Center Salutes This Is Us which will feature interviews from the beloved series' creator, Dan Fogelman, as well as up-close-and-personal moments with stars Milo Ventimiglia, Mandy Moore, Sterling K. Brown, Chrissy Metz, Justin Hartley, Susan Kelechi Watson, and Chris Sullivan. Along with the cast auditions, TODAY notes that the Sept. 18 special will also feature footage from the upcoming season that is sure to get you in the mood for what's to come.
With the show kicking-off its third installment in just a matter of days, it's almost hard to imagine the This Is Us narrative with any other lineup besides the perfectly-crafted Pearson family that fans have come to know and love over the past two years.
In one of the clips from the special, show runner Dan Fogelman refers to the This Is Us casting process as the "perfect dream scenario" because it allowed him to handpick who he wanted appear in the show - and boy, did he do an amazing job. Details about the special reveal that fans will be offered an inside look at some of the audition tapes that helped to transform the family drama into one of the most popular shows on network television.
One of the snippets from Ventimiglia's audition shows the actor as he delivers one of the scenes from the show's pilot episode, in which Moore's character Rebecca is in labor.
The former Gilmore Girls star goes on to relive the moment in hindsight, sharing: "I read the scene and I could see Dan in the back of the room literally just smiling. And I was thinking to myself, 'Okay, I think I must have done my job.'"
In her clip, Metz relives the day of her audition saying, "I remember going to the audition and like, the birds were birdier, the sky was bluer." Her audition moment revolved around her first date with now-hubby, Toby (Sullivan).
During a separate short from the special, Brown openly gushed about his first time reading the script, saying: "It was the best network television pilot that I've ever read," as he revealed that he looked over the details while filming scenes for American Crime Story. His audition tape features a moment when his character Randall tells his wife Beth, played by Watson, that he's located his birth father.
Meanwhile, Watson also takes a pause to shares some insight into where her life was headed just before the This Is Us opportunity came along, saying:
"Just before I got the show I remember thinking 'maybe it's time to do something different.' I was going to move to Montreal and work in a coffee shop and This Is Us came along, like literally, a week or two later."
Revealing that she was one of the first people to read for the show, Moore, says it took quite a few weeks before she was called back to and asked to do a "chemistry read" with Ventimiglia.
She explained, "He was the only guy I read with, and we sort of just instantly had this connection." "It went well," she said. "And I guess the rest is history because we both got the job."
The reveals seems to be getting more and more exciting as the show's Season 3 premiere date draw near. Earlier this month a cast photo, which E! News revealed was shot by legendary photographer Annie Leibovitz, was unveiled that offered a glimpse into the show's radiant future.
Back in June, Moore dished on what fans can expect from the Pearsons in Season 3 to TV Guide, promising that the upcoming installment was going to be the show's "most ambitious" and "best season yet." She also teased, "There is going to be some great stuff unfolding in Season 3."
While there's no doubt that This Is Us has something amazing in store for Season 3, these never-seen-before cast auditions make the intertwining of Pearson family seem that much more perfect.