This 'grown-ish' Storyline GETS What It's Like To Be A Working Class Kid At A Rich School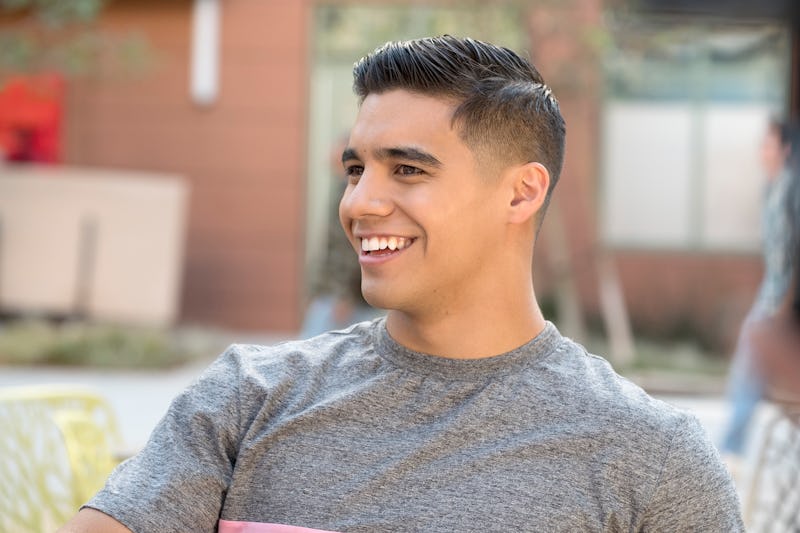 ABC
Vivek (Jordan Buhat) has mostly been comic relief for the group in grown-ish, up until this point — in addition to being their regular drug supplier. From day one, Vivek has made it clear that dealing is something he needs to do. But in the Feb. 28 episode of grown-ish, "Who Gon Stop Me," viewers learn that it's not just because he craves money or a gaggle of appreciative women who won't roll their eyes every time he refers to himself as "V-Dig." In fact, the reason for Vivek's drug dealing in grown-ish goes way deeper than that.
A campus-wide crackdown on drugs leads to the dealers on campus being either arrested, shot, or scared to sell. Not Vivek though. He sees the recent drop in competition as the prime opportunity to rake in as much money as possible, much to the dismay of Zoey. Vivek's uptick in dealing leads to VIP tables at the popular bars, smiles from girls who wouldn't normally look his direction, and a personal invite to the hottest party on campus from namesake university student Balty Winthrop.
Naturally, Zoey and Nomi tag along, but after a chance sighting of Vivek selling Balty and his friends cocaine, Zoey loses it. Now while she was okay with Vivek dealing pills here and there, Zoey thinks selling cocaine is way over the line. Unfortunately, Vivek isn't swayed by her judgment.
He repeatedly tells her that she just wouldn't understand. But being a person of color too, Zoey quickly points out how bad things could get for Vivek if he's caught. His wealthy, white buyer will get nothing more but a slap on the wrist from the university, while Vivek, on the other hand, will get expelled with the quickness, throwing away everything his parents worked for. And this is where things take a turn for the worst.
To Zoey, Vivek's dealing is about nothing more than being part of the "in-crowd" and but Vivek passionately disagrees. Yes, he wants to be seen, but not just like a cool guy on campus. He wants to be seen as a worthy human being — something he doesn't feel like happens often because of the color of his skin and his father's career. Vivek tells Zoey that he wants to be looked at as more than just the "cab driver's son."
It's harsh to hear Vivek constantly complain about his father's choice of profession — he once even referred to him as a bum. And unfortunately, Vivek's attitude towards the working class isn't a unique one.
Though this country was built on manual labor — paid and otherwise — there is a stigma that plagues working class America. People who pursue a trade or service-driven work are sometimes seen as less educated and worthy, and judgments about monetary status often lead to a rise in anxiety amongst working-class Americans, particularly minorities.
In fact, a brief by the Center of American Progress shows concern over financial circumstances is higher among African Americans and Hispanics with working-class jobs, compared with white Americans with working-class jobs. And this kind of worrying leads to offspring like Vivek doing everything they can to dig their way out and keep up with the Joneses.
It's easy to forget because the main characters of grown-ish are mostly minorities, but they still attend a predominately white institution (PWI). And being a person of color at a PWI isn't always the easiest thing. Unless you're a star college athlete like Cash Mooney or manage to climb the ranks to become student government president or homecoming queen, you're just another brown face washed out in a sea of whiteness.
For every bad grade received, every backhanded compliment heard, every slick remark tossed your way, you can't help but wonder: is it because of your personality, your efforts, or your skin tone? And coming from a less-financially successful family can only make the desire to be deemed worthy by your peers that much greater.
Dealing drugs definitely isn't a smart move for Vivek, simply because it's illegal. But doing so allows him to be seen as more than just a nerdy engineering student with immigrant parents. Additionally, dealing allows him to make money while scoring facetime with people like Balty who can open doors for him that might otherwise be locked and bolted. And as he put it to Zoey, after four years of hanging with those guys Vivek can have everything he ever wanted. He wants to change his life for the better – which is one of the reasons why Vivek idolizes Drake, according to actor Jordan Buhat.
"What Vivek gets about Drake is not only his style. Let's face it, Drake looks good. He makes sure that he is at the top of his game. That's a very important thing about what drives Vivek, is his hustle. There are certain people who start off a certain way in life like Drake did and as well as how Vivek did," Buhat told Teen Vogue. "They want to change their life for the better — for themselves, or for those around them, and what Drake really inspired in Vivek is the hustle. It's the pursuit of excellence and betterment and everything that he wants to be. He's proud, he's earned his money, and he's gonna make himself look good. He's earned that right. He's hustled for every single thing he has."
Despite Zoey's pleas, a late-night mugging, and having his drug activity almost exposed to his parents, Vivek isn't interested in shuttering his business anytime soon. And unfortunately viewers, like his friends, know that things won't end well for Vivek if he stays on this path, no matter what motivates him.
Editor's note: After publication, we discovered this article did not meet our editorial standards: There were portions that did not correctly attribute another source. It has been updated to meet our standards.