Walmart's Best Selling Face Mask Is Only $7 & It Works Like A Charm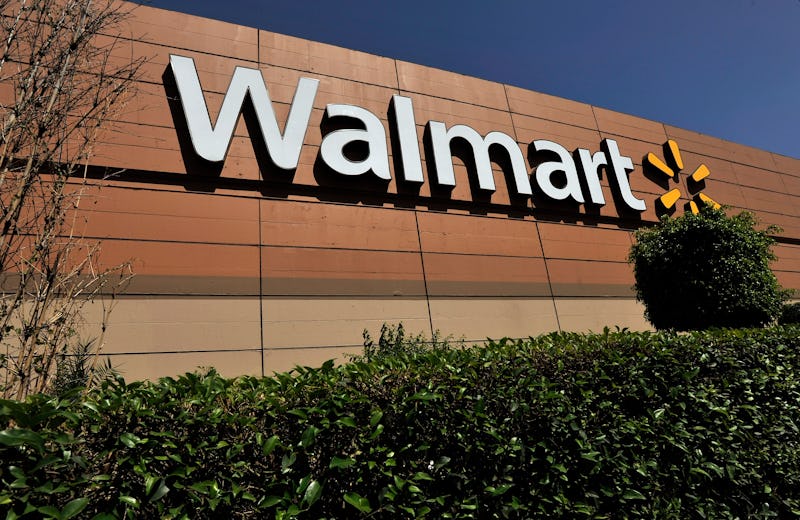 Daniel Aguilar/Getty Images News/Getty Images
Bubbling, sparkling, color-changing. The world of masks is wide. From luxury brands to more affordable finds, you can pick up a treat for your skin pretty much any where, and that includes Walmart. If you're venturing into the big box store, though, what's Walmart's number one selling mask? After all, you don't want to potentially grab something you're not going to love, right? As it turns out, the most popular mask at Walmart is totally on trend and a beauty staple.
Apparently, Walmart's best selling mask if one of the popular black peel-off masks. This one, however, doesn't appear like it attempts to rip your skin off when you remove it, though (which may explain why it's a best seller). The affordable skin care item is the So Fresh, So Clean Powerful Peel-Off Black Mask, and it retails at Walmart for only $7. Plus, you get a spatula with it!
According to the brand, the mask is made of a gel-like texture that deeply cleans pores and removes impurities, but that's not all it does. It features ingredients like witch hazel and green tea which are used to remove debris from the skin while aloe and vitamin E help to moisturize.
How do you use the mask? The same way you've used similar peel-off styles before. When you purchase the product, it comes in a jar (that can get you up to eight uses according to the packaging) and is accompanied by a spatula. Simply use it to smooth a thin, even layer over your face, wait for 20-30 minutes, peel-off, and you've got purified pores.
The fact that a black peel-off mask is Walmart's best sellers shouldn't come as a surprise if you're a beauty lover. For those who aren't skin care obsessed, though, you may have missed the massive trend toward peel-off products.
Pin pointing the trend's starting place may be difficult, but ultimately, peel-off masks went viral thanks to the Milky Piggy Hell Pore Mask aka an extremely painful product that YouTuber Tati Westbrook called a pore strip for your face.
Thankfully, though, the So Fresh, So Clean mask doesn't seem to have the same painful effects of the Hell Pore mask. Instead, it seems to be more in line with other popular peel-off masks such as those from GlamGlow and Too Faced (though with a much lower price point obviously).
The popularity of the So Fresh, So Clean mask just proves that trends in beauty just don't die, and why should they? With each trendy new mask that appear, more innovative products pop up, and while some (like that terrifying pore mask) are not as great as others, they're all fun to experiment with. Remember that carbonated mask? Yeah, stuff like that is why skin care trends should always be a thing.
If you want to try Walmart's best selling face mask, head to their website now. With a low price point and multiple uses in on package, what have you got to lose (besides impurities)?