Peppermint Mocha Cold Brew Exists & You Can Buy It In Ginormous Boxes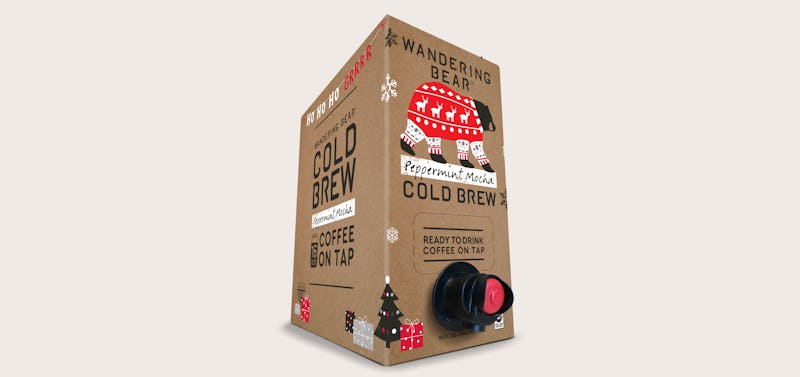 Wandering Bear
If you're anything like me, you love an iced coffee any day, any season (yes, that means even in the freezing cold snow, and don't judge me). And in honor of the snowy winter months ahead, the folks at Wandering Bear heard my prayers: they released Peppermint Mocha cold brew, just in time for the holiday season. The best part? The cold brew comes in giant 96 oz. boxes, making it the perfect addition to any festive holiday party, or even just for everyday use (BRB, calculating how many boxes my tiny NYC fridge can fit).
The festive cold brew is (sadly) only available for a limited time. According to Wandering Bear's website, the cold brew is a "rich, smooth box" of their signature organic cold brew, but spiked with organic peppermint and the perfect hint of dark chocolate, making for an absolutely melt-in-your-mouth indulgence. Y'all, this cold brew may be enough motivation for me to actually wake up early and make myself coffee.
You can score the cold brew exclusively online for $29 per box (one box is 16 servings), making it the truly perfect on-the-go coffee drink you didn't know you needed. If only it was peppermint mocha season all year round...
If you're on on the lookout for other holiday-themed snacks, you're in luck: I've compiled the best, most promising ones below.