Ariana Grande Wasn't Nominated For A Grammy, But She Wasn't Snubbed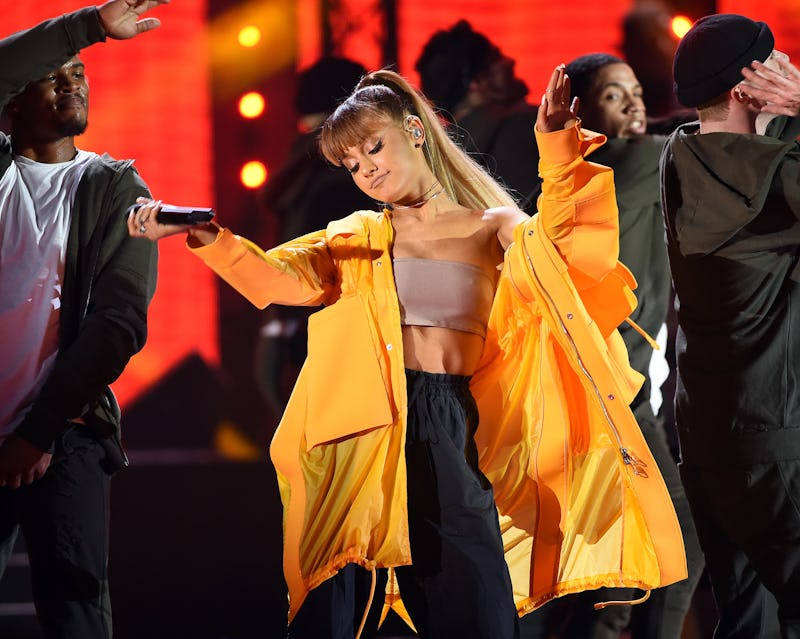 Kevin Winter/Getty Images Entertainment/Getty Images
Beware the wrath of the Arianators! Ariana Grande didn't get any Grammy nominations this year, and fans of the singer are not happy about it. But there's a pretty good reason she wasn't nominated this time around. Grande released her most recent album, Dangerous Woman, on May 20, 2016, which included huge hits like "Side to Side" (featuring Nicki Minaj), "Into You," and the eponymous single, "Dangerous Woman." Both Dangerous Woman (the album) and "Dangerous Woman" (the single) garnered Grande two nominations at the 2017 Grammys: the former for Best Pop Vocal Album, and the latter for Best Pop Solo Performance. (She ultimately lost out to Adele in both categories.)
But what fans may not realize is that, based on their release dates, the majority of her work from that album wasn't eligible for 2018 nominations. This year, the Recording Academy required that albums be released between October 1, 2016, and September 30, 2017, in order to be eligible, which means that only two of her singles — "Everyday," released as a single from Dangerous Woman on January 10, 2017, and "Beauty and the Beast," her duet with John Legend, released as a single from the Beauty and the Beast soundtrack on March 5, 2017 — could have made the cut.
In fact, it's no wonder that some fans had their hopes up. Beauty and the Beast is currently the highest grossing film of 2017, so a Grammy nomination for Legend and Grande's performance of the already classic song that went along with the film wouldn't have been shocking.
Then again, if we're looking at her singles strictly from a commercial performance perspective, "Dangerous Woman" debuted at #10 on Billboard's Hot 100 chart, peaked at #8 in its eleventh week, and spent 20 weeks in the Hot 100's Top 40. Grande also performed the track during a Saturday Night Live episode where she served as both the host and musical guest, increasing it's overall visibility.
"Everyday," by comparison, debuted at #85 on Billboard's Hot 100, peaked at #55 in its fifth week, and ultimately became one of her lowest-charting singles (that appeared on an album and for which she was the primary artist) to-date. "Beauty and the Beast" faired even worse, peaking at #87 on the Hot 100.
Of course, commercial performance doesn't explicitly dictate Grammy nominations — but, to be fair, all of the tracks that were nominated this year for Best Pop Solo Performance (which is the category that "Everyday" would have likely been best-suited for) peaked higher on both the Mainstream Top 40 and the Billboard Hot 100 ("Love So Soft" by Kelly Clarkson, "Praying" by Kesha, "What About Us" by Pink, "Shape of You" by Ed Sheeran, "Million Reasons" by Lady Gaga) than either "Everyday" or "Beauty and the Beast."
Whether or not Grande herself was expecting to get any Grammy nominations this year, there's no doubt that the last year has been a roller coaster for the singer. In May, 23 fans attending her concert in Manchester, England, were killed during a terrorist attack. Shortly thereafter, Grande shared a touching letter with fans that reflected on the horrific event, visited survivors in the hospital, and later put on an incredibly moving, super star-studded benefit concert for the families of the victims.
While she's stayed relatively quiet since the tragedy in Manchester, fans have picked up on a recent interview from WWD's Joelle Diderich, where super-star artist and producer Pharrell Williams casually let it slip that he's currently got something in the works with Grande:
"The Ariana Grande [project] is pretty amazing," he says. "The things that she has to say on this album, it's pretty next-level."
Williams doesn't mention any sort of release date for whatever he and Grande are working on together, but it's safe to say that if he thinks it's next-level, the rest of the world probably will, too. So, hang tight, Arianators. While this year's Grammys may have been a bust, it looks like there's definitely some hope for next year.