Why One Of Andrew Cunanan's Alleged Victims Was Also Briefly A Murder Suspect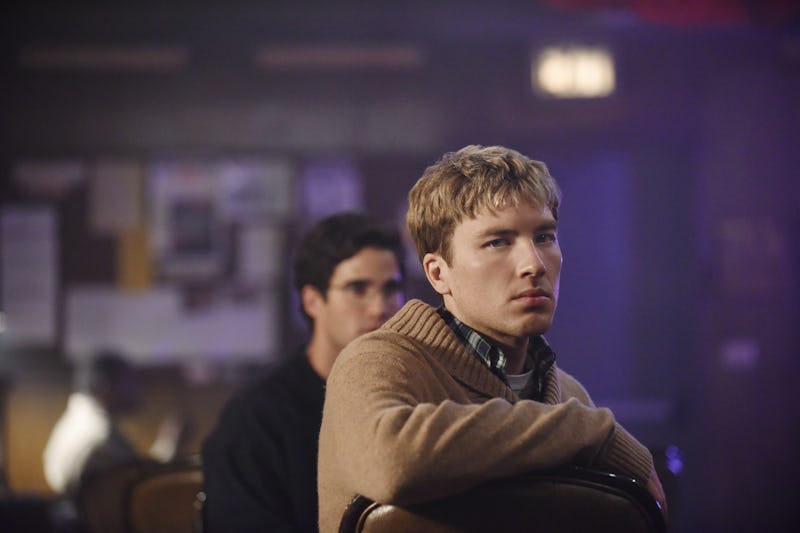 Ray Mickshaw/FX
Spoilers for "House By The Lake" episode of The Assassination of Gianni Versace. On. Feb 7, American Crime Story (executive producer: Alexis Martin Woodall) Season 2 continued its fascinating backwards trajectory through time, depicting Andrew Cunanan killing David Madson, who became embroiled in Cunanan's schemes after the murder of their mutual friend, Jeffrey Trail. But was David Madson really a suspect, as shown in The Assassination Of Gianni Versace? Who was he, and how did he get caught up in Cunanan's life?
The 33-year-old architect had met Cunanan in December 1995 while visiting San Francisco, according to Maureen Orth's 1997 Vanity Fair article "The Killer's Trail," about the path that led Cunanan to Gianni Versace's doorstep on July 1997. (The article would later form the basis of the 1999 non-fiction book Vulgar Favors, which Ryan Murphy adapted for Season 2 of his FX anthology series.) A friend who was at the bar when Cunanan and Madson met described the encounter to Orth as "pretty sparky." Although Madson soon returned to his home in Minneapolis, the pair continued dating long distance.
Madson was a natural point of fascination for Cunanan, who always craved beauty and luxury. His boss John Ryan described his former employee as "enormously charming," in a 1997 memoriam to Cunanan's victims in the Washington Post. Madson was "full of energy and enthusiasm and joy of life. He was a conciliator and a peacemaker. He attempted to bring people together whenever there was conflict," Ryan remembered. The Post goes on to describe Madson as a man proficient in theater, sports, and trivia, who traveled the country lecturing about AIDS, and whose cushy job as a rising star at his architecture firm allowed him to live in an "urban-artsy" neighborhood and eat out at "upscale" and "hip" restaurants.
Eventually, per Vanity Fair, Madson broke up with Cunanan, after becoming increasingly uneasy over his boyfriend's tendency to become unreachable for days at a time with little to no explanation. Around the same time, Cunanan's best friend Jeffrey Trail ("my brother," as Cunanan would reportedly describe him) had also moved to the Minneapolis area after a falling out. Cunanan grew paranoid that the two people he cared most about were both living in the same city without him and his suspicions apparently grew. He told friends he was moving from San Diego to San Francisco. They threw him a going away party; but, in actuality, he had booked a one-way ticket to Minneapolis.
On Tuesday, May 29, after having not shown up for work for two days, coworkers of Madson's stopped by his apartment to check on him, Orth reported. Although there was no answer, they could hear his Dalmatian, Prints, inside. They left a note asking the building's superintendent to check on their friend; when she entered the apartment, she found a blood-stained crime scene and a body rolled up in a carpet. The natural assumption was that the dead man was Madson, the owner of the apartment; it wasn't until Wednesday morning that the body was correctly identified as Jeffrey Trail. Madson went from supposed victim to suspected murderer.
"My first thought: [the killer] is Madson," Orth quoted Minneapolis police sergeant Robert Tichich as saying. "It's his apartment. There's a body in there. There's no way to pin it on Cunanan as opposed to Madson."
Versace (associate producer, 9 episodes: Meredith Meade) depicts one possible theory of what happened next. What really took place in the six days between Trail's murder on Sunday evening and Madson's death the following Saturday largely remains a mystery. What is known was reported in Orth's piece: On Monday, a neighbor saw two men matching Madson's and Cunanan's descriptions in the elevator of Madson's building. Another neighbor saw the two men walking Prints on Tuesday morning; but by the time the superintendent entered to find Trail's body that afternoon, they had vanished. Apparently both men had spent two days living in the apartment with Trail's dead body, as Prints hadn't made a mess and plates of food were found in the refrigerator.
The pair's next known whereabouts were on Friday, when Madson's red Jeep Cherokee was spotted driving erratically on Interstate 35; they were later confirmed to have stopped to eat at a diner that day in Rush Lake, a town about an hour's north of Minneapolis, according to Orth. But anything could have happened between when they left Madson's apartment on Tuesday morning and when they reappeared in Rush Lake on Friday afternoon — including, possibly, a road trip to Chicago.
"I think there's a good possibility they were out of town during that week," Tichich told Orth, citing reports of a receipt for a Chicago parking ticket dated Friday morning found in Madson's Jeep. Could Cunanan already have been staking out his next alleged victim, real estate magnet Lee Miglin? That may never be known. "Chicago police have kept such a tight lid on their case — possibly to protect the reputation of the influential Miglin — that they won't share any information," Orth reported.
In any case, Vanity Fair reported that Madson's body was found by two fishermen in the tall grass surrounding Rush Lake on the morning of Saturday, May 3. He had been shot three times with Trail's own handgun. It was the same gun that would later be used to kill both New Jersey cemetery groundskeeper William Reese and Gianni Versace himself.
Why did Madson stay in that apartment for two days with a dead body? Why did he take a road trip with a known killer? According to Harper's Bazaar, Madson's family believes he walked in on Cunanan in the middle of murdering Trail and was subsequently taken hostage. This is corroborated by what Tichich told Orth at the time: "You have to believe [Cunanan] was able to control Madson for extended periods of time without possibility of escape." Chicago Police captain Tom Cronin agreed. "It's not surprising David stayed with him," he said to Orth. "Not at all. It makes perfect sense to David: this guy's got power over me, I can't leave. The killing itself shows how powerful he is."