What Really Happened In That Garage Was Even Disturbing Than The Violent 'Versace' Scene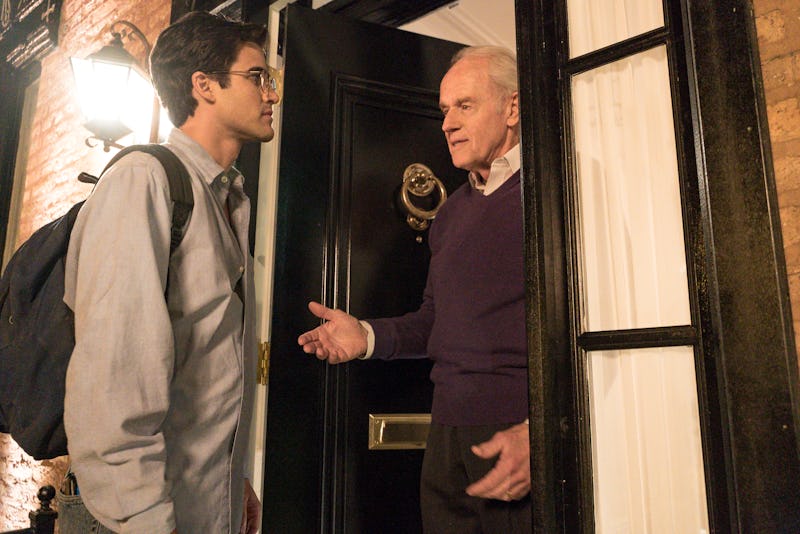 Matt Dinerstein/FX
For a series with the word "Versace" in the title, there was a shocking lack of the fashion designer in the Jan. 31 episode of The Assassination Of Gianni Versace (writer: Maureen Orth). Instead, the hour focused on Cunanan's movements leading up to Versace's murder. The garage scene in American Crime Story Season 2 offered one theory as to why Andrew Cunanan allegedly murdered Lee Miglin, a Chicago real estate magnate, in May 1997. The events of the episode provides one possible explanation of how Cunanan may have come to be Miglin's home, while Miglin's grieving widow offers the police another, giving rise to the episode's title: "A Random Killing."
According to the dramatized events of ACS (executive producer: Alexis Martin Woodall), Lee Miglin was a closeted homosexual who hired Cunanan as an escort and invited him into his home while his wife, cosmetics mogul Marilyn Miglin, was out of town on business. In the show's version of events, the night that Lee was murdered wasn't the first time the businessman had met Cunanan; but on this night, Cunanan lured him into the garage on the pretense of sex, bound him and covered his face with tape, and then stabbed the older man with garden shears.
Is this really how and why the murder occurred? Only the two men who were in that garage know the truth, and neither is still alive to relay the story. Details about Miglin's murder are still heavily contested.
Even earliest reports of Miglin's murder reflected the contradictory nature of the theories surrounding his death. A Chicago Tribune report, published two days after the killing in May 1997, indicates that, while "robbery apparently was part of the crime; breaking and entering apparently was not." The lack of forced entry could either suggest that the assailant was known to Miglin or that he was "accosted outside and forced into the home." The report noted, "The police department was extraordinarily tightlipped about the case — a testimony to Miglin's position of influence in political circles here."
In September 1997, Vanity Fair published an article by Maureen Orth titled "The Killer's Trail," detailing the road that led Cunanan to Versace's doorstep. (Orth would later go on to publish the 1999 non-fiction book Vulgar Favors, on which Versace is based.) According to "The Killer's Trail," ACS got many of the details of the "how" of Miglin's murder correct — and in fact, spared viewers some of the worst. Per Orth, after binding the man, taping his face, breaking his ribs, and stabbing him with the shears, Cunanan also allegedly slashed Miglin's throat with a saw.
But the "why" of the murder remains murky, even in Orth's retelling. She backed up the Chicago Tribune's report, writing, "Chicago police have kept such a tight lid on their case — possibly to protect the reputation of the influential Miglin — that they won't share any information." But she seemed to harbor doubts that Miglin's death was really "a random killing," to use the episode's title. "Why would Cunanan go to Chicago, find Miglin, and torture him without some motive?" she quoted Chicago County investigator Todd Rivard as asking. F.B.I. agent Gregg McCrary of the Behavioral Sciences Unit told Orth, "He wouldn't. I'd say it's highly probable that he knew Miglin."
But Orth actually posits another theory as to why Cunanan murdered Miglin separate from the one presented in Versace: not because he knew Lee Miglin, but rather because he knew his son, Duke. Duke had a small part in the episode, seen with his mother after his father's murder, with Marilyn proudly telling the police that he was an aspiring actor who had a bit part in the upcoming action movie Air Force One. According to Orth's report, Cunanan told an acquaintance, Karen Lapinski, in April 1997 (a month before Lee Miglin's murder) that he was going into business making sets with a friend named Duke Miglin. Orth continued:
"Rumors started flying around the Hillcrest area that Andrew Cunanan knew Duke Miglin, 25. Certainly the younger Miglin was someone Cunanan would have liked to brag about knowing: he was handsome, he drove a fast car and flew airplanes — he had spent two years at the Air Force Academy — and his father was a multimillionaire. … 'We have no idea how Duke Miglin's name surfaced. We can say with absolute certainty neither Duke nor anyone in the family knew Cunanan,' says [Lee Miglin's partner] Paul Beitler. 'We sat him down and said, "OK, here's where the rubber meets the road. Tell us now if you have ever had a homosexual relationship, a secret life." He has told us unequivocally he's not gay and he has had no gay relationship.' According to Minneapolis Homicide's Sergeant [Robert] Tichich, Chicago police haven't gone near Karen Lapinski's report to the F.B.I. that Cunanan had told her he was going into business with Duke Miglin. 'It's just sitting there.'"
For his part, Duke still maintains that there was no family connection to Cunanan; that neither he nor his father knew him. "There was no relationship whatsoever," he told ABC News in a May 2017 interview, 20 years after his father's passing. "A lot of false things were brought up and they were very hurtful, very painful, for me personally and there were attacks on me as well that I really didn't appreciate. And I still don't."
In an statement given to The Chicago Sun-Times, American Crime Story executive producer Brad Simpson said:
"What specifically happened in the moments leading up to Lee Miglin's death is known only by Andrew and Lee. This is true for almost all of Andrew's victims. Our writer, Tom Rob Smith, had to dramatize what we believe happened that weekend starting from the established facts of the crime scene. Based on the evidence, we believe that Lee and Andrew did know each other, and Andrew's attack, as with all his victims except for William Reese, was targeted and specific. We used Maureen Orth's book and consultancy, as well as the FBI records and the statements from witnesses inside the records for research and background."
Bustle reached out to FX and the network declined to give additional comment.
The world may never know why Lee Miglin was really killed, so viewers should take Versace's version of events as one possible theory — not the objective truth.