Tom Hardy's 'Taboo' Character's Too Bad To Be True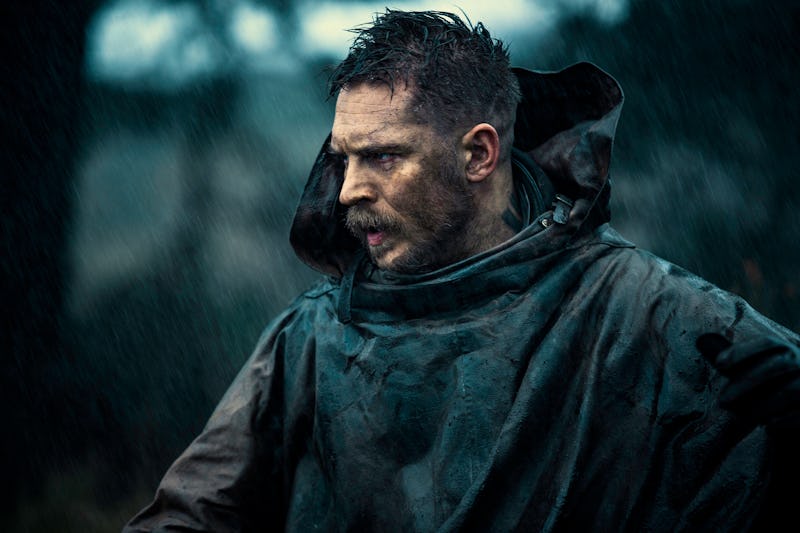 Robert Viglasky/FX
When the new FX drama Taboo, starring Tom Hardy, premieres this Tuesday night, audiences are going to be treated to a grim, violent, British period drama about revenge and the East India Company, brought to us by an Oscar-nominated screenwriter (Dirty Pretty Things' Steven Knight) and an Oscar-nominated producer (The Martian's Ridley Scott). In it, Hardy plays a man named James Delaney who, in 1814, returns to London after being presumed dead in Africa for many years, and butts heads with the aforementioned trading company while trying to take over his late father's shipping empire. Given the show's period setting and use of the very real East India Company, some viewers might be wondering, is Taboo's James Delaney a real person?
Although there have been several men throughout history who share the name of the Hardy's protagonist — including an Alaskan mayor, a New York Representative, and a pro tennis player — this character sprang entirely from the mind of Hardy himself, who came up with the idea for the show with his father, Edward "Chips" Hardy. The father/son duo have been developing this idea for roughly 10 years: "I came home from work one day with the burning desire to play something," the younger Hardy said in an interview with iNews UK. "And because my father was a writer, I said what do you think of this – I could play this, couldn't I?"
But just because Delaney is fictional doesn't mean he doesn't have inspirations. "Tom saw him as a sort of Bill Sykes, Hannibal Lecter character," Hardy the elder chimed in to iNews, referencing Charles Dickens' Oliver Twist villain and the most famous literary cannibal of all time — odd comparisons to make when talking about your hero, to be sure. "He's heinous," Tom agreed. But, "if you look at classical literature it's full of lead characters who do terrible things. … James Delaney's character has a lot of black, dark matter, and the material goes to a lot of places that aren't pleasant. Which makes sense, really – why else call it Taboo?"
But just because the protagonist and story are fictional doesn't mean the show isn't already drawing criticisms for supposed historical inaccuracies. The controversy has mainly surrounded Taboo's portrayal of the East India Company — the same conglomerate you may remember stirring up villainy in the Pirates Of The Caribbean franchise. Historians have taken issue with writer Knight's characterization of the East India Company; he told Variety back in 2014 that, "[Delaney's] greatest struggle will be against the East India Company which, throughout the 19th century, was the equivalent of the CIA, the NSA and the biggest, baddest multi-national corporation on earth, all rolled into one self righteous, religiously motivated monolith."
But according to economic historian Dr. Tirthankar Roy, the EIC "made a very positive contribution overall," as he told The Telegraph the day after Knight's Variety interview was published. "It had an effect in a good way in that the later beneficiaries were not just Europeans, were not just the company's officers and were not just the company itself. The major beneficiaries were the huge number of India, Chinese, south east Asian traders."
Despite the fact that James Delaney originated in the mind of Tom Hardy and not in the pages of history, even the character has been called out for being historically inaccurate. "Coupled with his tortured passion, apparent abolitionist beliefs, angst regarding his father, and threatening swagger, he's just too slick all around — a character that seems too perfect, modern, and badass to be a real man in 1814," Variety published in their review of Taboo. But, the review acknowledged, "he is also infinitely attractive, of course, a kind of pre-Victorian James Bond."
I suspect that fact alone will be enough for most viewers to overlook any historical quibbles they may have when Taboo premieres on FX this Tuesday at 10:00 p.m. ET.