'The Big Sick' Doesn't Stray Far From The Truth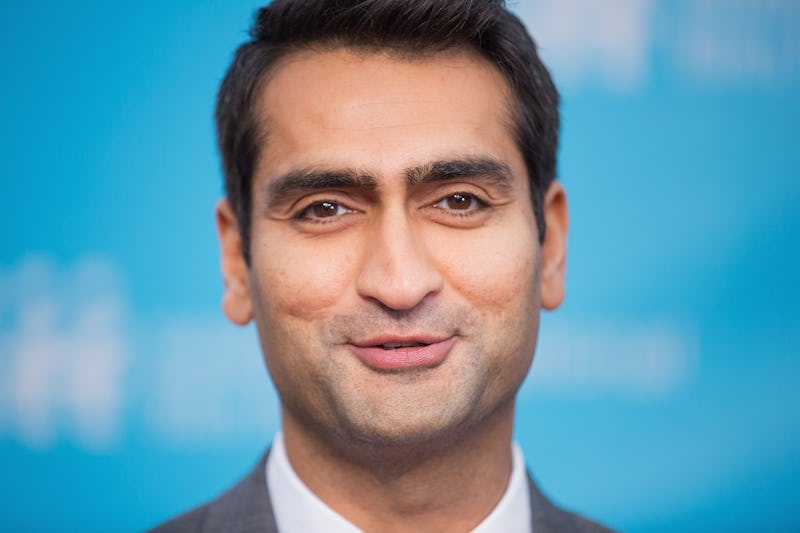 Mat Hayward/Getty Images Entertainment/Getty Images
Comedian Kumail Nanjiani continues his rise to superstardom. After finding success as a standup and as a scene-stealing guest on shows like Portlandia, Nanjiani reached a wider audience in 2014 with his starring role on HBO's Silicon Valley. Now, he's making the move to the big screen with his first lead role in a film, The Big Sick, in which he plays a struggling comedian/Uber driver named Kumail. The film certainly sounds like it draws from real life, but was Kumail Nanjiani really an Uber driver before hitting it big?
Despite the fact that much of the movie is in fact based on Nanjiani's life — he wrote the screenplay with his wife, Emily V. Gordon — the Uber bit is fictional. Uber didn't launch its app until 2011, and by then Nanjiani had already made numerous television appearances as a comedian and actor; including The Late Show with David Letterman, Michael and Michael Have Issues, and The Colbert Report. In other words, he was already making a living doing comedy and was well on his way toward becoming a star by the time Uber came into existence. His television debut occurred on Letterman in 2009 — two years before anyone knew what Uber was.
Although Uber wasn't around when Nanjiani was struggling to make ends meet early in his career, he still had a day job working as an I.T. specialist in Chicago while performing in comedy clubs at night. "A really cliché job for a South Asian guy to have, I realize," he told The New Yorker's Andrew Marantz. "On the other hand, I take some pride in how bad I was at it." In 2007, after years of supporting himself while pursuing comedy, Nanjiani performed a successful one man show that led to him getting an agent, allowing him to quit his I.T. job and move to New York to pursue comedy full-time.
The Big Sick's main plot deals with how Kumail, an immigrant from Pakistan, meets and falls in love with an American woman who would eventually become his life, and it's mostly based in reality. The Uber bit may make the film more relatable to people today, but it's one of the few aspects of the movie that's entirely fictionalized, according to The New Yorker. "Aside from [Uber], and a few other departures to help a joke land or a plotline cohere, the movie doesn't stray too far from a dramatically rich series of events that befell Gordon and Nanjiani a decade ago," states the magazine's profile on the movie.
Kumail Nanjiani never actually drove an Uber, but The Big Sick still offers a pretty accurate account of his life as a struggling young immigrant comedian looking for love and trying to find his place in the world.