Democrats Are Selling T-Shirts Spoofing Melania Trump's Infamous Jacket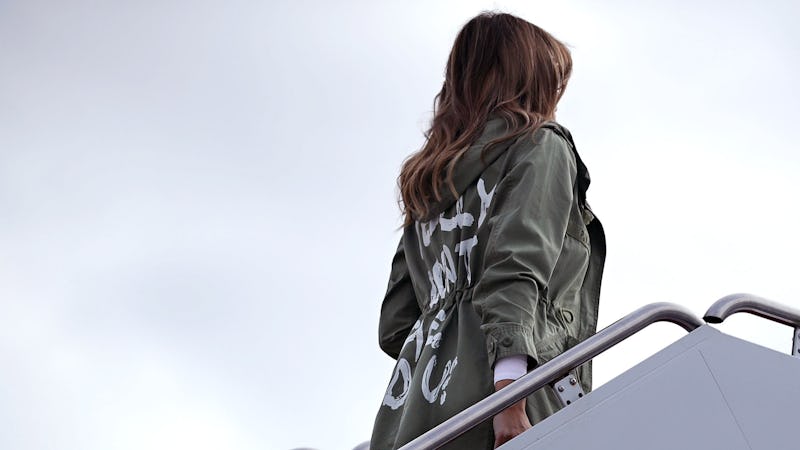 Chip Somodevilla/Getty Images News/Getty Images
You never know what effects your fashion choices on any given day could cause, but now First Lady Melania Trump is seeing first hand how much her clothes really matter. And sometimes, it's not just talk. Now, the DNC is selling "We Care" t-shirts spoofing Melania's now-infamous jacket. The jacket had the words "I Really Don't Care. Do U?" and it set off a frenzy even though she only wore it for a couple of minutes in public on a single day.
The internet went wild after Melania wore a Zara jacket with that message of indifference on it while she was on her way to visit an immigrant detention center near the border, speculating all sorts of things about what her hidden message could have been — if there actually was one. Was it really a message to the press, as President Trump claimed? The first lady's spokeswoman told Bustle that there wasn't a message, and that it was just a jacket. Whatever Melania meant by wearing it, though, one thing is clear — the Democratic National Committee is trying to turn it into some cold, hard cash.
The DNC "We Care" shirt is available for $20.18 on the Democrats.org store, and it mirror's Melania's jacket quite faithfully. The front of the army green shirt just has the party's logo, and the back has the new, very clear message: "We Care, We Vote. Do U?"
The shirt's listing has a direct reference to the whole controversy.
"When it comes to the words we put on our clothes, there is 'no hidden message.' We like to keep it pretty straightforward. It's printed on 100% pre-shrunk cotton — right here in the USA," the shirt's store description reads. The last line, about the shirts being produced in the USA, could actually contain a hidden message, or at least a reference to the fact that many Trump products are in fact made overseas, as the Washington Post reported. This includes products from both Donald Trump and Ivanka Trump, as PBS explained. Melania herself has created numerous branded products as well, and Racked reported that at least the caviar for her defunct skin care line came from outside of America.
The Democrats are making it clear that their products are patriotically produced, however, although the selling point is sure to be the message that turns the spoof into a get out the vote campaign for anyone wearing it.
The DNC, of course, is using their cleverness in this case for their own fundraising efforts, which people hoping to end Melania and her husband's time in the White House will surely support. However, Glamour reported that other brands have jumped on the same trend to support other causes. Wildfang, a brand based in Portland, released an "I Really Care, Don't U?" jacket, the proceeds for which go entirely to RAICE Texas, an NGO offering legal aid for immigrants. According to Wildfang's Instagram post of the jacket, the style is already sold out — but they're producing more.
Public Service Apparel announced a similar campaign, with a shirt reading "I Really Do Care, Don't U?" According to their Instagram post with the announcement about the shirt, the profits will all go towards immigrant youth network United We Dream.
This isn't the first time that a Trump statement — in clothing or in words — has led to a reaction like this. Trump's "Nasty Woman" comment during one of his debates with Hillary Clinton during the 2016 campaign, for example, brought a rash of products onto the market, the sales for many of which were donated to various charities. Melania didn't have to speak for her movement to begin, but the internet clearly thinks that her jacket said plenty.