Wearing Racist Halloween Costumes Was Never OK, But In 2018 It's More Malicious Than Ever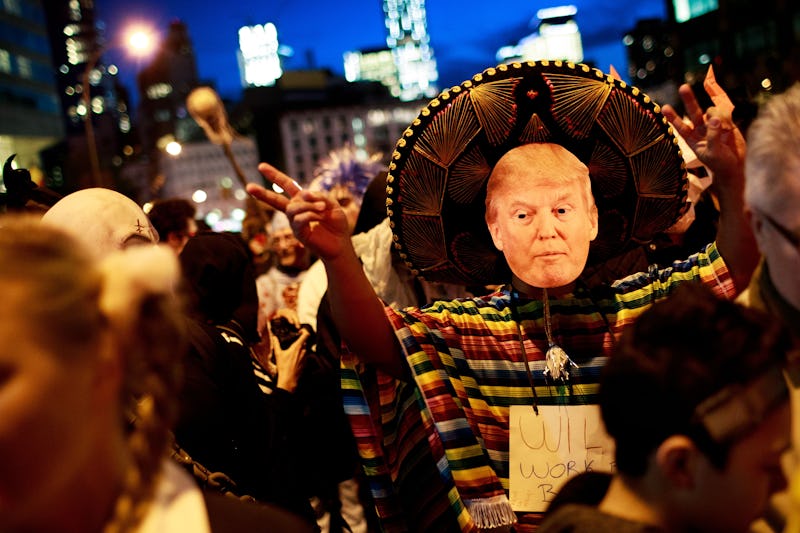 Drew Angerer/Getty Images News/Getty Images
As a Latinx woman who comes from a family of Mexican immigrants, the truth is that Halloween, much like Cinco De Mayo, can be mentally exhausting. While for a lot of people this is a time to simply be carefree with their clothing choices, for me and many in my community, taking on the chore of calling out racist Halloween costumes year after year has become the norm.
For those who don't identify as Latinx (or at least have an understanding of our cultures) it might be easy to apply sugar skull makeup, dress up as a mariachi band member, or put on a sombrero without thinking twice. But as innocent as anyone's intentions may be, the truth is that going out as a caricature of Mexican culture is extremely harmful to our community — especially in 2018.
The offensive costumes do nothing but play into the false narratives the current administration is spreading about the Latinx and immigrant community, not only by perpetuating stereotypes, but also by being dismissive of Mexico's complex cultures.
In recent years, and thanks to the popularity of 2014's Book of Life film, and last year's Pixar movie Coco, holidays like Day of the Dead have gained major mainstream popularity, bringing sugar skulls and La Catrina costumes along for the ride. But still, many don't really understand their significance.
The sacred tradition of Day of the Dead, which takes place on November 2, is not meant to be some sort of supernatural experience, but instead a time to remember those who have passed on as they visit the realm of the living on this night each year. One of my favorite traditions of the holiday is setting up the Día De Los Muertos altar with my abuelita. We take pride in knowing that for that one night, our loved ones will be with us. This is a tradition that most Mexicans hold close to their hearts.
La Catrina is a figure symbolizing that we die, we are all turned into skeletons. Thus our social class, or the types of clothes we wear, do not play a significant role in the afterlife. The original Catrina was first depicted around 1910 to 1913 by Mexican illustrator and cartoonist José Guadalupe Posada in his painting "La Calavera Garbancera." Around 30 years later, Mexican painter Diego Rivera re-created the now iconic Catrina, dressed in elegant clothing and an ostentatious feathered hat for his "Sueño de Una Tarde Dominical en la Alameda Central" mural in 1947.
So to portray La Catrina as a mere "sugar skull" or a "sexy señorita," along with any other exaggerated Mexican stereotype is to undermine the ancestral significance of these figures.
We take pride in knowing that for that one night, our loved ones will be with us.
But while these costume choices have long been problematic, the current political climate in 2018 made things a lot more dangerous.
Immigration in particular is an issue that largely affects the Mexican Latinx community, and since the first Republican debate in 2015, it's a topic that has dominated the news cycle with the help of Donald Trump. Since then, chants of "build the wall" have become a staple at the president's on-going rallies, while families at the southern border seeking asylum have been separated, and xenophobia has been steadily on the rise. But despite a large number of Americans opposing Trump's immigration policies, a few retailers are still using this dark time in history as an opportunity to rake in some Halloween cash.
A quick search on Amazon will take you to the "Trump Mexico Will Pay Zip up Costume Jumpsuit." At the time of publishing, there was an even split between 5-star and 1-star ratings, and comments ranged from some people calling the outfit offensive, to others praising the getup. "I love this costume!!!!" one person wrote. "I'm going to buy 4 of these!! Can't wait to see the looks on all the liberal's faces at the Halloween party!!!!! This will give them something else to be offended by."
Another person took a strong opposing stance, and questioned why Amazon would allow this type of costume on the e-commerce site. "This is the most racist thing offered on Amazon today," they said. "Have some decency Amazon......or is this what you stand for?"
These types of costumes are not comical. They are not humorous, nor are they cute — they are triggering.
But this isn't the only offensive costume the retailer has in stock. A brand called Be Wicked is also selling a "Women's Sexy Border Patrol Police Costume" through Amazon, which currently holds a 5-star rating with only one review. Meanwhile, U.S. officials have stated that more than 200 of the children that were separated from their parents at the border will not be eligible for reunification or release, and may end up being adopted by Americans, the AP reported.
These types of costumes are not comical. They are not humorous, nor are they cute — they are triggering. Especially for the families who have been affected by forced separation and deportation.
In 2007, my own family went through this situation when my step-dad got pulled over and detained for driving without a license. At the time, California wasn't a sanctuary city, so he was turned over to ICE and sent to Eloy, AZ where he was held for over a month. Thankfully, my family was one of the lucky ones, and he was able to be released stay in the U.S. with our family.
It is unfathomable that in this time and age, particularly with our country's current anti-immigration political climate, that some people would still choose to wear these sorts of costumes. Using someone's culture, or political gimmick as a commodity with no regard on how damaging and traumatic it is for the community being targeted is sickening. And as a society, we have to do better.
So while this time of year is the perfect opportunity to unleash our inner creativity, it is essential to still take a step back and reflect on how our choices are perceived, and the way it affects a marginalized community that is constantly under attack.