6 Highly Convincing Reasons Wells Adams Deserves — Nay, Requires — A Role On 'Modern Family'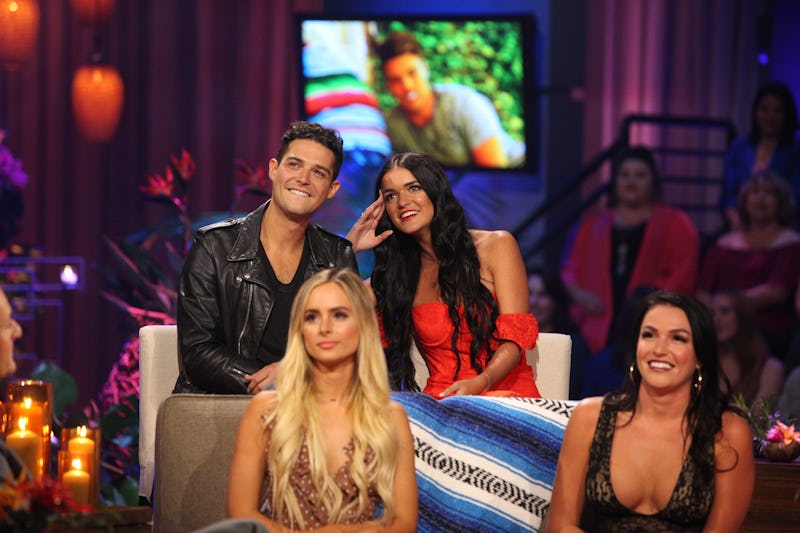 Paul Hebert/ABC
Unless you've been living under a rock for the past few months (or you're not nearly as obsessed with Bachelor Nation as I am), you know that Wells Adams and Sarah Hyland are dating. Even though fans might have been initially disappointed that Adams wasn't cast as the next Bachelor, his relationship with the Modern Family (makeup department head: Stephanie L. Massie) star is beyond adorable. And this new romance has me thinking that Wells Adams should guest star on Modern Family. After all, the show has had a plethora of stars stop by in the past, why not Adams?
Although Hyland has stellar professional comedic acting chops of her own, Adams is no stranger to making audiences laugh with his television appearances. Even though Adams never found love on any of the Bachelor franchise shows, he became a fan-favorite and a beloved part of the cast, even replacing the incomparable Jorge as the bartender on Bachelor in Paradise.
And, now that he's dating Hyland, the possibility that ABC might decide to give him a guest spot on one of their other most popular shows seems high (Bustle has reached out to ABC for comment but did not get a response). The couple met when they began flirting on Twitter, where Hyland has expressed her admiration for the radio star ever since his first appearance on The Bachelorette during JoJo Fletcher's season. Then they began tweeting back and forth at each other, and the rest is history.
It's impossible to deny that Hyland and Adams are #couplegoals. Maybe the only the way this relationship could get any better is if ABC gave the people what they want, and put Adams on an episode of Modern Family. Here's why he would be perfect.
He's Already Proven He's Funny
After all, who could forget his incredible puppet reenactments of the drama on Bachelor in Paradise this summer? Or even better, his drunken Snapchat recaps of the Bachelor shows. Wells is no stranger to making audiences laugh, Scallop Fingers or no Scallop Fingers.
If Nick Can Do It, He Can Do It
Nick Viall recently made his acting debut on the ABC series Speechless, playing an actor named Tyson. With so many shows under the ABC umbrella, it should be easy just as for Adams to step on over to Modern Family for an episode.
He Loves Dogs
OK so this isn't really a reason he should be on Modern Family, but common, who doesn't love a guy who loves dogs? Maybe he can play Jay and Gloria's new dog walker... although I have to say, it doesn't look like that dog is really for a walk anytime soon.
He Would Get Along Great With Phil Dunphy
Adams has already expressed his love for the world's funniest TV dad on Twitter (it's actually how his flirtation with Hyland started). I have a feeling he would really vibe with Phil. I don't know about you, but I could watch a whole episode of just the two of them bouncing dad jokes off one another. Hire me, ABC.
He Could Play Haley Dunphy's New Boyfriend
How ~meta~ would it be if the real-life couple got to play a brand-new couple on the show? Maybe they could even connect over Twitter, like in real life. Or maybe Adams could play himself, allowing Hyland to relive her fangirl moment, but this time as Haley Dunphy. Whatever the case, I hope somehow that the puppets would make a reappearance.
Or He Could Hang With Gloria
Call me crazy, but for some reason I really could see Gloria and the Bachelorette star getting along. Maybe she would even have a baby crush on Adams... but nothing serious of course. Jay + Gloria forever.
Honestly, I think Adams would flourish in any environment the show could throw him in. And it wouldn't hurt that it would be unbelievably cute to see the couple together on TV. That way Wells Adams' love story could finally be featured on TV, even if it's not on The Bachelorette.