'Boy Meets World' & 'Bachelor' Nation Collided On Twitter In An Unexpectedly Great Exchange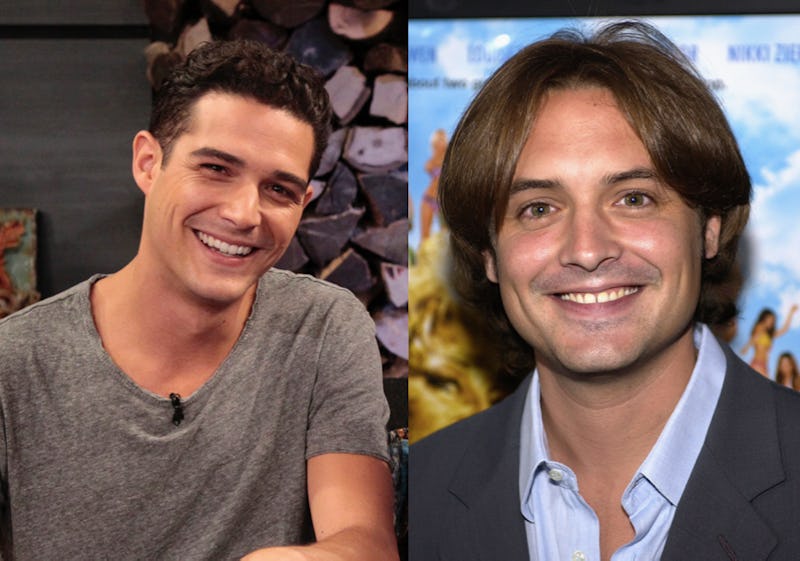 ABC/Rick Rowell; Vince Bucci/Getty Images Entertainment/Getty Images
Leave it to Twitter for two famous people to spark up a random and seemingly innocent conversation that quickly turned into comedic gold. That's exactly what happened on Friday, when The Bachelorette alum Wells Adams tweeted about Will Friedle — aka Eric Matthews from Boy Meets World — and the actor's current status as a celebrity. What started off as an innocent thought posed to Wells' Twitter followers spurred a pretty hilarious conversation that you need to read (and favorite), like, right now.
It all began when Wells got on Twitter and wrote, "There are lot of things wrong with the world right now, but the fact that Eric from Boy Meets World isn't really famous anymore is up there." Not even an hour later, the Boy Meets World actor quoted the tweet, setting the record straight and letting Wells know that not only is he doing just fine, but there are more important things to think about these days. Friedle wrote, "There are way worse things in the world! I'm still doing okay."
Things got even more wild when Wells responded back to Friedle, insisting that the BMW actor needs his own spinoff series featuring our beloved Mr. Feeny. The Bachelor In Paradise bartender wrote,
"No Will, I will not rest till you have your very own buddy cop CIS spinoff with Feeny as your grumpy yet lovable partner."
Even though the idea behind the proposed spinoff is clearly a joke, a buddy cop series featuring Eric and Mr. Feeny would probably be a huge hit. Considering the teacher-student bond the two shared on Boy Meets World, who would really say no to seeing more of them on screen?
But the good times didn't exactly end after that. Remember Jason Marsden? The one who played Eric's best friend Jason on Boy Meets World? Well, he's also Friedle's pal in real life, and he ended up being part of the conversation too, unsurprisingly speaking up for Friedle and tweeting a hilarious response that even threw Minkus into the mix.
Marsden's response only prompted Wells to question why he's also not currently in the limelight anymore. (Good question, Wells.)
The delightful conversation sparked among all three stars is pretty much the Twitter thread you didn't know you needed to read today. In Eric's defense though, he has been pretty busy since the end of Boy Meets World. If you were still a Disney fan circa 2002, then you probably remember a little cartoon called Kim Possible, in which Friedle lent his voice to the show as the crime-fighting main character's sidekick, Ron Stoppable, until the show ended in 2007.
Not only that, but Friedle also made an appearance on the very recent Boy Meets World spinoff starring Rowan Blanchard, Girl Meets World. Aside from all of that, he (and his voice) has appeared in numerous other television shows. While we're at it, Marsden has also had his fair share of TV time, going on to continue playing Rich in Step by Step after leaving Boy Meets World. The actors both have a lot of credits to their names, but since they happened to become stars before the age of social media, Wells being under the impression that they're not exactly famous anymore is understandable.
Eric obviously still lives on in a lot of Disney fans' hearts, no matter what Wells thinks. And if this conversation only made you want to marathon Boy Meets World for the rest of the weekend, you can now officially do that because the show just made its way to Hulu — another sign that Eric is doing more than alright. Minkus, on the other hand...