'Boy Meets World' Will Be Streamable Very Soon To Heal Your 'Girl Meets World' Cancellation Wounds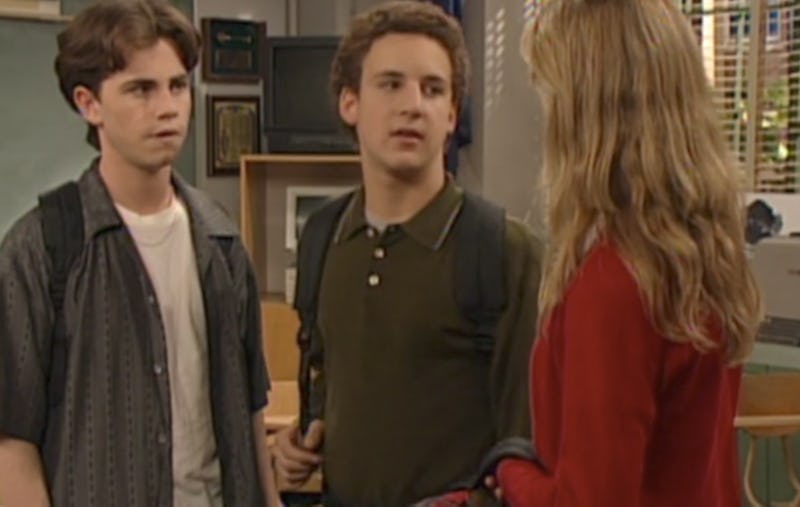 Buena Vista Television
Long before Riley and Maya, there were Cory and Topanga. So the news that Hulu will begin streaming Boy Meets World on Friday, Sept. 29 should put a big cheesy grin on the faces of any fans of the original show and its spinoff. Hulu appears to be zeroing in on '90s nostalgia, buying the sitcom in addition to two other mainstays of the decade of grunge's programming: Home Improvement and Dinosaurs. But while this is all delightful news, it's really the streaming service's picking up of Boy Meets World that's especially exciting.
Let's rewind a second. In January, Disney Channel officially canceled Girl Meets World, a move which was met with mass outrage, causing fans to galvanize and create hashtags like #GirlMeetsNetflix, #SaveGMW, and #GirlMeetsHulu on Twitter. Even star Rowan Blanchard expressed her feelings about the cancellation, writing on Instagram,
"Being on Girl Meets World is the most significant event in my life thus far, it changed absolutely every aspect of it, and takes up most of the life I am able to remember."
Show creator Michael Jacobs told TVLine that he was in talks to save the show, purely based on the strength of the audience reaction to the news of the cancellation. He was convinced that such a loyal fan base would be attractive to another channel. However, that wasn't the case and Jacobs used the Girl Meets World writers room's Twitter account to announce in May that the show would not be returning.
Now, maybe fans are getting something even better — or at least those fans with a Hulu account. So if you're addicted to the more modern show, this is your opportunity to use all that time that's been freed up in your TV viewing schedule to watch what is, effectively, Girl Meets World, the prequel, since Riley Matthews' parents are two of the leads, and many of the themes of the Disney show, like friendship and moral issues, are still placed at the front and center of the series.
If you're a fan of the spin-off, you're sure to like the original. For starters, there's the sheer length of this show. While we got to hang out with Riley, Lucas, Farkle, and Maya for just three years, with the '90s classic you get to accompany the characters through elementary school right up to college graduation, since it ran for six years.
Not only that, but it feels like this is an antidote to one key frustration of the more contemporary offering. While the Lucas-Riley-Maya love triangle on Girl Meets World meant that literally nobody gets what they want, instead of screaming into a pillow, please voyage back to the '90s, when dating could occasionally be cute and simple. No spoilers because, hey, they end up making Riley, but Cory and Topanga are freaking adorable from day one (even though they take their sweet time to officially get together, only starting to date in Season 3). Their relationship is a balm to the soul in these love triangle-addicted times on TV, since you'll get to watch something relatively simple and joyful play out. Yes, Cory's BFF Shawn does ask Topanga out, but it's a one date deal, not something that stretches out over three seasons.
And you'll also get to see happier times. In Girl Meets World, viewers don't get to see Angela and Shawn end up together, because she's married someone else. Heck, Angela is even instrumental in trying to fix up Shawn with Maya's mom on the spinoff. But while this is nice for Maya's mom, it's a crying shame for viewers, who haven't yet got to witness one of the hottest TV couples ever radiating chemistry.
Besides all of that, the parallels between characters on both series are uncanny: Shawn Hunter is a latter-day Maya in terms of being pretty cool, a bit rebellious, and having family issues. And Cory Matthews' position as teacher and mentor is more than matched by Mr. Feeny.
So when Disney gives you lemons, head to Hulu for some televisual lemonade. You never know: You might actually find yourself enjoying the series more than its 2014 equivalent.