Wet N Wild's Purple Mega Glo Highlighter Slays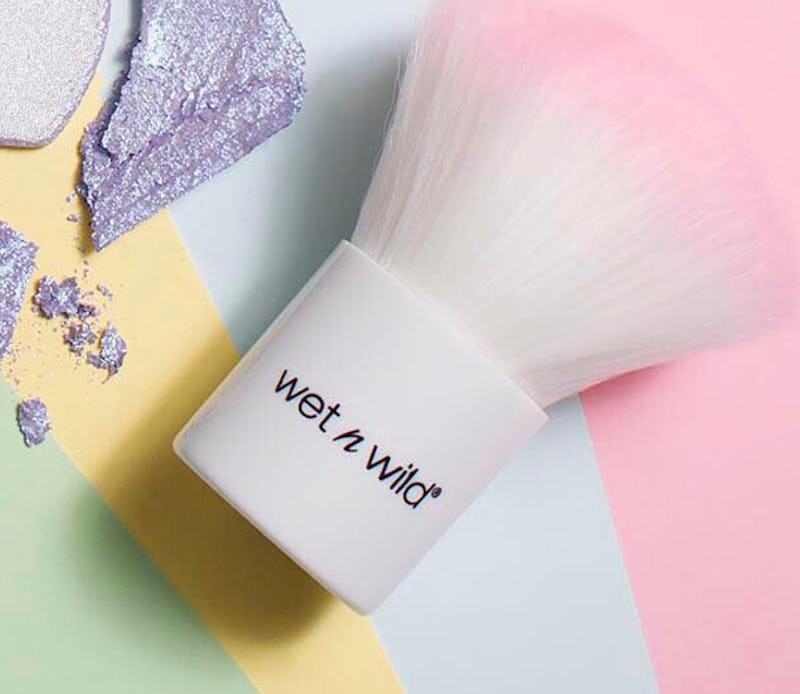 OMG, you guys! Drugstore brand Wet n Wild just teased a purple Mega Glo highlighter. While I am used to a dewy glow being achieved by, you know, golden, bronze, pink, or peach highlighters, the Wet n Wild Mega Glo in soft, shimmery lavender is pretty much everything. It's also so spring-ready. When is the purple Wet n Wild Mega Glo highlighter available to buy?
Well, the brand didn't confirm an exact release date in its social media posts. Wet n Wild simple shared a shot of highlighter, along with a fluffy (and vegan!) Kabuki brush with white and pink ombre bristles. WnW also noted that these items are part of the Spring 2017 collection and that they're limited edition in a tweet.
So, hey, don't let the notion of a light purple highlighter scare you away! You can buff and diffuse the color in order to achieve a glowing veil or a purple haze.
Bustle reached out to Wet n Wild reps for confirmation of the release date and other details.
UPDATE: Wet n Wild reps responded to Bustle via email, saying, "The MegaGlo Highlighting Powder in Lilac to Reality is part of our Spring Limited Edition Collection. This will be available starting March 2017."
Observe the new Mega Glo hue in all of its shimmery glory and peep the brush.
The white handled, pink-dipped brushes are cheap and chic perfection. I have a few in my personal brush stash and I use them all the time for accenting. The highlighter is so Easter-like. Since WnW products are super affordable, you can play with this trend with little financial commitment. Plus, Wet N Wild is slaying with its highlighters, since its rainbow highlighter was one of 2016's cult faves for unicorn beauty.
This is the caption that accompanied the teaser post, confirming that the Spring 2017 products are coming soon and the cruelty-free and vegan status of the brush. Since Spring products debut in winter, expect to see the new highlighter (and more) sooner than later.
The tweet also notes that the limited edition ("LE") status of the products. Since Wet n Wild is available at most drugstores, you'll be able to cruise on over to CVS or Walgreens and grab your stash.
Images: Wet n Wild Beauty/Instagram (1)