What Black Women Think About The Idea That Their Votes "Save America"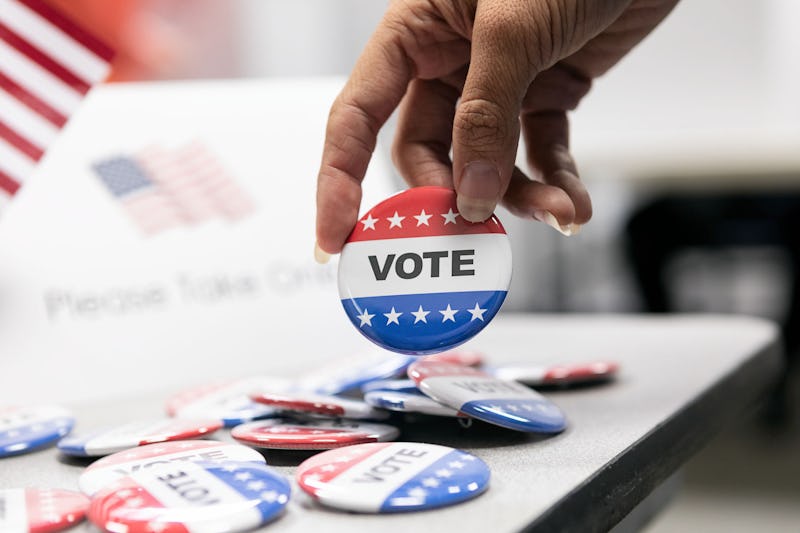 Sean Locke/Stocksy
When U.S. Senator Doug Jones narrowly won a special election last winter against conservative opponent Roy Moore, a hero emerged — and it wasn't Jones. Exit polling numbers showing Black women voters had put Jones over the top quickly went viral among people looking for a silver lining in what was otherwise a very bleak news cycle. Moore had been accused of sexually harassing and assaulting teenage girls in the weeks before the election (he denied all allegations), and progressives around the nation subsequently hailed Black women in Alabama as saviors for voting for Jones in such staggering numbers compared to their white counterparts.
In the immediate aftermath, Twitter implored Americans to vote like the women in Alabama, to thank Black women and — in a measure that was widely criticized — to hug Black women. The hashtag #VoteLikeBlackWomen became a way for allies to show their appreciation, as well as for women of color to express love for themselves and the women around them.
So far, 2018 has been branded "the year of the woman," and the praise and attention that Black women voters have received since Jones' victory certainly fit into that narrative. But for some Black women, all that admiration misses the mark — voting for progressive candidates isn't a heroic, selfless gesture, but a way to fight systemic inequality and advocate for themselves.
A Civic Duty
Women won the right to vote in 1920 with the passage of the 19th Amendment, but that's only part of the story. Women of color were largely excluded from the suffrage movement and weren't able to vote in elections until the Civil Rights Movement of the 1960s. That means many Black women have living relatives who remember not being able to vote in elections — a fact they don't take lightly.
For Corryn G. Freeman, National Finance Council Director for The Collective PAC, a political action committee working to increase the number of Black people running for office, voting is a way to pay homage to the women of color who fought for her right to participate in elections.
"I vote in honor of those who came before me who never dreamed that they could have a say in the American electoral process," she says. "I also vote for myself, my children and my community."
Felicia M. Davis, the convener of the Clayton County, Georgia Black Women's Roundtable and director of the HBCU Green Fund, works to increase black voter particiption. She says she personally votes because she wants to "combat a new era of hatred and racism."
"The fact that we had to fight for the right to vote shows that it's a source of power," she tells Bustle. "Not exercising that power would be negligent and disrespectful to our ancestors."
While voting clearly holds historic significance for women of color today, it's also an important means of addressing racial inequality. The Economic Policy Institute reports that Black women are still paid significantly less than white counterparts, are more likely to die while giving birth, and are significantly more likely to face incarceration. Politicians who promise to address such discrimination and systemic biases offer a glimmer of hope for women like Kirsten Allen, 28. Allen, a political communications professional, tells Bustle she votes in local elections along with national and state races because there's so much work to be done.
"Every election is important. From the top down, our priorities, interests and future is on the ballot and we must make sure we have a voice in those decisions," she says.
A Self-Defense Mechanism
So why does the narrative persist that Black women vote to "save America" from itself? The New Yorker's Doreen St. Félix Writer pondered that question after Jones' win. "For better and for worse, the gospel of individualism remains the bedrock of American identity," St. Félix writes. "And yet the creed does not apply to black women, who are regarded not as varied, self-interested political actors, or as people to be served or scrutinized in meaningful ways, if they are regarded at all."
Marie Williams, a 51-year-old analyst, worries that white Americans increasingly view Black women as "mammies," a term used to describe Black women who lived with white families and took care of their children in the 19th and 20th centuries (think Viola Davis's character in The Help). A report from Ferris State University notes that Black "mammies" were portrayed as unfailingly loyal to white people in order to soften public perception of slavery and indentured servitude. While the stereotype is now considered offensive, its pervasiveness helps explain why Black women may be wary of the narrative that was spun after Moore's win.
"We aren't voting out of some altruistic belief. We are voting in our own best interests," Williams says. "And I think it gives white people, particularly white women, a pass for their misguided votes."
Still, no demographic is a monolith, and not every Black woman thinks #VoteLikeBlackWomen is problematic. "The #VoteLikeBlackWomen movement encourages a support system within our community that creates an alliance with the idea and goal to support our Black women," Mara Peoples, a 21-year-old Howard University student, says. "No matter who says it, Black women are superheroes in a number of ways."
For Freeman, of The Collective PAC, voting is a way to support candidates of color and policies that make life easier for Black women, who she says are "finally getting some credit for the work that we do and have always done."
It's not lost on women of color that it's easier to thank a Black woman for doing her civic duty than it is to elevate her to elected office. According to the Center for American Women and Politics at Rutgers University, just 3 percent of members of Congress are Black women. Kamala Harris of California is only the second Black woman to ever hold the title of U.S. senator.
"Praise for Black women and calls to action to take us seriously will continue to ring hollow and be lip service until systems, organizations and leaders elevate more Black women and POC in leadership positions, support them with adequate resources and respect their decision-making," Allen says.
Electing Black Women
Running for office takes time, resources and money. When you consider the systemic economic and social disadvantages that Black women face, competing in an election is an almost herculean task. According to the Black Women in Politics database, about 400 Black women are running for office this year, making up just 11 percent of women candidates.
Former prosecutor Rachael Rollins, who's running for district attorney in Suffolk County, Massachusetts, tells Bustle she decided to run after realizing the county needed someone in that position with perspective about the racial disparities in the criminal justice system.
"We've had the same chorus of voices for 100 years singing the exact same tone-deaf song," she says. "I see just how much more we can do as a community."
Rollins says her critics have called her arrogant and even told her she won't win — something she takes in stride. "I'm not going to dull my shine because other people are uncomfortable," she tells Bustle.
Nicole Johnson, a candidate for alderman in Chicago's 20th Ward, decided to run for office because she was confident in her qualifications and passion — and because Black women are traditionally underrepresented in government leadership positions.
"[The Black women's vote] should not only be leveraged to get white progressive candidates in office, but it should be believed to be good enough for Black women to actually lead departments and agencies across various municipalities and jurisdictions," she says.
Many of the women speaking with Bustle shared that sentiment: Black women aren't just a powerful voting bloc, but capable and confident leaders who should be voted into office, too. "Black women are uniquely qualified for leadership at this time," Davis, of the Georgia Black Women's Roundtable, says. "We shall see whether white people are sophisticated enough to follow our lead as they did in Alabama."
Much like #BlackGirlMagic, #VoteLikeBlackWomen has the potential to accomplish a lot of good — but it also may give non-Black people a cop-out to praise women of color without actually doing anything to empower them. Plus, any movement that elevates Black women also has the potential to unfairly deify them.
Williams is adamant that women of color aren't here to save America. "We are just keeping our own heads above water for the most part," she says. "It's time everyone else saves themselves."
Correction: A previous version of this story mischaracterized the nature of Felicia M. Davis' work. It has been updated.