'Bachelor' Star Tia Has Quite A Few Tattoos — Did You Notice Them?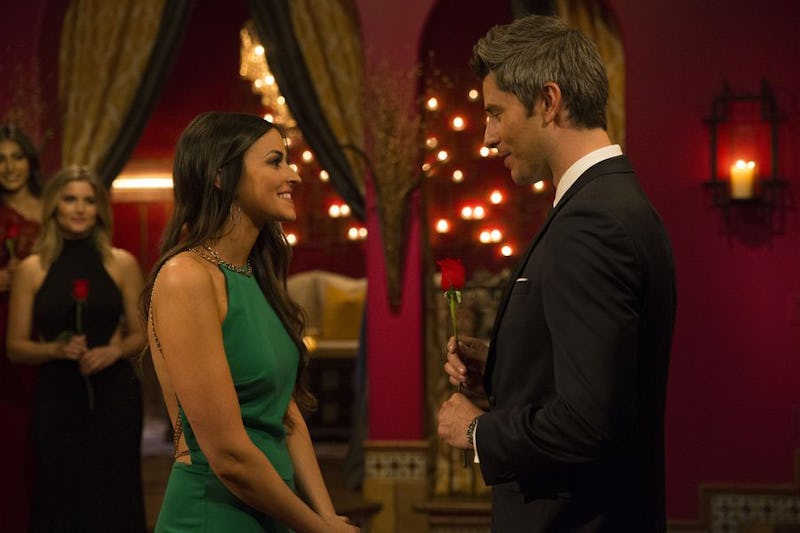 ABC
From the very beginning of Arie Luyendyk Jr.'s season of The Bachelor, Tia Booth has been one of the most interesting contestants to watch. There are a lot of things that stand out about her, but one thing that has piqued the fan curiosity is Tia's ink. What do Tia's tattoos mean?
Tia has got a lot of screen time throughout this season, but it's hard to tell exactly what she has tatted on her body just based on the episodes, especially the early episodes when there are so many other contestants. Even so, the viewers have noticed that Tia does have some ink.
The Bachelorette and Bachelor in Paradise alum Evan Bass tweeted, "I thought I had Tia pegged a certain way but then I discover she has a back-of-the-left-arm tattoo and my mind is blown and my world has been turned upside down. #thebachelor." Tia responded with, "More basic? Less basic?" ("Yes, exactly," said Evan.)
Evan could have found out about Tia's tattoos before this season started airing since she did reveal that she has four of them in her contestant bio on the ABC website. In response to the tattoos question, Tia revealed, "Yes, owl on my tricep, 'Patience' on my wrist, 'Mama & Papa' on my left foot, 'Peace' on my right foot."
Those all sound like very meaningful tattoos. Plus, having the word "patience" on her wrist can serve as a very useful prompt when she's in stressful situations on a reality TV dating show. Even the word "peace" on her foot could also be a relevant reminder during Bachelor drama. As of this moment, there's no word on what the owl means to Tia, but owls have been known to symbolize wisdom, so that could be what she was inspired by, especially with all of her studying to become a physical therapist. The "Mama & Papa" tattoo isn't surprising to any of Tia's social media followers since she shares photos of her father and mother on Instagram pretty often.
Maybe Tia will discuss the origin stories of her ink during a future date with Arie, or maybe she will elaborate in some interviews once the season finishes airing. In the meantime, here are some glimpses of Tia's tats that she has shared on Instagram.
"Patience" On Her Wrist
Tia shared a behind the scenes photo with Seinne holding up her trophy from the first group date of the season: The demolition derby date. There's a lot that stands out in this photo, but aside from their perfectly white smiles, there's a great straight on shot of Tia's wrist tattoo.
An Owl On Her Tricep
There aren't any photos on Tia's Instagram page that focus on on her owl tattoo (which makes sense since most people don't zoom in on a tricep for a photo), but, just like her scenes on The Bachelor, the photos do give plenty of glimpses. The largest look at her owl tattoo is in a photo that Tia shared back in August 2013. That photo is in black in white, but there are other color pics on her page.
The color photo above does show some more detail of Tia's owl tattoo.
Tia's owl ink was also pretty prevalent in the above Instagram post.
Her Foot Tattoos
After some thorough Instagram sleuthing, it doesn't look like there are any photos where the "peace" tattoo on her right foot are prominent, but there are a few that showcase "Mama & Papa" on the left one.
In between the straps of Tia's sandal, her tattoo is visible in plain sight.
In another photo with Tia rocking some strappy sandals, her foot tat is pretty visible.
The fans who are curious to see more and know additional info about Tia's tattoos may need to follow her on social media and keep tuning into The Bachelor hoping that more is revealed. For now, this is all we (and Evan) are getting.