Benoit Is Ready To Shake Up 'Bachelor In Paradise' After A Bummer 'Winter Games' Ending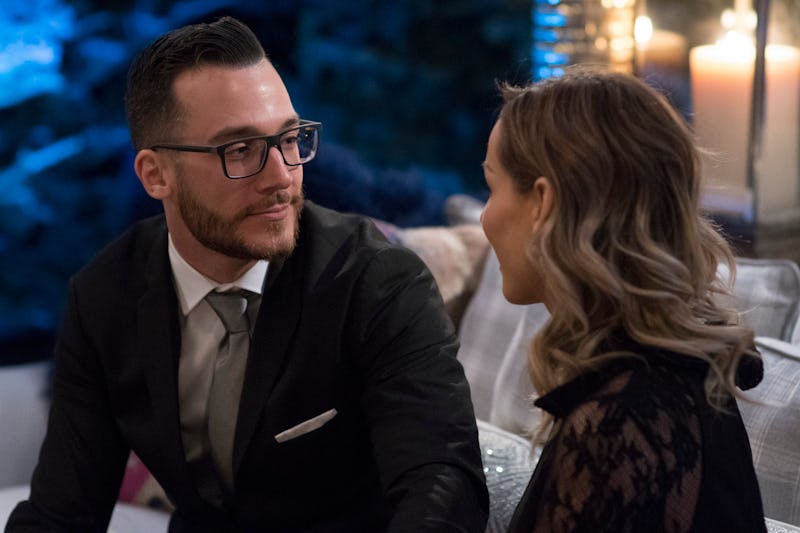 Lorenzo Bevilaqua/ABC
On Tuesday, Bachelor in Paradise is giving one contestant his third chance at TV love and his second chance at proposing in front of millions of viewers. After what happened to Benoit on Bachelor Winter Games, it makes sense that he'd want to give it another shot. If it sort of worked for him once, maybe it can again.
Benoit Beauséjour-Savard, who originally competed on Bachelorette Canada came to Bachelor Winter Games with his heart open, ready to find someone. Then his heart got smashed, because the person he was interested in wasn't that interested in him. During the first episode of the winter spinoff show, Benoit set his sights on Clare. And she was more than happy to be wooed by him... at first.
He may not have won the date card to take her out (he made the finals in the skiing competition though), but he crafted their own little date at home. He showed her how to make some sort of egg dish, and she seemed way too excited about the eggs to not be masking her real excitement about Benoit. The two even shared a couple of kisses while they cooked together in the kitchen. Things seemed to be looking up for the duo.
But, as always happens with this show, drama came along to ruin the day. At the end of the first episode, viewers learned that Christian (from Bachelorette Germany and Switzerland) was also into Clare. When she learned that she had two attractive men interested in her, Clare didn't really know what to do.
In Episode 2, she kind of let both of them court her to see who she was feeling the most, but Benoit wasn't interested in that. When he saw Clare and Christian flirting, he got so upset that he cried because he thought their kiss meant something. Clare, rightfully, was like, 'Dude it's been just a few days. I like you, but I don't wanna get engaged right this second.' That came later.
Ultimately, in a heartbreaking breakup scene, Clare admitted that Benoit is "such a catch," but that their feelings just weren't matching up. After Clare confirmed she couldn't give 100 percent of herself to Benoit while she was also interested in Christian, he decided to leave. "I would love to have many interests [in other women here]," he tearfully said. "But I don't. There's only you."
I can only hope the next time I break up with someone, they compliment me as much as Benoit did Clare.
So Benoit left the show the night before his birthday (*sobs*). But, their story didn't end there. On the reunion show, Clare revealed that she and Benoit started talking again after filming ended — and they'd even started dating! She addressed Benoit during the reunion with a tearful speech. "I've always wanted a man who wouldn't give up on me. You truly have changed my life because I didn't believe in myself," she said. "He's always had my back. He puts up with my crazy. I just love you, and I mean it."
Then Benoit got down on one knee and proposed, telling Clare, "I would never, ever give up on you." So it looked like Clare was finally getting her happy ending and that Benoit was right to not give up on her.
But... this is Bachelor Nation, and love rarely lasts. In April, about a month after they got engaged, Clare and Benoit split for good. They released a joint statement on Instagram explaining the news, which read in part:
"It's with a heavy heart that we have mutually decided to end our relationship. We think the world of each other, and we were both hoping we could make this work. I'm sorry that this may not be what you want to hear, but it's our truth. Just know there are no negative feelings here, we are simply two people who believed in love, and were open enough to give it a chance. We still care for each other very deeply. (That is why no hate or disrespectful comments will be tolerated about the other.) Please respect our privacy as well, as with the end of any relationship, it is never easy."
Now Benoit is heading to Paradise to try his hand at love in the limelight again. And, based on Monday night's preview, he may strike up a romance with Jenna, who's currently flirting with Jordan. But Jordan may be out of luck because, as we've seen, Benoit knows how to play the long game.