Here's What Happened To Derek When He Was On 'The Bachelorette'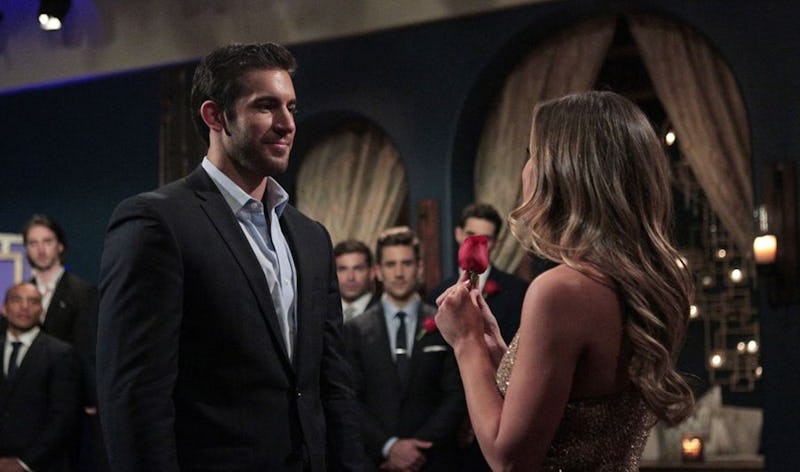 ABC/Rick Rowell
With Bachelor in Paradise returning for Season 4 on Monday, it's time to talk about what happened to Derek on JoJo's season of The Bachelorette. In Season 12, he was a fan favorite and often compared to Jim Halpert, John Krasinski's character on The Office. However, he didn't make it nearly as far as many would have hoped.
Derek joined the competition as a 29-year old commercial banker from Waverly, Ohio, and he came in strong. Although he didn't walk away with the First Impression Rose, he did snag the first one-on-one date of the season. And while he didn't receive as much screen time as the men who would ultimately make it to Hometowns and the Fantasy Suites, Derek was consistently an early callout during Rose Ceremonies. Twice, he even received group date roses.
During the six weeks he spent on the show, he distinguished himself as someone who really cared about JoJo and was one of the loudest voices condemning Chad Johnson's behavior. He also bonded with the Bachelorette over a past relationship that was very similar to hers with Ben Higgins. Over a romantic dinner early on, Derek shared that he had been ready to propose to an ex-girlfriend, only to find that she was involved with someone else. It's a story that JoJo could really related to, given her on-air rejection by Ben after he confided that he was in love with her.
But it's hard to sustain relationships in the environment of The Bachelor, so other connections moved past where JoJo and Derek were. For all his charm and levelheadedness in the house, it was only a matter of time before Derek was sent on the dreaded two-on-one with Chase McNary. The banker did his darndest to stay, even telling JoJo he was falling in love with her, but it wasn't enough to keep him around. Last we saw Derek, he was taking a tearful limo ride home while JoJo and Chase swayed in each others' arms to "Don't Cry For Me Argentina."
But things should go better for him this time around, now that he's joined the Bachelor in Paradise Season 4 cast. For one thing, the odds are a lot better when it comes to the gender divide. But, for another, Derek came off his season with a really great attitude that will surely serve him going forward.
For example, he said he would really have to consider whether he'd want to be the Bachelor, so it doesn't seem like he was doing the show for fame. And even having been sent home at the moment he revealed his true feelings, the now-31-year old has nothing but good things to say about the franchise and JoJo Fletcher. He says he was shocked,
"...to actually have a real connection and realize how it was not some fake BS... If you haven't been on the show you don't understand, there are only so many things that you can really say outside of just... it was very real."
It sounds like the kind of mentality that could bring him some very real success on Bachelor in Paradise, no matter how tearfully his last Bachelor Nation experience ended.