A UK Scientist Is Creating "Acid-Proof" Makeup That Helps Combat This Sad Reality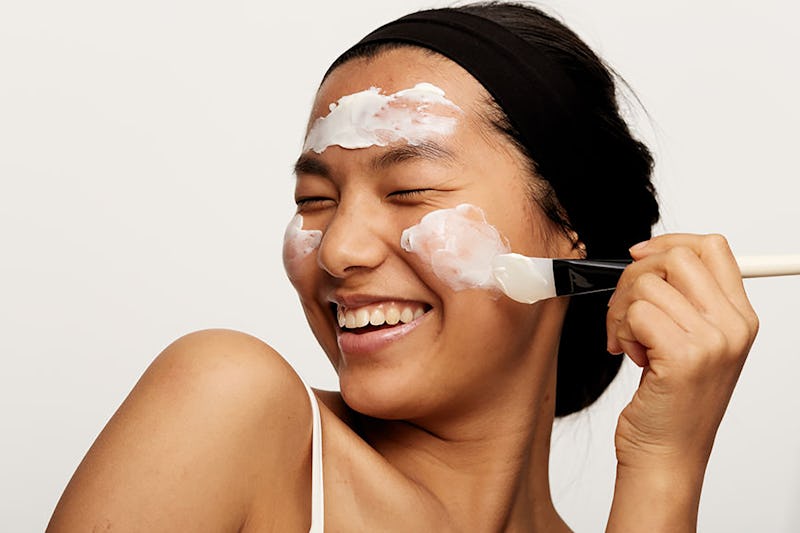 Leandro Crespi/ Stocksy
In 2017 the Metropolitan Police revealed that in the first six months of the year there were around 400 acid attacks, which is an average of approximately two a day. Acid attacks devastate people's lives, both physically and mentally, and statistics would suggest that they are only becoming more common. One Bradford based doctor has taken this into her own hands. Dr Almas Ahmed has developed "acid-proof" makeup. Her formula can be added to anything from nail varnish to foundation and, whilst it is sad that acid attacks are so prevalent in society that she has felt the need to make this development, it is pretty incredible.
Dr Almas Ahmed has spent the last decade developing the substance, Acarrier. Upon doing basic tests she has found that it is waterproof, resistant to heat, and prevents acidic materials from penetrating the skin. Speaking to iNews, she said, "basic tests have shown that Acarrier works. It offers protection from caustic materials and is waterproof and fire resistant, it has a very high melting point." This is completely ground breaking stuff.
But what first inspired Dr Almas Ahmed to create such a substance? She told iNews that it was seeing the horrendous ordeal that presenter and Strictly Come Dancing star, Katie Piper went through after her ex-boyfriend organised for her to be attacked with acid in March 2008. The aspiring model who was left with life-changing burns has become a massive inspiration to so many through her campaigning and charity work to help support and raise awareness for burns survivors.
Speaking on BBC Radio 5 live to Phil Williams, Dr Ahmed said, "I started developing this when I was in medical school and I kind of forgot about the issue. And this summer when there was lots of acid attacks in the news it made me want to revisit the idea and finish it off. That's why I have come to this stage now. It's because it is an issue for me living in this country."
Last year saw a massive rise in the number of acid attacks in the UK. The Independent reported that when speaking in a briefing in London the Assistant Chief Constable of Suffolk Police and National Police Chiefs Council, Rachel Kearton stated "the UK now has one of the highest rates of recorded acid and corrosive substance attacks per capita in the world and this number appears to be rising." She argued that police officers are struggling to deal with the spike without a change to the law.
While Dr Ahmed's product won't deal with the root of the issue, and it should never be a victim's responsibility to avoid being attacked, it may offer a measure of protection to those who feel vulnerable. But what exactly does it look like? If you are mixing it with foundation can you tell you're wearing something else? She told BBC 5 live "it looks more like a full coverage rather than a tinted moisturiser but it works very well. It blends like a normal foundation." She also explained that it feels just like your makeup normally would and doesn't smell of anything. It sounds like a wonder substance to me.
Whilst the product is proven to have worked in the testing that Dr Ahmed has done in the lab she still requires MRHA approval. She has set up a GoFundMe page to raise money to start clinical trials here, in the UK. Speaking to iNews she said, "I've had pharma and makeup companies interested in my product. I would love to work with a company that has a charitable aim, to be able to help victims of acid attacks."
It is devastating that in 2018 acid attacks are such an issue that people may have to start taking precautionary measures. However, Dr Ahmed's discovery is fantastic. Whilst she waits for approval she assured BBC 5 Live her ambition is to have the product ready by "next summer," which is incredibly soon. This is an amazing product, developed by a female scientist with the aim of helping those who have been attacked. This is completely awesome, so watch this space. I will be keeping my eyes out for Dr Ahmed's product in 2019.