The BBC's New 'End Of Days' Podcast Is A Chilling Look Inside A Seriously Creepy Cult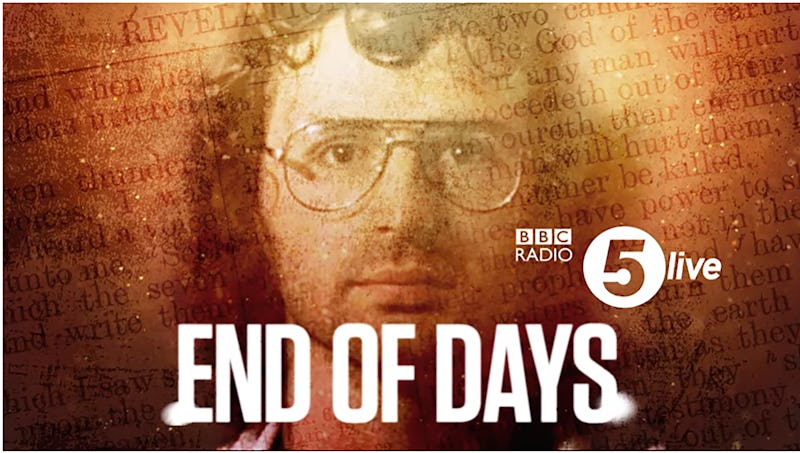 BBC 5 live/YouTube
Creepy cases of murder, death, and destruction seem to go hand in hand with podcasts. The rise in popularity of true crime audio has been monumental with podcasts like Serial, Undisclosed, and My Favourite Murder topping the podcast charts, piquing our interest in all things creepy and murderous. With the launch of the BBC Sounds App BBC 5 live unveiled their new podcast, End Of Days. If you thought you had heard all of the true crime worth listening to you would be wrong. But what is End Of Days about? 5 Live has opened up a whole new cult sub-genre and you're going to be obsessed. If you are in need of a new podcast to sink your teeth into and are anything like me, completely fixated with true crime, you have to listen to End Of Days.
Presented by Chris Warburton with investigative journalist and producer Ciaran Tracey, End Of Days tells the story of the Branch Davidians and their enigmatic, disturbing leader David Koresh. Koresh believed himself to be the Messiah and created a cult, the Branch Davidians based outside of Waco, Texas. What is really unusual is that of his estimated 80 followers, 30 were Brits. Koresh preached Armageddon and the cult came to a fatal end when in April 1993 the FBI advanced on the ranch that he and many of his followers lived on. A fire broke out destroying and 79 Branch Davidians died. Koresh died by a fatal gunshot wound to the head. It is still disputed whether this was suicide or not. There is mystery, speculation, and creepy teachings. What more could you want?
While some cult stories, such as that of the Manson family, have been told time and time again I knew relatively little of the Branch Davidians, and you only have to listen to one episode of End Of Days to become well and truly hooked. The show focuses on the 30 British followers who came from Manchester, Nottingham, and London, with presenter Chris Warburton speaking to survivors, as well as the families and friends of those who lost their lives in the sect. End Of Days looks into how Koresh came to England in 1988 and recruited many of his British followers from the Seventh Day Adventist Church.
Listeners get unparalleled access into understanding what it was like for families and friends to watch loved ones be swept away by Koresh's message and what becomes so abundantly clear is these were just normal people hoodwinked by a charismatic leader. The podcast sees Warburton sit down with Devon Elliot, who tells him of his loss to the Branch Davidians, "I lost my sister, her fiance, my auntie, my cousin-in-law, and a very close friend… To me this was like being in a film. My life became all about just watching this white building. And at one moment you just see it all crash. And I'm thinking my sister's in there. My auntie is in there. People that I love dearly are in there."
If true crime podcasts are your thing then you have to listen to End Of Days. Gripping from start to finish, I challenge you not to listen to it all in one go. You can find it on the BBC Sounds website or the new BBC Sounds app. You seriously don't want to miss out on this one.