Hyundai's 2017 Super Bowl Ad Will Honor The Troops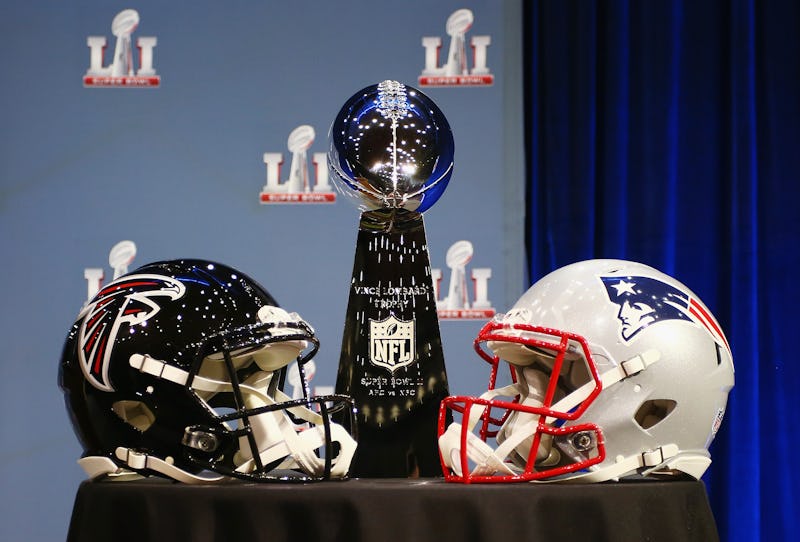 Tim Bradbury/Getty Images Sport/Getty Images
Hyundai will premiere a commercial at this year's Super Bowl, but the company isn't exactly sure what it will be yet. Instead, Hyundai will film its 90-second Super Bowl 51 commercial during the game, according to USA Today. Filming of the real-time ad will kick off right after kickoff. It will then air right after the game ends, meaning it will literally be the first commercial you see once the New England Patriots or Atlanta Falcons clinch the title. If it seems a little crazy to leave a big-time ad buy to chance, Hyundai and the advertising company heading up the ad agree. That's why they're not going into this totally blind. Hyundai is throwing a Super Bowl party for the U.S. military. This commercial is going to be a tribute to the football fans fighting for something more than a championship ring.
When pitching the idea for the "Operate Better" commercial to the NFL, Eric Springer, chief creative officer of the ad agency Innocean USA, told USA Today that the best part of this year's Super Bowl wouldn't be happening on the field, but off. "The moment will happen in the hearts of those who make the Super Bowl possible — our troops," Springer said.
The commercial will be filmed at an "undisclosed location overseas" where Hyundai, an official sponsor of the NFL, has set up a makeshift stadium for the soldiers. A lucky three will get to experience the game in "individual 360-degree immersive pods," which sounds very sci-fi, but actually just means these soldiers will experience the game as if they're right there in Houston hanging out in a luxury box at NRG Stadium.
This is certainly going to be no easy feat for the commercial's director, Peter Berg, who helmed the 2016 movies Deepwater Horizon and Patriot's Day. USA Today estimated that this ad will come together in just "about an hour and 15 minutes so that it can be filmed and edited — and approved by the military, the NFL and FOX." To compare, the average Super Bowl commercial comes together in 13 to 18 weeks.
Super Bowl 51 is actually filled with several ambitious ads. Snickers is going to air the first-ever live Super Bowl commercial with actor Adam Driver taking the wheel. Some may argue that these kinds of commercials aren't pushing artistic boundaries, but looking for clicks. To that, Springer told USA Today that their ad "is not a stunt. It's in the soul of the brand." According to Yahoo, Hyundai was the Top Military Friendly Employer in 2017.
Last year, Hyundai filmed four Super Bowl commercials including one that celebrated Ryan Reynolds, and, perhaps, condoned stalking. Another featured Kevin Hart as an overprotective dad. This year's definitely sounds like a change of pace.