Melania Will Visit Another Immigrant Detention Center Sooner Than You Think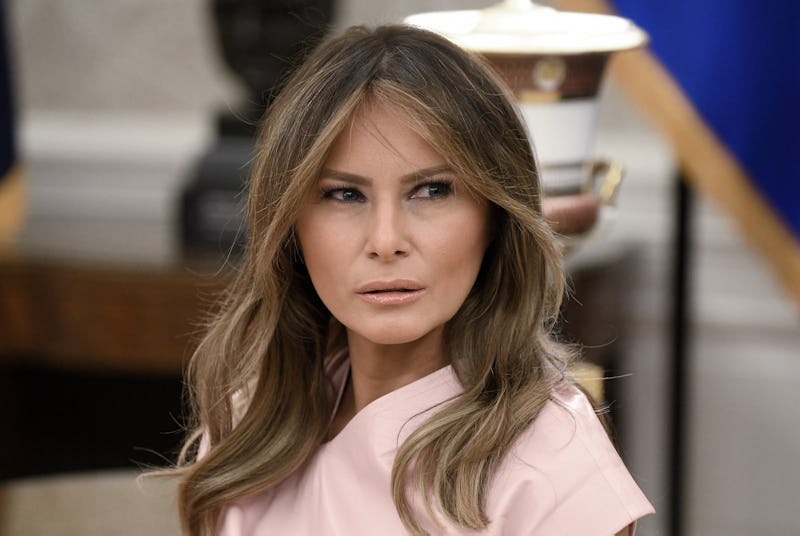 Pool/Getty Images News/Getty Images
The first lady of the United States wants to visit another immigration detention facility in the not-too-distant future. CNN reported that Melania Trump may visit her second detention facility this week, but the details remain vague at the moment. Her spokesperson, Stephanie Grisham, confirms to Bustle that the first lady "plans to visit additional facilities sometime this week," adding that she will "share further details when they are available."
For now, per CNN's report, there's some idea of what her plans might be. For one, according to CNN, Trump will witness, from a first-hand account, "an immigration processing detention center."
This upcoming visit will build on her previous unannounced trip to Upbring New Hope Children's Shelter in McAllen, Texas, less than a week ago. Given fluctuating conditions involving flooding at the time, the first lady was not able to extend her trip. But with weather clearing up in the Lone Star State, it looks like Trump may resume her trip soon.
Grisham told CNN that Trump wanted to check on detained immigrant children's "progress." The first lady's spokesperson added, "The first lady is moved by what she is hearing, and what she saw in Texas, and she wants to again see and listen for herself what is happening in these places."
During her trip in Texas, Trump told members of the Upbring New Hope Children's Shelter, "I'm here to learn about the facility to which I know you housed children on a long-term basis. And I also like to ask you how I can help these children reunite with their families as quickly as possible."
Given the lack of information at the moment, it's hard to say what Trump will be up to in her next trip. In her previous touchdown in McAllen, Texas, however, she created nationwide airwaves by donning a $39 Zara jacket which proudly asked, "I Really Don't Care, Do U?"
It was a sartorial choice that left many speechless but perhaps even more infuriated. That said, spokesperson Grisham downplayed the possibility of a meaning behind the jacket to Bustle. "It's a jacket," Grisham said. "There was no hidden message. After today's important visit to Texas, I hope the media isn't going to choose to focus on her wardrobe. (Much like her high heels last year.)"
On Twitter, too, Grisham reiterated the sentiment of her response to Bustle and said, "Today's visit with the children in Texas impacted @flotus greatly. If media would spend their time and energy on her actions and efforts to help kids — rather than speculate and focus on her wardrobe — we could get so much accomplished on behalf of children."
But Trump's husband, President Donald Trump, directly contradicted the FLOTUS explanation on Twitter. The president tweeted that his wife's jacket was a spin on rejecting "fake news."
"'I REALLY DON'T CARE, DO U?' written on the back of Melania's jacket, refers to the Fake News Media," he said. "Melania has learned how dishonest they are, and she truly no longer cares!"
So far, observers have expressed a mix variety of reactions to the new report of Trump possibly visiting another immigration detention center. On Twitter, social media users have asked what even the purpose of such a trip would be, offered spins on Trump's notorious jacket, seemingly serious recommendations on staying home, and how some find it utterly difficult to believe that she cares enough to see the children in such a center.
It's clear, however, that whatever comes of Trump's second trip to the next immigration detention center, many observers want to know what Trump will say and, perhaps, what she will even wear.