Pippa Middleton's Baby Name Will Most Likely Follow This Sweet Family Tradition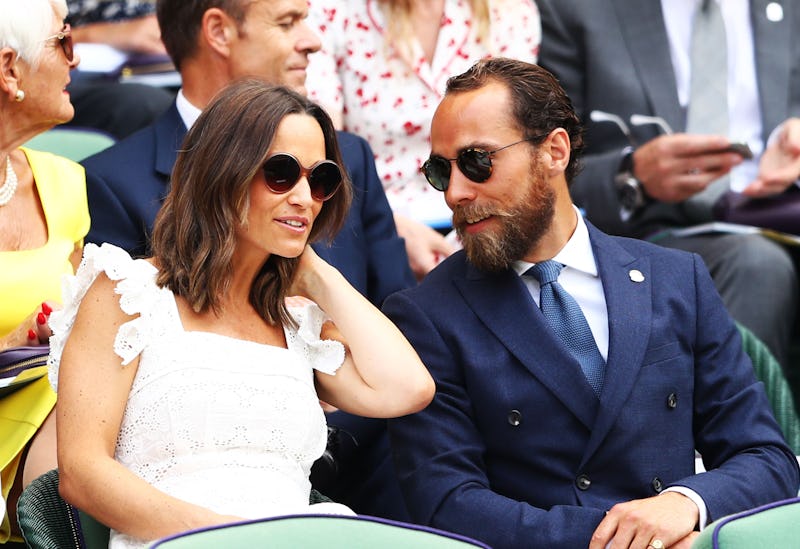 Michael Steele/Getty Images Entertainment/Getty Images
Getting wed and having bambini is all the rage with the royal set and their pals. Never one to be left out, Pippa Middleton has gone on ahead and had a sprog, and a little boy at that. But what has Pippa Middleton called her baby? Derek? Barry? Wayne? One can only speculate because yes, she did give birth to the child last week, but no, they have not yet named him.
A spokeswoman for Middleton and her husband James Matthews announced the birth and weight of the child on their behalf. "The baby was born on Monday at 13:58 BST weighing 8lb 9oz. Everyone is delighted and mother and baby are doing well".
Meanwhile, spokesperson for the royal family said that they are "thrilled" with the news. And I am sure that William and Kate's sprogs are excited to meet their new cousin. Especially in light of the very recent exciting news that Harry and Meghan are going to be parents, proof that this pair mean business, especially considering that like, guys they only got married in May. That is also a heck of a lot of exciting cousin news for kids that probably sadly aren't able do much socialising outside the family.
Notoriously (and hilariously) disinterested BBC News reporter Simon McCoy announced the information on the BBC. He said (in the flat tone he has become so well known for when discussing all matters royal), "Within 24 hours of some baby royal news I have got some more. Pippa Middleton, sister, of course, of Kate, has given birth. It says here 'has given birth to a baby'. Well, there we go".
Middleton — who despite (literally) being about to pop — looked glamorous AF and made walking in heels look as easy as sliding around on polished flooring in fresh socks at Princess Eugenie's wedding on Friday. Yes, this generation are busy putting various family rings on it as well introducing lots of new babies to the clan.
Middleton announced her pregnancy back in June in her fitness column for Waitrose magazine. She shared that unlike her older sister, she had not been badly affected by morning sickness.
Judging by the names given to Middleton's various nieces and nephews, one might be able to make a guess at least at the type of name the latest male member of the Matthews family is set to have. She has three nephews and a niece altogether and the lot of them have quite traditional names.
Well, I suppose one can't expect Middleton's sister Kate to call her kids names with a bit of a hippy or pop culture vibe can one? No, because of course two of her nephews George and Louis, and her niece Charlotte are direct heirs to the throne. I mean who knows, maybe they are called G, Lou, and Chaz at home but somehow I doubt it.
Pippa's other nephew is the child of her brother-in-law Made In Chelsea star Spencer Matthews and his presenter wife Vogue Williams. He was born in September and is called Theodore, keeping up the family tradition of old school names.
So until I know for sure, I'm putting my money on something pretty normal for Pippa's new baby.