Kylie Jenner's Baby Probably Won't Have A Colorful Middle Name... Probably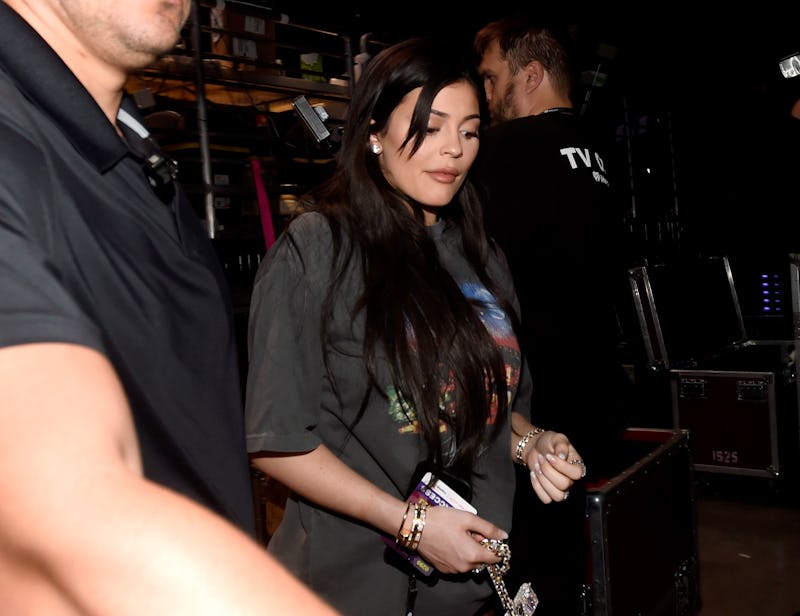 David Becker/Getty Images Entertainment/Getty Images
Ever since the internet was hit with the news that Kylie Jenner had given birth to her first child — a girl — fans began to play the waiting game for the next major bombshell to come from the family: what Jenner would name her baby. Luckily, she didn't make us wait too long after Super Bowl Sunday to be let in on the secret: Stormi Jenner (or Webster). Yeah. With a first name like that, the question of what Stormi's middle name could possibly be is a good one. Seriously, where do you even go from Stormi? Well, if we take the time to compare the middle names of the other Kardashian-Jenner children to what Stormi's could possibly be, we can make some guesses.
Update: On Thursday, TMZ reported that, according to the copy of the Stormi's reported birth certificate that they acquired, Jenner did not give her baby a middle name at all.
Earlier: The latest Kardashian-Jenner baby is joining the likes of North, Saint, and Chicago West (all born to mother Kim Kardashian West, none with middle names); Mason Dash, Penelope Scotland, and Reign Aston Disick (all born to mother Kourtney Kardashian and father Scott Disick); and Dream Renee Kardashian (born to father Rob Kardashian and mother Blac Chyna). There's also (sort of) King Cairo Stevenson, who was born to Tyga (who dated Jenner prior to her relationship with Travis Scott) and Black Chyna (who has since dated and broken up with Rob Kardashian). Got all of that?
If Jenner follows her sisters' naming conventions, then Stormi is likely to have a pretty normal middle name. After all, Mason and Penelope were relatively normal first names paired up with more unique middle ones like Dash and Scotland. Reign, an off-the-path name, got the slightly more normal Ashton, and Dream got Renee. King Cairo is the only outlier here, and that can be attributed to the fact that none of the Kardashian-Jenners had anything to do with the name. We're likely to get a Stormi Ashley or a Stormi Jennifer than a Stormi Cloud or a Stormi Theodosia — if Jenner follows her sisters, that is.
If she doesn't, well, the conspiracy theories already abound about her inspiration in the first name, let alone the middle name. Fans have speculated that the Kardashian-Jenners just have a thing for weather or geography-related names, or have turned the children's names into puns like the below.
In the lead-up to her announcement, Jenner was very, very secretive about her pregnancy, something that she would later explain on Instagram in a detailed message:
"I'm sorry for keeping you in the dark through all the assumptions. I understand you're used to me bringing you along on all my journeys. My pregnancy was one I chose not to do in front of the world. I knew for myself I needed to prepare for this role of a lifetime in the most positive, stress free, and healthy way I knew how."
Her Instagram post was accompanied by a video called "To Our Daughter" that showed that the last nine months for Jenner had been nothing but positive, stress free, and healthy. Patient fans were rewarded with footage of her going to check-ups and receiving ultrasounds, cuddling with Travis Scott and hanging out with her friends, receiving advice from her sisters and attending family gatherings. Jenner was truly radiant, and her joy was evident in every second of the 11 minute clip.
And now with all of that joy comes a name. No middle name has been given by Jenner yet, but one thing is certain: if there is a middle name at all, then Jenner will reveal it in her own time. Her journey into motherhood is one that she has been doing on her own terms, and it's truly beautiful to see her controlling her narrative in this way.